Apply now
Degree
Bachelor of Fine Arts (BFA)
Department
Faculty
Program type
Major, Minor, Specialization
Primary campus
Sir George Williams (SGW)
Why study Computation Arts?
While the digital realm continues to grow exponentially, become someone who wields the tools of technology creatively — and shape what comes next. Explore the intersection of design, art, and technology in a comprehensive, yet flexible program of studies, with the latitude to zero in on and pursue your own interests.
Develop your artistic vision while sharpening your computer programming skills and discover how to approach technology as a means of influencing digital culture. Montreal has achieved international recognition as a place where important, innovative work happens in interactive technologies, meaning you'll find inspiration all around you. Montreal is home to the Société des arts technologiques (SAT), the Phi Centre, Moment Factory, and the digital arts festivals ELEKTRA and MUTEK. The city also has a vibrant game studio landscape that includes Ubisoft, Warner Brothers, Electronic Arts and an ecosystem of smaller independent studios.
As a trained creative and conceptual thinker, you'll be well-placed to work for companies operating in the digital world, or to become an artist-practitioner, or even to start your own studio.
Program highlights
State-of-the art lab facilities
Exciting internship opportunities in Montreal's world-class digital arts industry
A Bachelor of Fine Arts degree takes a minimum of three or four years (90 – 120 credits) of full-time study, depending on your academic background.
Program options
Specialization in Computation Arts (60 credits)
Students interested in either a design or studio practice in digital media with a solid technical foundation should consider the Specialization. Students in the specialization program take all their courses within the Faculty of Fine Arts.
Joint Major in Computation Arts and Computer Science (45 credits)
Students interested in combining a design or studio practice in digital media with a deep foundation in computer science should consider the Joint Major. Students will take half of their courses in the Computation Arts program and half in the Computer Science program offered by the Gina Cody School of Engineering and Computer Science.
Minor in Computation Arts (24 credits)*
*Please note that admissions to this Minor is currently suspended. Only available to students in their second year and later.
Students in the Minor program will explore the use of computers as a new medium for creative expression. Using digital media, the program provides students with a rich foundation for innovative work that crosses the areas of design, art and technology.
Minor in Game Design (24 credits)*
*Please note admission to this Minor is only available to students in their second year and later.
Students in the Game Design minor will have access to the whole game design and development course sequence of the Computation Arts program. This curriculum covers the theoretical as well as technical and artistic underpinnings of designing playful applications.
For a list of required courses, please download the Program Guide according to year of entry.
Advanced level students have the opportunity to pursue independent study courses and internships.
Internships and other study opportunities
International study opportunities
Concordia University offers students the opportunity to take part in an International Student Exchange Program (ISEP) that will count for credit towards their Concordia degree, while paying the same tuition fees they do at home and possibly receiving funding. International study opportunities bring cultural diversity and enrichment through immersion in the programs of study at Concordia's partner institutions.
Professional internships
Internships provide students with the opportunity to pursue work in design-related industries and cultural institutions. Students have found placements in both large companies, as well as independent studios in a wide range of disciplinary areas. Consult the Undergraduate Calendar for details about program specific requirements and prerequisites.
Independent studies
Students may explore specific areas of design through intensive research in an independent study. This opportunity allows students to work directly with a member of the faculty to develop a semester-long project. Consult the Undergraduate Calendar for details about program specific requirements and prerequisites.
United States students: A U.S. Federal Student Aid-eligible version of this program is offered. This version meets all U.S. regulations (such as no co-operative education or e-courses) for eligible programs.
This program is available for Fall admission only.
Minimum cut-off averages and course requirements
Quebec CEGEP: DEC
High School: C+

ACT or SAT is NOT required

International Baccalaureate (IB) diploma: 26
Baccalauréat français: 11
British system of education (GCE):

A-levels: At least two A-level exams CD or
AS-levels: At least 4 AS-level exams with equivalent results or
BTEC: Level 3 Diploma or Extended Diploma in a related subject area with equivalent results

University Transfers (internal/external): C
Additional requirements for admission
Letter of Intent
Portfolio
Minimum cut-off averages should be used as indicators. The cut-off data may change depending on the applicant pool. Applicants who meet the stated minimum requirements are not guaranteed admission to these programs.
Application deadlines
We consider complete applications year round and give priority to applicants who apply by official deadlines.
FALL TERM
March 1 is the deadline to apply for fall term entry. International students are encouraged to apply by February 1 to allow sufficient time for CAQ and study permit application processing.
Late applications will be considered if places are still available. Please check program availability for the term, before you start your application.
WINTER
Admission to this program is available for the Fall Term only.
We reserve the right to close admission to a program at any time after the official deadline without prior notice.
Many alumni find meaningful work in the videogame, advertising and entertainment industries. Graduates have gone on to start their own studios focused on work like web design, electronic installations, and "physical computing" for museum exhibits (developing computer systems that interact with the physical world).
Simon-Albert Boudreault
Specialization in Computation Arts
CArt is about learning creative ways to express yourself with tech. It involves art that you can make with a computer.
Other programs of interest
Computation Arts - Computer Science (BFA)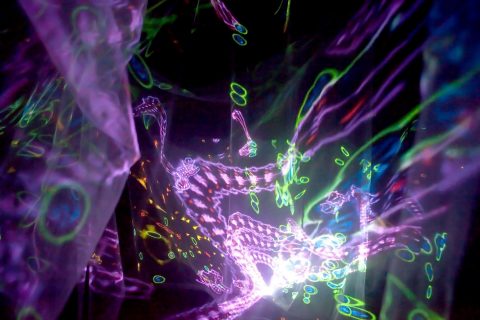 Stimulate the senses. Engage the mind. When you study Computation Arts, you become a digital artist, using algorithms and computational theory to create interactive multimedia that breaks new audio-visual ground.
Department
Department of Design and Computation Arts
Faculty