Apply now
Degrees
Bachelor of Arts (BA), Certificate (Cert)
Department
Faculty
Primary campus
Sir George Williams (SGW)
Why choose Irish Studies?
Delving into the Irish experience will anchor and expand your understanding of the issues facing our planet today. The people of Ireland have a history that includes colonisation, famine, diaspora, civil war, partition, and the Troubles. Looking at what happened in Ireland can become the key to comprehending what's at stake now as events like refugee crises, mass immigration and resettlement play out around the world.
Irish contributions to literature, music and dance have had a global reach, with an incredibly rich and unique history of their own.
Pursuing a degree in Irish Studies is the perfect way to weave your own tapestry of an educational experience, choosing from courses in political science, history, design, music, language, literature, theology, geography, and more.
Students who enroll in the programs of the School of Irish Studies benefit from small class sizes, the possibility of significant funding (Scholarships and Tuition Remission Awards, if you meet certain criteria), and the chance for funded travel to Ireland. The Irish Studies program is the only one of its kind in North America, allowing you to learn about Ireland and the experience of the Irish around the world.
Program highlights
Study Ireland but explore international issues beyond Irish matters
Receive generous funding while at Concordia and for study in Ireland
Join a small, welcoming department and experience cultural and community events.
Program options
Certificate in Irish Studies (30 credits)
Major in Irish Studies (42 credits)
Minor in Irish Studies (24 credits)
How to combine this degree
Whether you want to do a major or a minor in Irish Studies, or combine it with one or two other fields of study, we offer many possible options to suit your interests and needs.
Minimum cut-off averages and course requirements
Quebec CEGEP: DEC
High School: C+

ACT or SAT is NOT required

University Transfers (internal/external): C
Baccalauréat français: 11
International Baccalaureate (IB) diploma: 26
Minimum cut-off averages should be used as indicators. The cut-off data may change depending on the applicant pool. Applicants who meet the stated minimum requirements are not guaranteed admission to these programs.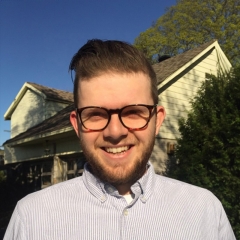 Kevin Aikman-Carter
Major in Canadian Irish Studies
What's great about the courses is that because you're at most 20 students in a class, you really get to know your professors.
Other programs of interest