Whether you want to do a major or a minor in Irish Studies, or combine it with one or two other fields of study, we offer many possible options to suit your interests and needs.
The Major in Irish Studies is a 42-credit program that gives students a broad understanding of the history, literatures and cultures of Ireland and the Irish Diaspora.
Students who are in 90-credit programs
Students who are in 120-credit programs:
The Minor in Irish Studies is a 24-credit program intended for undergraduate students in the Faculty of Arts and Science who wish to complement their core area of study, or Major, with a selection of courses focused on the Irish experience in Ireland and Canada.
Students in 90-credit programs: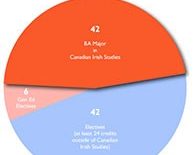 Minor with honours or specialization
Minor in Irish Studies with an honours or specialization in another subject
Download PDF
Students in 120-credit programs: