Traduction (Translation) (BA)
Apply now
Degree
Bachelor of Arts (BA)
Department
Faculty
Program type
Major, Specialization
Primary campus
Sir George Williams (SGW)
Experiential learning
Co-op
The more interconnected the world becomes, the more it needs translators: people with quick, inquisitive minds and intercultural expertise that enables them to work in diverse professional situations.
To become a translator, you must start with an excellent knowledge of French and English. We'll help you master the language towards which you translate and establish a thorough command of your source language.
You will choose from one of two streams: if your dominant language is English, you learn to translate from French to English. If your dominant language is French, you translate from English to French. In addition to translation courses, you take language, linguistics and literature courses to sharpen your skills and acquire a high level of proficiency in reading and writing.
Our program is officially recognized by the Canadian Association of Schools of Translation (CAT). A BA obtained upon completion of the Specialization in Translation can lead to certification by the Ordre des traducteurs, terminologues et interprètes agréés du Québec (OTTIAQ).
Program highlights
Opportunities to pursue personalized translation projects based on your interests
Opens up numerous career paths, from public relations to education
Program options
Specialization in Traduction (Translation) (69 credits)
Students in the specialization choose one of two options:
Option A: French to English
Option F: English to French
The BA Spécialisation en traduction is a limited-enrolment program. As it requires excellent knowledge of both English and French, students admitted to the program must take placement tests in both languages.
Majeure en traduction (48 credits)
The BA Majeure en traduction enables students to develop skills in both English and French, languages that are highly valued on the job market. It also give students the flexibility to take elective courses in other areas or to add another program such as a Minor to fulfill the degree requirements.
As the program requires good knowledge of both English and French, students must take placement tests in both languages on admission. It is possible to change your concentration from the Major to the Specialization once you meet the following criteria: you must have obtained 24 credits of program courses including 6 credits of translation courses, with an overall minimum B average in the program courses and a B average in the FTRA courses.
Co-op program
The Co-op program in translation gives you the opportunity to learn about the translation milieu and to experience the professional work environment first-hand. You complete paid work terms, alternating with full-time study terms, in translation or related areas like terminology and project management. It's an invaluable chance to gain practical experience. An entrance test and an interview are required in order to be admitted to the Co-op program.
Minimum cut-off averages and course requirements
Quebec Cegep: Specialization: 25, Major: DEC
High School: Specialization: B | Major: C+

ACT or SAT is NOT required

University Transfers (internal/external): Specialization: B- | Major: C
Baccalauréat français: Specialization: 12 | Major: 11
International Baccalaureate (IB) diploma: Specialization: 27 | Major: 26
CEGEP students
Two CEGEP courses or equivalent in the language towards which the student wishes to translate. If these courses were not available in the CEGEP attended, the student may be required to complete them at the university level.
Minimum cut-off averages should be used as indicators. The cut-off data may change depending on the applicant pool. Applicants who meet the stated minimum requirements are not guaranteed admission to these programs.
Isanielle Enright
Specialization in Traduction (Translation, English-to-French option)
I want to explore how translation allows for the exchange of new ideas and technologies.
Other programs of interest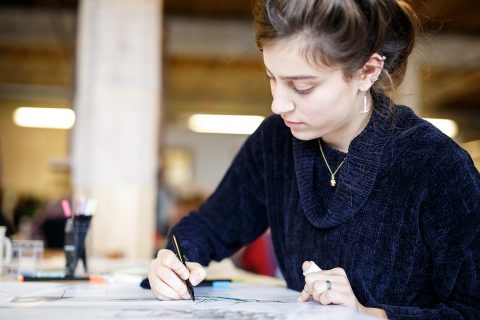 Our Creative Writing program, one of the first of its kind in Canada, immerses you in every aspect of the writing life, from the development of ideas to the publication of finished works.
Department
Faculty
Études françaises (French Studies) (BA)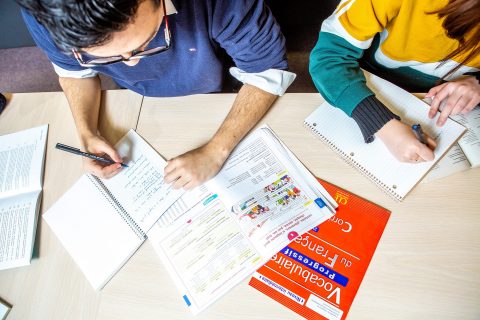 Whether you're an absolute beginner or a francophone, you're welcome here. You study French at your own pace. We offer a wide variety of language courses and you're able to choose from academic paths in linguistics, literature or translation.
Department
Département d'études françaises
Faculty