Safety Awareness Campaign
The 2017 safety awareness campaign is aimed to remind the university community of the importance of wearing personal protective equipment (PPE) and to refrain from consuming food or beverages in areas where hazardous materials are used or stored.
Compliance with personal protective equipment requirements is a challenge. In 2016, there were 10 injuries whereby the injured person was either not wearing the required personal protective equipment or it was not the proper personal protective equipment. We are spotlighting personal protective equipment in an effort to raise awareness to the importance of being appropriately protected. This campaign comes just as the university's Policy on Personal Protective Equipment (VPS-41) is updated in order to establish the university's minimum standards for personal protective equipment.
Food and hazardous materials don't mix. A longstanding compliance issue, both here and in many universities, we are taking the opportunity to remind the university community that food and drink are not permitted in areas where hazardous materials are used and stored.
To request a copy of one or both safety posters, contact us at ehs@concordia.ca or ext. 4877.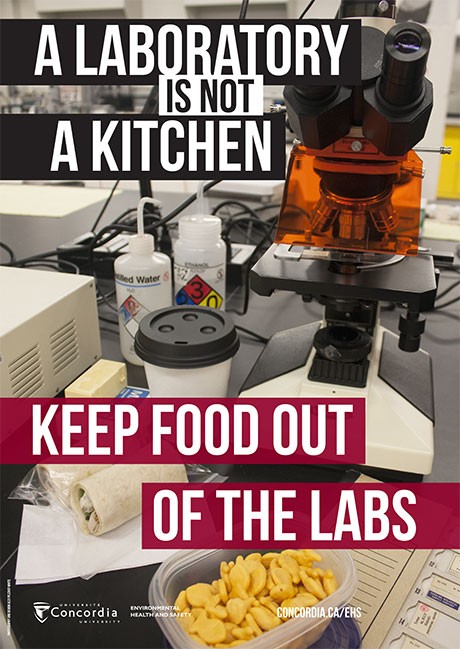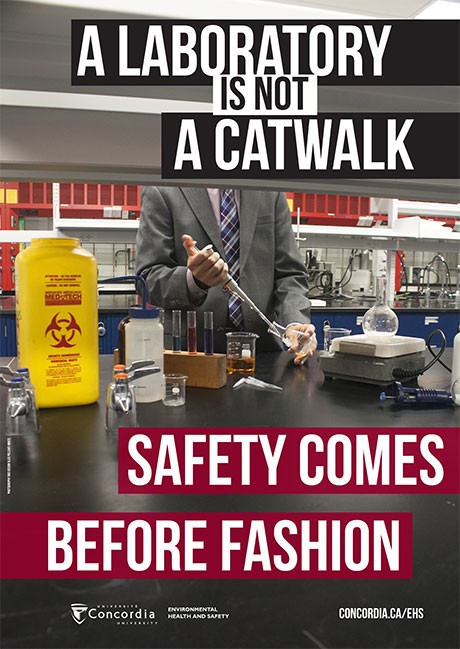 Environmental, Health & Safety:
514-848-2424, ext. 4877