Apply now
Degree
Bachelor of Fine Arts (BFA)
Department
Faculty
Primary campus
Sir George Williams (SGW)
Printmaking plants one foot in the past and the other firmly in the future. It connects you to artisanal and contemporary concepts and techniques that mix the ancient world, the renaissance, pop culture and the digital age. Working in some of the best facilities in Canada with committed artists and master printers, you'll explore ideas and learn processes that inspire innovative work.
As your artistic skills flourish, community develops. Students help one another, sharing presses, ink and a commitment to the printed image. By combining studio practice with history, theory, and interdisciplinary approaches, you embrace the contemporary.
You'll graduate as a practising and exhibiting artist, ready to tap into the contemporary fine arts community nationally and internationally. You will be equipped with the skills to work in community print studios or in a private atelier.
Program highlights
Active community of students hosts visiting artists and organizes student trips and exhibitions
Large, modern, well-equipped printmaking studios
A Bachelor of Fine Arts degree takes a minimum of three or four years (90 – 120 credits) of full-time study, depending on your academic background.
Program options
Major in Print Media (60 credits)
Minor in Print Media (30 credits)*
*Please note that admissions to this Minor is currently suspended.

In Print Media you will investigate the meaningful relationships that exist between the technologies of reproduction, individual expression and contemporary society.
The program is designed with fewer credits so you can combine several print techniques and garner more skills in each studio. You'll gain experience in the following print techniques:
Lithography
Intaglio
Screen printing
Monoprinting
Relief
Digital imaging
Book arts
Explore the intersections of interdisciplinary work and foster your individual artistic development through a range of special topics and theory courses.
This program encourages experimental and innovative thinking and the development of a solid critical understanding of your work in relation to contemporary culture.
You'll take courses that address the practice, theory and history of print media. You will choose from special topics courses that change from year to year, exploring the frontiers of contemporary print arts, as well as independent study courses and internship opportunities.
Your degree can lead to many paths such as:
Numerous national and international graduate programs in print media or studio arts
Working as a practising multidisciplinary artist
Using your acquired skills to work independently in community print studios or in private ateliers
Opening your own studio or assisting established artists
Applying your skills to specialized computer applications or post-graduate education in a technical or related field
Other programs of interest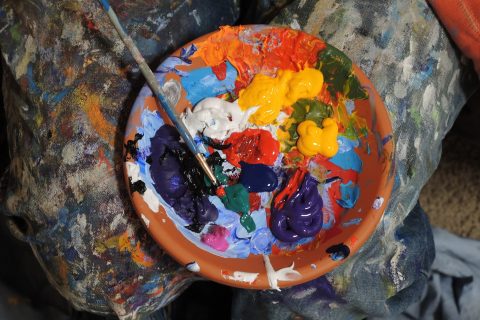 As a Studio Art major, you'll have the flexibility to choose a concentration or combine any of our seven disciplines: Ceramics, Fibres and Material Practices, Intermedia/Cyberarts (Performance, Video, Electronic Arts), Painting and Drawing, Photography, Print Media, Sculpture and Installation.
Department
Faculty
Fibres and Material Practices (BFA)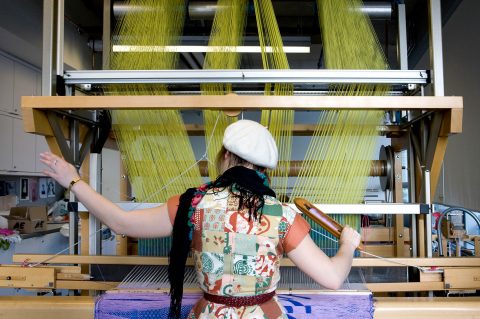 Our professional facilities include a fibre structures studio for weaving, felt making and basketry; a Print and Dye shop; and a Papermaking centre.
Department
Faculty
Intermedia (Video, Performance and Electronic Arts) (BFA)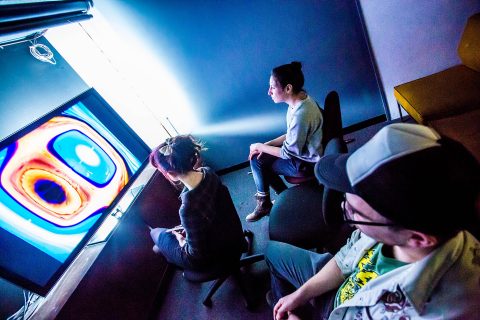 If you want to be a pioneer, exploring relationships between emerging and existing media technologies and the fine arts, then this program for you.
Department
Faculty