Electrical Engineering (BEng)
Apply now
Degree
Bachelor of Engineering (BEng)
Department
Faculty
Primary campus
Sir George Williams (SGW)
Experiential learning
Co-op, Internship
Why study Electrical Engineering?
Control energy with a flip of a switch. Design next-generation microchips or flight control systems. Electrical engineers build electrical and electronic devices and systems that we depend on every day — whether they are very small (like the microchips in our cell phones) or very large (like the power grids or charging stations for electric cars).
Our state-of-the-art labs for digital electronics, electric power systems, microfabrication, circuits and digital communications will give you experience with the tools you'll use in the field. Through labs, lectures and projects, you'll also:
Design circuits and electronics systems
Study, design and fabricate micro devices
Design communications systems (protocols, antennas, channel modulation, networks)
Design power electronics for renewable energy and electric transportation
Learn signal processing techniques for analysis of bio medical signals
Design control systems for airplanes and other vehicles
Work in a Co-op program and get real-world experience in the microelectronics, telecommunications and power industries
All of our Engineering programs are accredited by the Canadian Engineering Accreditation Board and you'll graduate eligible to become a registered professional engineer.
Program highlights
Concordia's chapter of the IEEE student society offers guidance on electronics projects from soldering tutorials to PCB design in their fully equipped lab, as well as hosting social and networking events.
All students accepted in the Bachelor of Electrical Engineering program who are not enrolled in the Co-op program must complete one 12-17-week internship to graduate. This internship program, C.Edge, is administered by the Institute of Co-operative Education and will allow ECE students to have one paid internship in their field of study.
In the third year of study, students may choose to take one of five elective options:
Electronics/VLSI
Telecommunications
Power and Renewable Energy
Avionics and Control
A general stream with more credits chosen from the Electrical Engineering electives list
Courses
Core course groups
Engineering core
Electrical Engineering core
Elective course options
Electronics/VLSI Option
Telecommunications Option
Power and Renewable Energy Option
Avionics and Control Option
Credits chosen from the Electrical Engineering electives list.
Build an FM wireless receiver
Build a "smart home" using sensor technology
Design a solar home electric vehicle charger
Develop a wind energy conversion system
The Co-op program gives you the chance to complete paid work terms that last 12 to 16 weeks. As a Co-op student, you will work for engineering firms where you may:
Design and code embedded systems
Develop, test and integrate telecom solutions
Design and validate a video card's programmable circuits
Students not enrolled in Co-op will complete a C.Edge internship as part of their degree requirements. This full-time paid internship lasts between 12-17 weeks, and enables students to:

Strategically develop their career while earning an income
Get support finding an internship in their field
Apply their academic skills in a real-world work environment
Take advantage of networking and mentoring opportunities
Develop important personal and professional skills
Minimum cut-off averages
Quebec CEGEP: 24 overall, 23 math, 22 phys.
High School: B- overall, B- math, B- phys.
University Transfers (internal/external): B- overall, B- math, B- phys.
Baccalauréat français: 12 overall, 12 math, 12 phys.
International Baccalaureate (IB) diploma: 27 overall, 4 math, 4 phys.
Course requirements for admission
CEGEP students
Admission is based on applicants' overall Math and Physics (if applicable) CRC indicated above and completion of the following classes as part of their DEC.
For all BEng programs
CHEM 101 or 202-NYA; MATH 103 or 201-NYA and 203 or 201-NYB and 105 or 201-NYC; PHYS 101 or 203 NYA and 201 or 203 NYB
Students completing a three-year technical DEC in a related field may also be eligible for admission without the specified profile provided they achieve a minimum overall CRC as indicated above and preferably a minimum of 24 in math and physics course(s) required for their CEGEP program. Students may be eligible for exemptions/transfer credits based on course equivalencies.
Baccalauréat français
Première : Spécialité mathématiques AND Spécialité physique-chimie
Terminale : Spécialité mathématiques (also accepted, Mathématiques complémentaires AND Spécialité physique-chimie)
International Baccalaureate (IB) applicants
Science HL or SL acceptable.
University transfers and mature students
Applicants who meet the minimum entry requirements are encouraged to apply and may still be considered for admission, provided they have completed the majority of the prerequisite courses. Transfer credits may be considered on a course-by-course basis.
Prerequisites for university transfer applicants
The following courses are required in addition to the program and may be completed at another post-secondary institution prior to admission or at Concordia.
For all BEng programs
Calculus I and II, Linear Algebra, Mechanics, Electricity and Magnetism, General Chemistry I
Minimum cut-off averages should be used as indicators. The cut-off data may change depending on the applicant pool. Applicants who meet the stated minimum requirements are not guaranteed admission to these programs.
Electrical Engineering alumni have established careers in a range of fields, including aerospace, avionics and robotics, telecommunications, image and video processing, digital security, and power electronics and systems. Some have been hired by:
Bombardier
CAE Inc.
Ericsson
Hydro-Quebec
CAE Inc.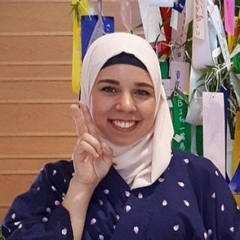 Sarah Ben Rejeb
Bachelor of Engineering Option: Electrical Engineering
Sarah Ben Rejeb discovered a passion for project management by trying different areas of specialization through her internships.
Other programs of interest
Aerospace Engineering (BEng)
Computer Engineering (BEng)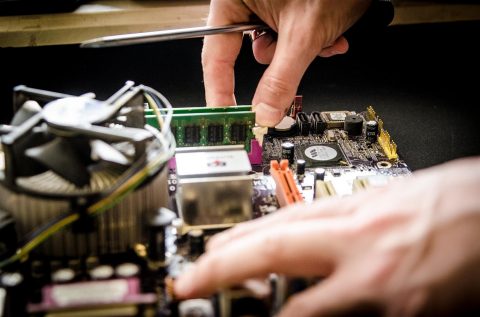 Without computer hardware there would be no smart phones, DVD players and digital recorders or computerized medical devices. As a computer engineer, your knowledge of computer architecture, digital electronics, circuits and digital communication will lead to new innovations or bring about another information revolution.
Department
Department of Electrical and Computer Engineering
Faculty
Mechanical Engineering (BEng)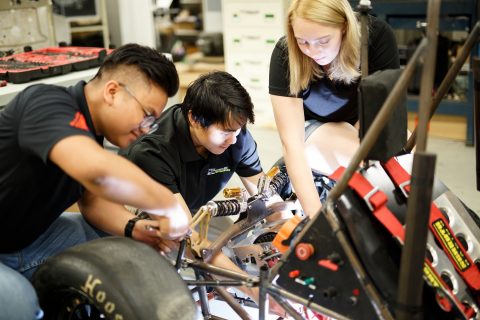 Build engines. Design robots. Control explosions. As a mechanical engineer, you will create, construct and control machines. Whether it's a vehicle, an aircraft engine or an assembly line, mechanical engineers know how to fit that square peg into a round hole, and do it with a little finesse.
Department
Department of Mechanical, Industrial and Aerospace Engineering
Faculty