Acting for the Theatre (BFA)
Apply now
Degree
Bachelor of Fine Arts (BFA)
Department
Faculty
Program type
Specialization
Primary campus
Sir George Williams (SGW)
Why study Acting for the Theatre?
Train to become a versatile actor with a rich diversity of skills, ready to take on a wide range of roles and theatrical styles.
Begin by acquiring core acting skills such as text interpretation (scene and monologue work), movement, voice and presence, characterization, and ensemble work. At the same time, grow into a well-rounded theatre artist by studying dramaturgy/script analysis, collaborative methods, theatre history and theory, and scenographic design fundamentals.
As you move through the program, explore more advanced techniques and specialty skills, such as stage combat, theatrical Biomechanics, Viewpoints, singing, dialects, audition and camera, among others. Progress from acting styles rooted in psychological realism to range-expanding techniques based in psychophysical and non-realistic approaches. Apply your growing skillset by performing in productions of plays by great contemporary playwrights and iconic writers from the past. You'll also have opportunities to create and perform original work.
Throughout your degree, gain exposure to the professional theatre scene in Montreal and beyond. You may do a supervised internship with an organization such as the Segal Centre, the Centaur Theatre, Geordie Theatre, and Bread and Puppet Theater. You may also have the chance to participate in an international exchange program or field schools; recent opportunities have included programs in Chinese opera in Beijing, and post-dramatic theatre in Germany.
By the end of the program, you'll emerge with a clear sense of your own theatrical identity. You'll know what kind of work you want to do and what kind of stories you're inspired to tell, and you'll have the confidence, abilities, and artistic daring to step into a professional career.
Program highlights
Access state-of-the art studios, design classrooms, lighting lab, and a new costume shop
Learn from working theatre professionals and become acquainted with Montreal's theatre community
A Bachelor of Fine Arts degree takes a minimum of three or four years (90 – 120 credits) of full-time study, depending on your academic background.
Program option
Specialization in Acting for the Theatre (60 credits)
Acting for the Theatre students begin by taking core theatre courses with all theatre students. As you progress and your skill base grows, you will take classes in specialty performance areas and advanced techniques.
You may also choose from courses that cover all practical aspects of theatre, including stage management, production, and dramaturgy.
United States students: A U.S. Federal Student Aid-eligible version of this program is offered. This version meets all U.S. regulations (such as no co-operative education or e-courses) for eligible programs.
This program is available for Fall admission only.
Minimum cut-off averages and course requirements
Quebec CEGEP: DEC
High School: C+

ACT or SAT is NOT required

International Baccalaureate (IB) diploma: 26
Baccalauréat français: 11
British system of education (GCE):

A-levels: At least two A-level exams CD or
AS-levels: At least 4 AS-level exams with equivalent results or
BTEC: Level 3 Diploma or Extended Diploma in a related subject area with equivalent results

University Transfers (internal/external): C
Additional requirements for admission
Letter of intent
Audition video
Following the review of your application, short-listed applicants may be asked to submit follow-up video assignments and/or be invited to a Skype interview.
Check program availability as late applications will continue to be accepted for certain programs for an undetermined amount of time.
Minimum cut-off averages should be used as indicators. The cut-off data may change depending on the applicant pool. Applicants who meet the stated minimum requirements are not guaranteed admission to these programs.
Application deadlines
We consider complete applications year round and give priority to applicants who apply by official deadlines.
FALL TERM
March 1 is the deadline to apply for fall term entry. International students are encouraged to apply by February 1 to allow sufficient time for CAQ and study permit application processing.
Late applications will be considered if places are still available. Please check program availability for the term, before you start your application.
WINTER
Admission to this program is available for the Fall Term only.
We reserve the right to close admission to a program at any time after the official deadline without prior notice.
As a Concordia Acting for the Theatre graduate, you'll be joining an extensive, proud network of our alumni, many of whom have gone on to work with exciting theatre companies in Canada and around the world, and in film, television, and web series.
The program provides an excellent basis for advanced studies at the graduate level. Many of our students have been accepted (and, in several cases, received scholarships) into Master's programs in acting at such notable institutions as New York University, University of Southern California, University of Washington, Naropa University, University of Iowa, Bristol Old Vic Theatre School, and the Central School of Speech and Drama in London, among others.
The program encourages the development of autonomous thinkers and theatre-makers, with the ability to create their own work, and many students go on to form their own theatre companies. Many of Montreal's English language theatre companies are helmed by Concordia alumni. Our graduates possess an excellent foundation for any career – in theatre or beyond – in which presence, confidence, communication, and collaboration are integral. For example:
Actor
Producer
Director
Artistic director
Performance coach
Acting/voice/movement teacher
Festival curator
Casting director
Outside of traditional theatre:
Narrator/voice-performer
Clown
Stunt or motion-capture performer
Model
Corporate product spokesperson
Event animator (historical or fantasy character)
Museum animator
Event or broadcast host
Workshop facilitator
Public speaking coach
Teacher
Media relations specialist
Politician
Lawyer
Other programs of interest
Design for the Theatre (BFA)
Performance Creation (BFA)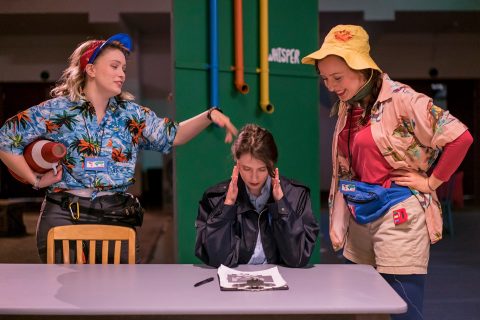 A growing number of theatre professionals no longer see themselves solely as directors, playwrights or dramaturges, but rather as performance creators.
Department
Faculty