Apply now
Degree
Bachelor of Arts (BA)
Department
Faculty
Program type
Major, Minor, Honours
Primary campus
Sir George Williams (SGW)
Learning Italian and studying Italian literature is a gateway to the world's past and present achievements of outstanding art and culture. From the Renaissance to contemporary Italy, explore architecture, art history, cinema, and fashion, to name just some fields in which Italy has made, and continues to make, quintessential contributions.
As a founding member of the European Union, Italy plays a key role in the modern world. A look at its cultural, economic and political life includes fascinating, relevant topics like the rise of new mafias and dark economic systems; refugee crises and immigration; contemporary cinema. You will acquire a deep understanding of Italian culture, traditions, history, literature and media through innovative and interdisciplinary approaches.
Montreal is home to a vibrant Italian community, giving you ample opportunities to practice your Italian. Another option: take classes and live in Italy for a term or an academic year, with the support of Quebec government funding and Concordia International. Our partner universities include the Università di Bologna, the oldest university in the world, and the Università di Roma III.
Vi aspettiamo!
Program highlights
Small class sizes
Opportunities for funded travel
Program options
Honours in Italian (60 credits)
Major in Italian (42 credits)
Minor in Italian (30 credits)
Minimum cut-off averages and course requirements
Quebec Cegep: 20 (Honours: 28)
High School: C+ (Honours: B+)

ACT or SAT is NOT required

University Transfers (internal/external): C (Honours: B+)
Baccalauréat français: 11 (Honours: 14)
International Baccalaureate (IB) diploma: 26 (Honours: 31)
Honours programs
Students applying directly to an honours program should list it as their first choice. If not admitted to honours, they will automatically be considered for the next highest program (i.e. specialization or major).
Minimum cut-off averages should be used as indicators. The cut-off data may change depending on the applicant pool. Applicants who meet the stated minimum requirements are not guaranteed admission to these programs.
Italy's is the eighth-largest economy in the world and studying Italian could open up career opportunities you've never thought about. Some of best-loved brands in Canada, like Ferrero, Illy and Geox, are Italian. Italy's economy includes aerospace engineering, shipbuilding, and culinary arts.
Our graduates have found their language skills and cultural knowledge advantageous in those fields and others, including:
Education
Translation and interpretation
International business
Government
Travel industry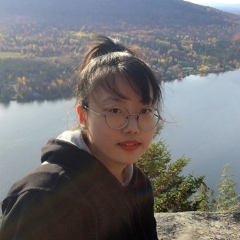 Pengxuanzi Zhan
Major in Italian
Don't be afraid to study Italian even though you don't have a background in the language.
Other programs of interest