Looking to keep your wheels turning this semester? Why not join our dedicated staff in a spinning session as a typical spinning class involves a highly motivated and engaging instructor leading the peloton through routines that are designed to simulate terrain and situations similar to riding a bike outdoors.
Some of the movements and positions include hill climbs, sprints and intervals. Using music, and motivation, enthusiastic leadership,students are lead through a ride that best suits their fitness level and goals. Our classes are designed to improve a rider's outdoor skill set and increase endurance while providing an intense cardiovascular-based workout.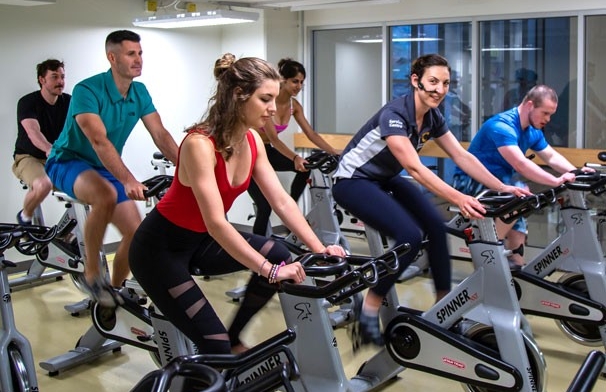 An aerobic class "on wheels". Participants use the stationary cycle to simulate a real world bicycle training ride, complete with hills, valleys, & sprints. You will learn about the proper pedalling stroke and how crucial body alignment is to the success of the exercise.
What makes Spinning different from biking out on the cardio floor?
The single biggest difference is that you are monitored, coached, challenged and encouraged by a Trainer in an atmosphere that helps you focus on your workout, form, spinning rate, breathing and your personal visualization. You will find that you will work more efficiently (harder), effectively (equals results) and safely in the presence of a trainer. It is not just for cyclists, or advanced exercisers. The beauty about Spinning is that each and every participant works at their own pace, as you should with any exercise. The fact that the exercise activity is non weight bearing and no impact makes it user friendly for everyone!
* Please note that all spinning bikes come equipped with both SPD (or SPD compatible) clip-less pedals as well as toe-clips/cages for regular shoes.
A few things you should take with you to spin class:
Water and a towel
Drinking water throughout a spinning class is essential. Indoor cardiovascular exercise increases your body temperature and causes significant perspiration. All that sweating can leave you dehydrated if you are not constantly hydrating yourself during class.
Please bring a towel to each spinning class.
Comfortable workout clothes
Workout clothes that allow for free movement are preferred. Fabrics that pull sweat away from your body leaving you cool and dry are recommended for spinning.