Concordia recreation offers a wide range of innovative and popular classes for your dancing pleasure. Fall classes are the best avenue for newcomers wishing to learn or improve their technique and proficiency in a low-key instructional setting.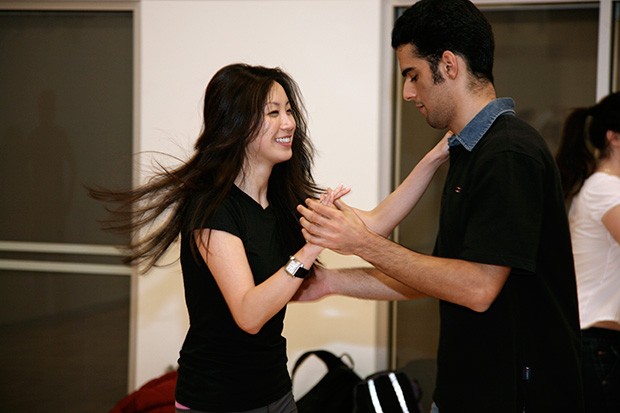 Introductory class that aims to teach the basic moves, isolations and traveling steps of bellydance. Through simple and fun choreographies, get ready to get in touch with your body in new ways using muscles that may have never been used before! Props like veils and canes might be used during the session.
No dance experience is required and all levels of fitness are welcome.
This class combines a variety of dance styles, while focusing on playful and seductive movements, poise and strength. Every class, you will be guided through a fun choreography aimed to develop body awareness and musicality and to boost your confidence on the dance floor. Get ready to pose, shimmy and shake!
Some choreographies might be performed in heels and/or using some props.
No dance experience is required and all levels of fitness are welcome.
Hip-hop dance refers to dance styles primarily danced to hip-hop music or that have evolved as part of hip-hop culture. This includes a wide range of styles notably breaking, locking, and popping which were created in the 1970s by African Americans. What separates hip-hop dance from other forms of dance is that it is often freestyle in nature and hip-hop dancers frequently engage in battles — formal or informal freestyle dance competitions. Informal freestyle sessions and battles are usually performed in a cipher, "a circular dance space that forms naturally once the dancing begins." These three elements — freestyling, battles, and ciphers — are key components of hip-hop dance.
Salsa is an introductory course, which gives a foundation of movement for students who have had little or no dance experience. In this course, students will learn the basics in 'Salsa and Merengue'. Emphasis will be on the development of partnering skills, lead and follow, the basic principles of timing, as well as basic foot work and variations of simple turn patterns.
An introduction to swing dancing! Become the best dancer(s) at the wedding or social event where you go with only one semester! You will learn a lot about good dance techniques and about the swing dance community and culture in Montreal and the world. Discover the techniques and basic steps specific to swing dancing and learn enough basic moves to take to the floor with assurance and blow the socks off your friends and family at the next wedding or special event.
The basic elements of the Argentine Tango are taught in this class. If you have never danced Argentine Tango, this is the class to begin with. Walking in harmony, the man and woman facing each other, they embrace the "ocho" or figure eight, forward and backward movements will be covered. Emphasis is placed on the man initiating or leading the woman and the woman responding or following his lead. Musicality and connection are the main objectives of the classes and are acheived through improvisation exercises and sequences. Open to all levels, but geared toward beginners.
Not your regular ballet class! It is a course designed for adults with or without a dance background who wish to improve their strength and flexibility in a fun and challenging atmosphere. The course promotes understanding and maintenance of correct posture, helps to develop a range of movements within the student's natural capabilities and develops communication through movement in an artistic way. In this 2-hour multi-level course, we will focus on strength and flexibility in the legs, back and centre corps with exercises that will progressively challenge each student.
Have you ever wanted to dance but didn't know how? This course will teach you to dance to many different rhythms — rumba, cha-cha, merengue, and more. You will learn how to partner as a leader, follower or both. The class is suitable for both singles and couples. The instructor is Daphne Cunliffe, a Fellow of the Imperial Society of Teachers of Dancing. After taking this course, you should feel comfortable going out to dance, enjoying the Montreal nightlife and you will have hours of fun learning.
In this class, you will dance on your favorite pop and R&B songs (current hits and retro faves). Every class, you'll learn a fun routine designed to make you feel and look like a pro dancer in a pop music video. A great way to break a sweat, gain confidence on the dance floor and develop body awareness and musicality.
No dance experience is required and all levels of fitness are welcome.