Looking to exercise at a moderate level of intensity over a sustained time interval, than look no further than our aerobics classes to get you moving in the right direction. Benefits include: strengthening muscles throughout your body and improving cardiovascular and circulatory efficiency as well as lowering your blood pressure.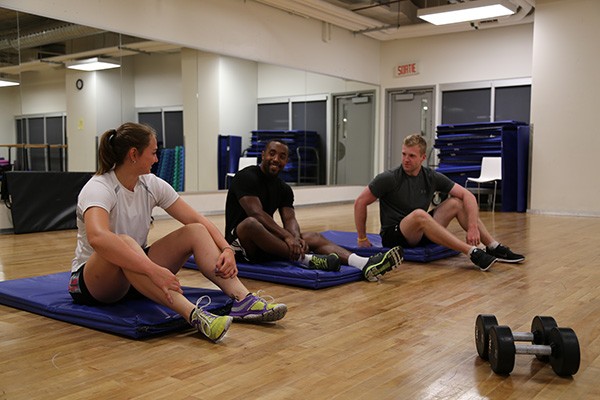 In Greek, (Cali​sthenics): Kallos means Beauty. Sthènos, Strength. In this class, you will discover how a conscious and methodical approach to bodyweight training will open an evolving path of possibilities.
By using a combination of gymnastic's movements, different martial art's conditioning exercises, as well as circus and dance techniques, the students will develop real functional strength, unexpected mobility, flexibility and a more in-tuned sense of balance. The vast majority of my exercises are bodyweight oriented. I have a strong background in bodyweight gymnastics and capoeira. I do this full-time and still explore new movements every day. My goal is for the classes to be original every time and especially, for the students to enjoy this original way of getting fit!
*Monday, June 24 and Monday and July 1 CaliStrength sessions will take place on Tuesday, June 25 and Tuesday, July 2 from 12 to 1 p.m.
Distinctive style, moves, and music. Cardio Plus draws from a plethora of dance styles while always integrating the newest combinations of cardiovascular aerobics and toning. For those who enjoy dancing and working out come to this class to groove.
Zumba is a mixture of dance and aerobic exercise routines accompanied by popular music, mainly Latin-American, but also featuring hip-hop, soca, samba and world music. Zumba classes are for everybody and every class feels like a party.
Zumba Fitness is a dynamic marriage of eclectic dance rhythms such as Cha Cha, Reggae, Rumba, Bachata, Merengue, Mambo, Cumbia and Salsa and aerobic conditioning with the purpose of improving flexibility, strength, cardiac output and equilibrium targeting the major muscle groups in the process. It will put zest in your step and leave you feeling positive and energized during your daily activities.
This 90 minute class is a loud, high-energy dance experience that will make your heart pumping and leave you soaking wet! Featuring current pop and R&B hits, as well as international and Latin beats, this fast paced class proposes a fusion of dance and fitness moves that will improve your cardio and strengthen your lower body and core. Routines are easy to follow and designed to be fun and to make you feel strong and fierce.
Each class ends with 20 to 25 minutes of ab exercises and stretching.
A conditioning workout for all muscle groups performed in non-stop rhythmical combinations. The class begins with a warm-up of low-impact aerobics and stretching followed by strengthening exercises using light hand weights. The level of the class is determined by the weights you choose. Core strengthening, proper alignment and fun are emphasized.
Strong is a revolutionary, high-intensity workout where every move is synced to a beat. Unlike many workout classes where the music is simply an afterthought, in this class all the songs are specifically designed to sync with the workouts so every punch, kick and jump you do has a coinciding sound.
This class is designed for participants looking to increase their intensity levels of training, maximize workout benefits and see real results from their efforts. While simple dance steps are part of the program, the class is a more athletic, conditioning-style workout, suited for those who love to move but are not comfortable in a full-out dance class.
This new group fitness class is an interval or intermittent intensity style program. That means the high intensity moves, think high knees, burpees, jumping jacks, are interchanged with lower intensity moves like lunges, jump rope, kickboxing throughout the entire workout.
One benefit of the class is that the instructor can adapt the workout to all fitness levels by offering many modifications so that nearly everyone can take the class, be successful and progress. At the same time, the program can provide an incredibly high energy, maximum demand workout for more fit individuals, challenging them enough to take them to new personal heights of fitness achievement.
Total body workout comprising intervals of variable intensity and duration (20 to 45 seconds) and followed by periods of rest and/or active recovery. Through a variety of weight training and aerobic exercises, this class is a great way to improve your cardio and muscle endurance and strength.
Class length ranges between 45 and 50 minutes, depending on the intensity of the workout.
Let me ask you a question: does feeling bored, unmotivated or just desperate to try something new sound familiar? If so, this class is for you. It offers fun music, low to high intensity training and collaboration. To round out the semester, we will be working on perfecting different jump tricks and incorporating them into diverse strengthening and high-low tempo routines suited to individual needs.
All fitness levels.

Be prepared for a dynamic overall body workout using Kinesis machines and a variety of fitness equipment to keep your mind and body stimulated (kettle bells, medicine balls, agility ladder, mini bands and more). Engage in a series of non stop strengthening exercises targeting multiple muscle groups. Learn unique ways to squat, lunge, chest press, and blast your core! Go at your own pace (speed and intensity) to pump up the heart rate and feel the burn. Build strength and feel energized! Improve your flexibility, balance, coordination and endurance. Kinesis machines are safe and easy on the joints.
All fitness levels
Experience a 3 part workout (every session) that leaves your body feeling healthy and strong!
Warm up your muscles and joints from head to toe with luxurious stretches.
Strengthen your core, upper and lower body using body weight and fitness equipment. Learn proper form and technique, as well as how to use different fitness props (pilates balls, gliders, bands, barre, kettlebells and more) to maximize your workout. Be prepared to activate and contract your muscles and feel the burn!
Cool down with deep stretching to help improve flexibility and mobility.