One hundred years ago, World War I had just started! November 11th takes on a whole new meaning this year as we commemorate the anniversary of this conflict. Records Management and Archives would like to pay tribute to the Loyola Alumni and Students who took part in the Great War and particularly to the 37 who lost their lives.
In the Loyola College Review of 1915, on page 18, we can read:

It is with feelings of genuine pride, feelings not unmixed, however, with a certain amount of anxiety, that we have beheld the long and rapidly growing list of Loyola Old Boys off the Front...
...at present, we have been able to count no less than thirty-two on active service. Some have been wounded, but as yet we have had no deaths to mourn.
That tally would change. Thirty-seven of the close to 300 Loyola alumni and students who participated in the Great War would lose their lives.

Major-General Georges-Philéas Vanier (B.A. 1906), after whom the Vanier Library is named, survived the war, but lost a leg. Major-General Vanier later became Governor General of Canada from 1959 until his death in 1967.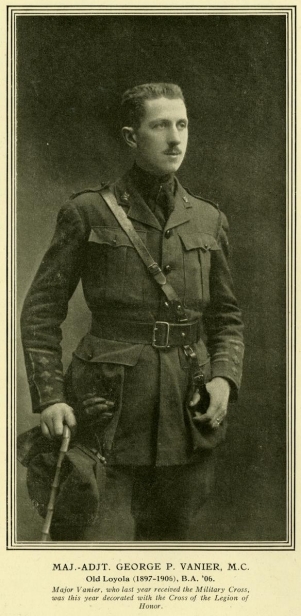 Loyola College Review, 1918