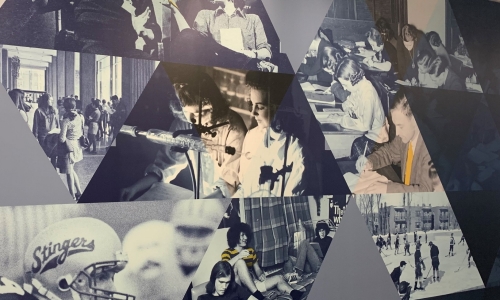 2020-2021
Records Management and Archives
Highlights
RMA flourished as a result of telework throughout 2020-2021, doubling outreach activities in historical archives contributions and social media, digitizing millions of documents and several processes that led to unprecedented growth.
Records Management advisory and filing services were provided to 15 Departments and units. 25 file requests were fulfilled. 134 secure shredding containers were provided throughout the University. 13 online trainings were provided to 324 participants. Over 1 million documents were migrated from MDD to CONDOR (Concordia Document Repository) on SharePoint Online.
The RMA website was visited 45,669 times with a 25% increase in new users. Our 4 social media channels (Facebook, Twitter, Instagram, YouTube) nearly doubled their activities, with 1,428 followers, 583 posts, and 5,652 engagements. RMA participated in 4 social media events: #AskAnArchivistDay, World Digital Preservation Day, #ArchivesHashtagParty, and #ArchivesAtoZ.
Historical Archives research services spent 231 hours responding to 145 requests and contributed to 24 external and internal projects. 7 new accessions and 7 additions to fonds were digested. 41,910 digital files were preserved, and 251 AIPs (Archival Information Packages) were created.
Digital preservation activities nearly doubled, with 2 migrations: the RMA legacy database to AtoM and the continued AV Database migration in collaboration with CU Library Special Collections, which transferred over 4,700 records. 852 University Committee meeting minutes were digitized. System upgrades were made to both digital preservation platforms: Archivematica and AtoM. 3 new web collections were established. 142.3GB of new data and 1,139,074 documents were added to 4 existing web collections. 2 web archiving projects took place. 3 hardware and software additions supported digital content.