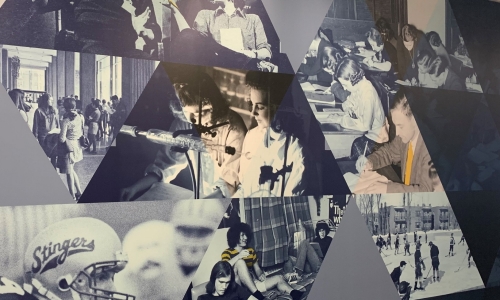 2019-2020
Records Management and Archives
Highlights
In response to relocation, staff departures, and unprecedented teleworking in 2019-2020, RMA integrated adjustments and readjustments to workflows that brought optimal results.
Records Management advisory and filing services were provided to 22 Departments and units; 9 of which implemented the RCRP structure.
57 file requests were fulfilled. 134 secure shredding containers were provided throughout the University. Over 100 online and in-class trainings were provided.
Historical Archives research services spent 101 hours responding to 140 requests and contributed to 13 external and internal projects.
10 new archival fonds were acquired containing a total of 28 boxes. 51 new accessions were created containing 18m of textual material, 1,112 photo prints, 29,160 digital records, and 16,300 born-digital photos.
7 new fonds were migrated into the digital preservation system and made accessible. Upgrades were performed to both the digital preservation and archival catalog systems (Archivematica and AtoM). 4 new hardware and software were acquired to support digital content. 187 GB of new data and 1,387,752 documents were added to 4 web archive collections, including the new Covid-19 collection.
The RMA website was visited 45,669 times. Our 4 social media channels (Facebook, Twitter, Instagram, YouTube) reached 951 followers. 306 posts were made, and received 2,896 engagements. RMA participated in 3 social media events: #AskAnArchivistDay, World Digital Preservation Day, and #ArchivesHashtagParty.