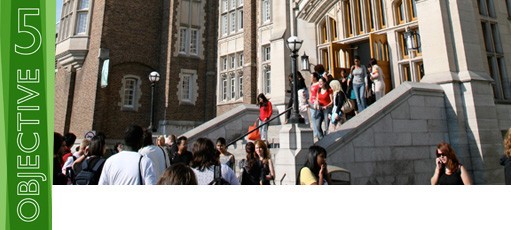 Effective administration is essential to support the realization of our academic goals. It involves a clear understanding that Concordia's academic mission is the university's top priority, a strong commitment to leading collegially and collaboratively, and unremitting dedication to improving transparency and efficiency.
Administrative and technical staff, along with faculty members and librarians who hold academic leadership roles, will be given timely professional development opportunities in order to support the efficient functioning of academic programs and departments.
This objective also includes a heightened focus on improving the effectiveness and efficiency of our admissions procedures and our use of information technology. This will allow us to ensure that academic needs are front and centre in the process leading to decisions about systems, software and processes.
Students
More effective and efficient admissions procedures.
Faculty
Increased opportunities for professional development through the Centre for Academic Leadership.
Development of shared criteria for equitable workload assignments.
Improved systems for managing CVs and research information.
Clearer parameters for and recognition of university service.
Objective 5 priority actions
5.1 Ensure that academic administrators have access to the training, professional development, and staff support they need in order to be successful in administrative roles.

5.1.1 Establish clearer protocols to govern service-intensive career periods, and ensure that they are appropriately recognized in career progression.
5.1.2 Bolster training resources for department chairs and other faculty members and librarians who hold academic leadership roles.
5.1.3 Provide targeted and timely professional development opportunities for administrative and technical staff in order to support the efficient functioning of academic programs and departments.

5.2 Take concrete steps to make planning decisions and resource allocation processes more transparent, collaborative, and principle-based.

5.2.1 Encourage those responsible for unit management and cross-unit coordination (academic administrators; and academic, technical and administrative support staff) to engage in shared and collaborative decision-making processes whenever appropriate, by recognizing and rewarding their contributions.
5.2.2 Implement and annually review a three-year Faculty Hiring Plan that articulates clear criteria for establishing hiring priorities.
5.2.3 Articulate clear criteria and procedures for making incremental resource allocations to programs and academic service areas.
5.2.4 Continue the recently developed collaborative approach to institutional budget development.
5.2.5 Create incentives to reward Faculties for performance in such areas as enrolment planning and management and financial management, so that their efforts are visibly rewarded.

5.3 Implement coordinated, fair, and transparent approaches to assignment of faculty workloads and evaluation of faculty performance for renewal, tenure and promotion.

5.3.1 Develop criteria for equitable workload assignments that respect the qualitative differences in teaching, research and service across the university.
5.3.2 Expect academic units to develop clear statements of expectations for success in teaching assignments, renewal, tenure, and promotion decisions, where absent.
5.3.3 Articulate a set of fundamental principles on the assessment of teaching and develop a flexible set of discipline-specific guidelines for producing and evaluating teaching dossiers.

5.4 Improve the effectiveness and efficiency of our admissions procedures, while actively managing student enrolments.

5.4.1 Explore new processes to expedite undergraduate admissions.
5.4.2 Maintain our student population approximately at its current size, while increasing the proportion of graduate students.
5.4.3 Develop a mechanism that would allow faculty members to make visible their supervisory capacities and, where appropriate and desired, their availability for recruitment activities, in order to make our recruitment efforts more effective.

5.5 Make better use of information technology to reduce time spent on administrative tasks and increase time available for priority academic activities.

5.5.1 Complete the initial implementation and continue development of an efficient electronic teaching assignment and tracking system.
5.5.2 Implement a user-friendly content management system to make up-to-date award and achievement information available through the university's website, and to enable faculty members to create, maintain and publish up-to-date curriculum vitae in a variety of formats.
5.5.3 Implement an improved research information system (RIS) to improve processes and administration related to research funding and to facilitate networking opportunities in research and creative activity.
5.5.4 Empower departments and administrators by investing in our capacity to collect, manage and analyze data to support reporting, planning and academic decision-making.

5.6 Ensure the effective implementation of this Academic Plan.

5.6.1 Create an Academic Plan coordinating committee that periodically assesses and reports to the community on implementation of the Academic Plan, and implementation teams that create action plans for specific commitments in the plan.
5.6.2 Use electronic tools to provide a public, regularly updated, one-stop overview of the status and effectiveness of Academic Plan initiatives.
5.6.3 Ensure that academic units have the administrative and technical support needed for the implementation of this plan.