Steve Shih, Ph.D.
Associate Professor, Electrical and Computer Engineering

---
---
Education
Ph.D. Biomedical Engineering (University of Toronto)
M.Sc Chemistry (University of Ottawa)
B.A.Sc Electrical Engineering (University of Toronto)


---
Research activities
Microfluidics and Synthetic Biology
Microfluidics (also called 'lab-on-chip') has been touted as a means to miniaturize biology and chemistry on tiny, hand-held devices (see picture). There are numerous advantages with microfluidics that include reduced reagent consumption, automation, and parallelization of screening samples. In the Shih laboratory, we hope to combine microfluidics and synthetic biology to solve major challenges in the health and energy fields. Please see our website for more information.
Opportunities
Interested in joining an interdisciplinary laboratory interfacing engineering and biology? Please email Prof. Shih with your C.V. (email is above).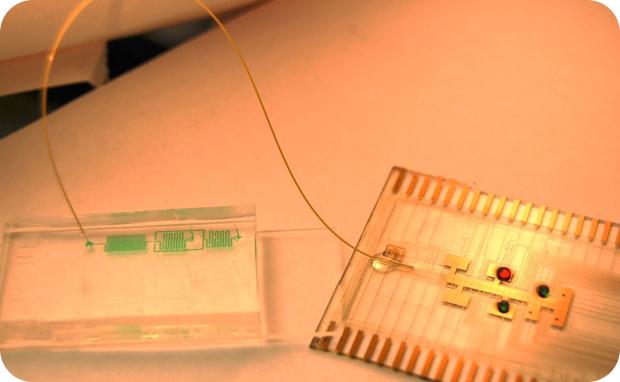 ---
Selected Publications
Shih, S.C.C, Goyal, G., Kim, P.W., Koutsoubelis, N., Keasling, J.D., Adams, P.D., Hillson, N.J., Singh, A.K.., A Versatile Microfluidic Device for Automating Synthetic Biology. ACS Synthetic Biology (2015), 4 (10), 1151-64.

Shih, S.C.C., Gach, P.C., Sustarich, J., Adams, P.D., Singh, A.K., A droplet-to-digital (D2D) microfluidic device for screening single cells. Lab on chip (2015), 15, 225-236.

Shih, S.C.C., Mufti, N., Chamberlain, M.D., Kim, J., Wheeler, A.R., A Droplet-Based Screen for Wavelength-Dependent Lipid Production in Algae. Energy & Environmental Science (2014), 7, 2366-2375.

Shih S.C.C., Barbulovic-Nad I., Yang X., Fobel R., and Wheeler A.R., Digital microfluidics with impedance sensing for integrated cell culture and analysis. Biosensors and Bioelectronics (2013), 42, 314-320.

Shih S.C.C., Fobel R., Kumar P., and Wheeler A.R, A feedback control system for high-fidelity digital microfluidics. Lab on Chip (2011), 11, 535-540.

Jebrail, M.J.*, Luk, V.N.*, Shih, S.C.C.*, Fobel, R., Ng, A.H.C, Yang, H., Freire, S.L.S. Wheeler, A.R. Digital Microfluidics for Automated Proteomic Processing J. Vis. Res. (JOVE) (2009), Only available as DOI: 10.3791/1603