Mr. Nicolas Renaud
Part-time Professor, Studio Arts
Part-time Professor, Cinema
Part-time Professor, First Peoples Studies, School of Community and Public Affairs

---
---
Nicolas Renaud is a filmmaker, editor and video installation artist. He has made documentary and experimental work since the late 1990's. He received the Emerging Canadian Filmmaker Award (for best 1st feature-length documentary) at Toronto's Hot Docs Festival in 2013 for the film Brave New River (La Nouvelle Rupert). His recent works and current projects include the short films Bear Cubs (Fr.v. Oursons, 2019), Métamorphoses (2020), Florent Vollant: I Dream in Innu (NFB production, 2021), and the video mixing performance Holiday Native Land (co-created with Brian Virostek, 2021).

As a film editor, recent collaborations include the experimental documentary 13, a ludodrama about Walter Benjamin, directed by Carlos Ferrand (shown at MOMA, Le Louvre...); short animation films by Indigenous artists in the NFB's Hothouse 12 project; the feature documentary Another Word for Learning by Jadis Dumas; and the video installation Kushapetshekan / Kosapitcikan by Eruoma Awashish, Meky Ottawa and Jani Bellefleur-Kaltush (NFB & Montreal Museum of Fine Arts).

He has also published essays on film, arts and the media. Since 2014, he is co-programmer of the film section at the Montréal International First Peoples Festival (Présence autochtone).

He teaches part-time at Concordia since 2007. He gives the Masters seminar "Indigenous Cinema of the Americas" in the MFA Studio Arts, and teaches undergraduate courses in the Departments of Cinema and First Peoples Studies. He is of mixed Québécois and Indigenous heritage, member of the Huron-Wendat First Nation of Wendake (Qc).

MA Sociology (UQAM)
BFA Cinema, Film Production (Concordia)

Some samples of recent work:
https://vimeo.com/nicolasrenaud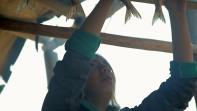 BRAVE NEW RIVER (Fr.: La Nouvelle Rupert) / documentary, 68 min, 2013
COLUMNS IN THE SEA, by Nancy Baric & Nicolas Renaud / experimental film, 2 min, 2007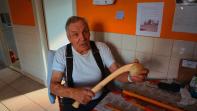 OURSONS (Bear Cubs) / documentary, 9 min, 2019
---
Teaching activities
Courses taught, 2007-2021:
MFA Seminar: Indigenous Cinema of the Americas (Studio Arts)
First Peoples of Canada (FPST)
First Peoples' Cinema (Cinema, FMST)
Globalization and Indigenous Peoples (FPST)
Le Cinéma québécois (Cinema, FMST)
Film History to 1959 (Cinema, FMST)
Films on Art (Fine Arts, FFAR)
Film Aesthetics (Cinema, FMST)


Fields of interest:
Film history, documentary cinema, Indigenous cinema, Québec & Canadian cinema, experimental cinema, installation art, montage practice and aesthetics, realism, identity, sociology, colonialism, decolonization, Indigenous cultures and history, Wendat traditional worldview and society, aesthetics vs politics.

---
recent lectures & residencies
Visiting artist - lectures, screenings and workshops. Davidson College of Liberal Arts, North Carolina, 2019.

Land of Reciprocity: relationship to nature in Indigenous cinema. Lecture at Barnard College, Columbia University, NYC, 2018.



---
Publications
latest:
"L'art au temps du colonialisme au Québec : le film of the North et la pièce Kanata". Chapitre 4 dans: Devoir de mémoire - Perspectives sociales et théoriques sur la vérité, la justice et la réconciliation dans les Amériques, Éd. Leila Celis & Martin Hébert. Presses de l'Université Laval, 2020.