Mr. Nicolas Renaud
Assistant Professor - First Peoples Studies, School of Community and Public Affairs

---
---
Areas of teaching and research include: Wendat worldview and history, Iroquoian cultures, colonialism and decolonization, Indigenous ecologies, wampum belts, Indigenous cinema, and relations between Québec society and Indigenous peoples.

Member of the Indigenous Futures Research Center.

Nicolas Renaud is also a filmmaker and video installation artist. He has made documentary and experimental work since the 1990s. He received the Emerging Canadian Filmmaker Award (for best 1st feature-length documentary) at Toronto's Hot Docs Festival in 2013 for the film Brave New River (La Nouvelle Rupert). His latest works and current projects include the short films Bear Cubs (Fr.v. Oursons, 2019), Métamorphoses (2020), Florent Vollant: I Dream in Innu (2021), Onyionhwentsïio' (2022), as well as the video mixing performance Holiday Native Land (co-created with Brian Virostek, 2022), and a series of installation pieces based on a 1670's Wendat wampum belt (2022-2023).

He also worked as an editor and consultant on documentary films and other audio-visual projects. Among those collaborations, he was an editor for the NFB animation program Hothouse 12: Indigenous, and for the essay film by Carlos Ferrand 13, a ludodrama about Walter Benjamin (2017). From 2014 to 2020, he was co-programmer of the film section at the Montréal International First Peoples Festival (Présence autochtone).

Prior to being appointed full-time in SCPA-First Peoples Studies, he taught part-time in Cinema and Studio Arts at Concordia from 2007 to 2021, and gave the MFA seminar "Indigenous Cinema of the Americas".

Nicolas Renaud is of mixed Québécois and Indigenous heritage, and is a member of the Huron-Wendat First Nation of Wendake (Qc).

MA Sociology (UQAM)
BFA Cinema, Film Production (Concordia)

Trailers and samples of recent film and video work:
https://vimeo.com/nicolasrenaud

Film available on NFB.ca:
Florent Vollant: I Dream in Innu (5 min, 2021)
Free streaming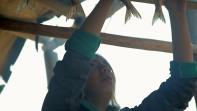 BRAVE NEW RIVER (Fr.: La Nouvelle Rupert) / documentary, 68 min, 2013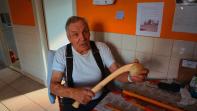 OURSONS (Bear Cubs) / documentary, 9 min, 2019
MÉTAMORPHOSES / documentary, 18 min, 2020
---
Teaching activities
Courses 2007-2024:
Advanced Topics in First Peoples Studies: Wampum Belts (FPST 298)
Contemporary Politics in First Peoples Communities (FPST 401)
First Peoples' Cinema (FPST 298 / FMST 217)
First Peoples of Canada (FPST 203)
Globalization and Indigenous Peoples (FPST 341)
Intro to First Peoples Studies (FPST 201)
MFA Seminar: Indigenous Cinema of the Americas (Studio Arts, ASEM 654)
Le Cinéma québécois (FMST 215)
Film History to 1959 (FMST 211)
Films on Art (FFAR 298)
Film Aesthetics (FMST 212)


---
Upcoming and current events
Wampum-écran-vitrail
Installation work: wampum belt and video

Part of group exhibition Yahndawa'

- Musée Huron-Wendat de Wendake, June to September 2023

- Galerie Oeil de Poisson, Québec City, September-October 2022
Detail of installation. Video projections and wampum belt (trochus shell beads, glass beads, crystal beads, fishing line, moose hide)
---
Recent lectures, presentations, residencies
- 19th Annual Indigenous Film and Arts Festival, Denver, Colorado. Online event "Our Stories": screening of short films and conversation with filmmakers Terry Jones, Craig Commanda, Nicolas Renaud. October 26, 2022.

- 8th annual conference Revisioning the Americas through Indigenous Cinema. August 15-16, 2022, in Kahnawake and Montréal. Contribution to the panel "Filmmaking and Indigenous Epistemologies".
- Holiday Native Land - video work with archive films, FOFA Gallery, Concordia University, Montréal, June 2022 (by N. Renaud & Brian Virostek)

- Wendat Ecology - Do you respect the fish? Does the fish respect you? 2022 Conference of the Loyola College for Diversity and Sustainability & Loyola Sustainability Research Centre. Concordia University, Montréal, March 23rd.

- Visiting artist - lectures, screenings and workshops. Davidson College of Liberal Arts, North Carolina, USA, 2019.

- Land of Reciprocity: relationship to nature in Indigenous cinema. Lecture at Barnard College, Columbia University, NYC, USA, 2018.



---
Publications