Ann-Louise Davidson, PhD
Associate Professor, Education
Concordia University Research Chair, Maker Culture, Tier 2

---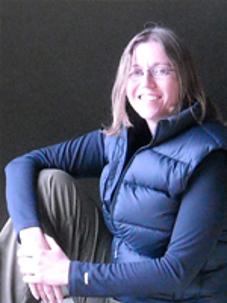 ---
Dr. Ann-Louise Davidson is an Associate Professor of Education, Graduate Program Director for the MA in Educational Technology and the Graduate Diploma in Instructional Technology at Concordia University, and holds a Concordia University Research Chair in Maker Culture. She is the leader of the Maker Axis in the Communities and Differential MobilitiesCluster of the Milieux Institute for Arts,Culture and Technology.
Her work focuses on maker culture, social innovation, inclusion and innovating with advanced pedagogical approaches and digital technologies. She has expertise in action research methodologies that engage participants in collaborative data collection and meaning-making and hands-on studies in technology and innovation.
Dr. Davidson is principal investigator on a SSHRC funded research that focuses on Exploring the Potential of the Digital "Maker" Movement for Authentic Learning. She develops innovative workshop concepts that draw on crucial themes, such as global issues, big data, health, sustainability and indigenous issues, through concrete maker activities such as building gaming tables, gamepads, wearable computing, pedagogical robotics, and using coding and 3D printing, while engaging marginalized communities. She also investigates how makers from interdisciplinary fields develop identities as makers. Her innovative work has been featured in the media. In addition, Dr. Davidson is co-researcher on Intergenerational Making Art and Gaming in Education (IMAGiNE), an umbrella project which is currently supported by the Ageing, Communication and Technology Project (ACT Project).
As for her research in pedagogical innovation, Dr. Davidson spearheads an interdisciplinary initiative to improve methodology courses in the Department of Education to integrate problem-based learning in higher education (funded by the Vice-Provost of Teaching and Learning). She also studies how to develop learning communities to improve student retention and academic success from a grassroots perspective with a network of six elementary schools (funded by Chantier 7). She is also an Associate Researcher at the EILab at UOIT where she studies innovative approaches to teaching and learning with technology. Because of her reputation with innovative online learning, she was invited as professor with the Master Recherche à Distance International Francophone (MARDIF) in France from 2014 to 2017.
Dr. Davidson has a solid network of partners in schools, universities, NGOs, governmental bodies, corporate industries, start-ups, innovation centers and incubators that work with her collaborators and students.
Education
Postdoctoral fellowship, Carleton University (funded by SSHRC), June 2008
PhD Psychopédagogie, Ottawa University, June 2007
MA Education Administration and Foundations, August 2003
BEd Ottawa University, April 1996
BA Littérature française et arts visuels, April 1995
Professional experience
Assistant professor –Educational Technology Program, Department of Education, Concordia University
Graduate Program Director –Educational Technology Programs, Department of Education, Concordia University
Lecturer –Department of Sociology and Anthropology, Faculty of Social Sciences, Carleton University
Lecturer –Women Studies, Faculty of Social Sciences, University of Ottawa
Lecturer –Faculty of Education, University of Ottawa
Social Analysis Systems certified instructor.
Courses taught
Qualitative Methods (EDUC 807)
Fundamentals of Human Performance Technology (ETEC651)
Fundamentals of Instructional Design (ETEC 650)
Fundamental Methods of Inquiry (ETEC 548/648)
Human Performance Technology (ETEC 512/712)
Educational Computing (ETEC 560/660)
Social Computing (ETEC 560/562)
---
Selected publications
Authored book chapters with reviewing committee
Davidson, A.-L., Gulka, L., Valle, A., Castonguay, C. (accepted). Tech-stewarding as a medium to help develop and sustain online niche communities. In. V. Venkatesh, J. Wallin, J.C. Sanchez, J. Lewis, Educational, Behavioral and Psychological Considerations in Niche Online Communities. IGI Global.

Davidson, A.-L., *Durocher, S. (accepted). Ratchet head pedagogy: an auto-ethnography about how we learned to customize and tune Italian motorcycles through asynchronous online discussions. In. V. Venkatesh, J. Wallin, J.C. Sanchez, J. Lewis, Educational, Behavioral and Psychological Considerations in Niche Online Communities. IGI Global.

IsaBelle, C., Davidson, A.-L., *Naffi, N. (accepted). Dispositif d'aide au fonctionnement des CAP pour les directions d'école dans le but de favoriser le développement professionnel des enseignants et favoriser le succès des élèves. In. M. Moldoveanu, Le développement professionnel en éducation et en santé: conceptualisations, finalités et stratégies, Éditions Peisaj, Collection Cogito.

Davidson, A.-L., Carliner, S. (2013). eBooks in Higher Education. In M. Spector, D. Merrill, M.J. Bishop and J. Elen (eds.), Handbook on Educational Communications and Technology, 4th edition. AECT.

Davidson, A.-L., & Peters, M. (2009). La relation pédagogique dans un contexte intégrant les TIC. In. M. Peters (Dir.), L'intégration des technologies au primaire. Montréal : CEC, p.29-46.
Articles published in peer reviewed scientific journals
IsaBelle, C., *Genier, E., Davidson, A.-L., *Lamothe, R. (accepted). CAP : un leadership partagé entre le conseil scolaire, la direction et les enseignants. Éducation et Francophonie, numéro spécial sur les communautés d'apprentissage professionnelles, M. Leclerc (Ed.)

Davidson, A.-L., Fountain, R. (in press). Social Media in Higher Education: A look at participatory culture in graduate coursework. Revue Internationale des Technologies en Pédagogie Universitaire. Numéro spécial: Web 2.0 and Higher Education. Karsenti, T. & Venkatesh, V. (Eds).

Davidson, A.-L. (2012). Use of mobile technologies by young adults living with an intellectual disability: A collaborative action research study. Journal on Developmental Disability, 18(3), 21-32.

Davidson, A.-L., *Naffi, N. (2012). Une analyse des représentations d'enseignants réfléchissant à une expérience d'implantation d'un portfolio électronique. Revue canadienne de l'apprentissage et de la technology / Canadian Journal of Learning and Technology, 38(3), 19 p. Complete paper online

Davidson, A.-L., Desjardins, F. (2011). Vers l'identification d'une relation entre les représentations de la pédagogie et de l'usage des TIC chez des formateurs d'enseignants. Revue Canadienne de l'Éducation, 34(3), 47-67.

Davidson, A.-L. (2011). Considerations for Conducting Studies About Ubiquitous Learning Technologies. International Journal on Ubiquitous Learning, 3(2), 184-197.

Davidson, A.-L., Waddington, D. (2010). E-Learning in the university: When will it really happen? eLearning Papers (elearningeuropa.info), 10 p. Complete paper online

Davidson, A.-L. (2009). Community and Residential Integration, and Paid Employment Go Hand-In-Hand –A Collaborative Inquiry. Journal on Developmental Disabilities, 15(2), 27-37. Complete paper online

Davidson, A.-L. (2009). Producing self-advocacy videos through a process of collaborative action research with adults living with an intellectual disability. International Journal of Learning, 16(9), 687-698.

Davidson, A.-L. (2009). Why is it so hard to talk about our intellectual disability? A pilot study using action research. Journal on Developmental Disabilities, 15(1), 8-20. Complete paper online