Victoria Stanton, BFA
Part-time Professor (Fibres and Materials Practices; Intermedia), Studio Arts

---
Photo by: Jessica Hébert
---
Biography
Victoria Stanton is an interdisciplinary performance artist and researcher/curator/educator, who has performed both solo and collaboratively in innumerable festivals and events, participated in several residencies, as well as exhibited interdisciplinary/performance-based installation work, and screenings of videos & films, at the local, national and international level.
Stanton has curated performance art programs for artist-run centres in both Montreal and Toronto, having recently worked with Amelia Jones toward an event in conjunction with Performance Studies International, which took place in Montreal through McGill University in the fall of 2015, has contributed critical writings about interdisciplinary performance practices – in particular the performative as it is revealed in material and time-based works – to a variety of art publications, and is a founding member of the performance art/research collective, TouVA (with Sylvie Tourangeau and Anne Bérubé).
Her first book Impure, Reinventing the Word: The Theory, Practice and Oral History of Spoken Word in Montreal (conundrum press, 2001), co-authored with Vincent Tinguely, chronicled a vibrant artistic movement via interviews with over 75 artists, while her second book, The 7th Sense/Le 7e Sens: Practicing Dialogues/ Practicing Workshops/Practicing the Daily Performative/ Practicing Performance Art, co-authored with TouVA draws upon a profound exploration of "the performative" in performance art (SAGAMIE édition d'art, 2017).
Considered a pioneer of transactional practices in Quebec, she has facilitated several workshops, instructing and coaching professional artists at various levels of their careers, BFA and MFA students as well as educators from various disciplines, developing a unique pedagogy that combines theory and praxis via the exploration of the performative encounter, architecture and the body, human geography, infiltrating collective art actions, as well as the micro-event – elements that have become fundamental to her teaching practice.

In 2017-18 Stanton was a P. Lantz Artist-in-Residence in the Faculty of Education at McGill University and in 2018 was the recipient, along with Helena Martin Franco, of the PRIX POWERHOUSE, a biennial recognition award that celebrates women-identified artists who have reached the mid-stage in their career and contribute in a significant and sustained way to the cultural life of Montreal. In 2020 Stanton will begin a a research-creation PhD in Art Education at Concordia University, exploring "Doing Nothing" as a creative vehicle in artistic process through examining the role of rest/pause/interval in both performance art contexts and everyday spaces like the classroom.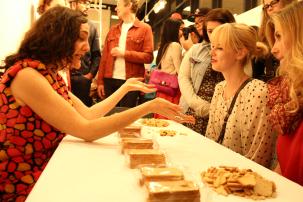 All Night Breakfast, Calgary AB, 2014
Photo credit: Thierry Aime
Unwrapping Victoria, Montreal QC, 2015
Photo credit: Jessica Hébert
---
Teaching activities
2020-21 Courses
FBRS 395 / Extreme Fibres: Performative Textiles
IMCA 332 / Intermedia, Performance Practices and Performative Video

---
Research activities
Artist/Research Statement
Victoria Stanton works with live action, human interaction, video, film, photo, drawing, and writing. Continually exploring within this diversity of media, while the outward results of her practice may manifest in a multiplicity of forms, performance is the unifying central focus and invariable core of her research.
Stanton's time-based work includes performance for stage, performance for the camera, infiltrating actions in public spaces, collaborative interventions, and one-on-one encounters in intimate contexts. Whether participatory, durational, textual, or audio-visual, her work is an investigation into the ability (and the desire) to hold a space, to appropriate and disrupt the quotidian, to create spontaneous intimacy, to tread vulnerability. Investing a performative presence and consciousness within multiple spaces/times, she continuously underscore the complex aspects of "transaction" and the possibility for transformation.

Much recent work explores the elusive "in-between" – that invisible, liminal space between herself and the audience (whether a group or just one person) or between herself and an object/action/location – whether appearing "on stage" (in a black box, white cube, bar or loft) or "out in the world" (in public sites and non-art contexts). Difficult to pin down or define, but present and tangible, it is that grey area – where transitions, negotiations and deliberations occur, where one's sense of certainty and stable self are called into question – that she finds the most rich with potential and possibility. The "in-between" is an inquiry into the possibly uncomfortable or ambiguous interval: as manifested onstage (has the performance ended? Did she mean to make that incredibly cringe-worthy mistake?), as presented through relational exchange (is this a performance? Is this Art? Are we supposed to get this close?), and as experienced out in the world through geopoetic meandering, and the conscious inhabiting of place (and "non-places") found in the built environment.

Relational aesthetics (social practice and the gift economy), human geography (the performance of place), expanded architecture (how bodies and the built environment intersect), and expanded performative analysis (the agency that we, further, bring to the performance of self/collective in everyday life), are therefore the lenses through which this work is carried out. Asking such questions as: What consciousness do we bring to the places that we occupy? How do places inhabit us? How do we interact with the surrounding environment – and further still, with others who we may encounter there? In a mindful occupation of successive sites, Stanton continues to initiate various ongoing series of accompanied quests, interpersonal transactions that consciously situate themselves in relation to both "the other" (as we each become the other to one (an)other) and to the context in which we find ourselves. Occurring both within and without the art-frame, the goal is to activate these sites by introducing a performative element via a relational exchange – collaboratively working toward expanding a moment in time while collapsing an already diminishing space between the artist/audience and art/life.
The Sanctimonious Sect of Nothing is Sacred, Montreal QC, 2017
Photo credit: Julie Fournier-Lévesque