Laura Endacott, MA, BFA
Part-time Instructor, Office of the Dean, Fine Arts
Part-time Instructor, Studio Arts
Part-time Instructor, Art Education

---
---
Laura Endacott is a practicing artist whose research speaks to the contemporary mother and how it is linked to social movements, cultural activism and intellectual histories that challenge, yet enable the category of maternal art histories, as a site for knowledge production today. Her MA SIP degree (Specialized Individual Programs) combined Studio Art Production and Art History, and she is one of a few artist scholars in Canada, that explores and teaches the critical work that deals with the complex representations of the mother image. Her activities include her practice, her teaching, conference presentations and writing. Her recent work considers the body as an archive. As such she is interested in social life and articulations of agency using performance. She considers her work to be in the tradition of storytelling.
Her large-scale sculptures, performances and installations are part of an interdisciplinary practice. Her work has been included in a new anthology entitled Performing Motherhood (2014) and she has exhibited in museums such as The Orillia Museum of Art & History (2014), Le Musée des maîtres et artisans du Québec (2009) and The Textile Museum of Canada (2000). Her work has been included in artist-run galleries as well as non-traditional spaces such as the bankonart.net (2010), The Gladstone Hotel (2008) along with online exhibitions such as ArtWiki: Open Data for the Arts (2012). In 2014, the textiles objects she produced and that were used in a series of performances she staged in public space, were collected into the permanent collection of the Musée des maîtres et artisans du Québec. It was the first time any craft object linked to contemporary performative work was included in their collection, which represents the largest craft collection in Quebec.
Education
BFA (Inter-Related Arts) Concordia University, 1987
Graduate Diploma, Communication Studies Concordia University, 1993
MA, SIP (Special Individual Programs) Concordia University, 2010
Areas of expertise
Textile Printing and Dyeing
Textile Surface Manipulation Processes
Contemporary Fibre Art
Fashion History
Performance
Sculpture
Mixed media
Installation
Research interests
Identity, memory, history, feminism, relational aesthetics, contemporary visual art, the maternal experience, textiles and interactivity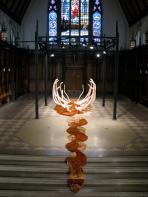 RibRaft, In-situ sculptural installation, Musée des maîtres et artisans du Québec (MMAQ), 2009-2010
Photo credit: Laura Endacott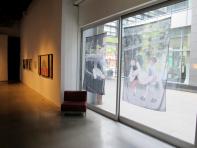 Facing the World as a Mother II, Digital print of disperse dyes on textile banners, FOFA Gallery, Concordia University, 2007-2010
Photo credit: Laura Endacott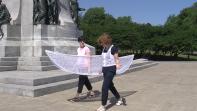 Untitled, Video documentation of performance with wearable body accessory for two, Montreal, 2016
---
Teaching activities
Fibres Print & Dye (FBRS 260/3)
Laura Endacott (Studio Arts) joined Dr. Loren Lerner (Art History) in a collaborative teaching project, that focused on narration, in contemporary Canadian art (Fall 2016).
Works produced by students in Laura's FBRS 260/3: Print & Dye I class, and written about by those in Dr. Lerner's ARTH 400H/2: Rethinking Visual Narration: Myths, Religious Stories, Fairly Tales, Legends and Other Collective Beliefs and Accounts in Contemporary Canadian Art course, will be uploaded in the coming months to produce a virtual exhibition for the CCCA Academy
(http://ccca.concordia.ca/academy/), a laboratory and educational forum that under the auspices of the Gail andStephen A. Jarislowsky Institute for Studies in Canadian Art, at Concordia University, is devoted to reinforcing research activities and creating communities of pedagogical practice.
Courses Taught
FBRS 260/3 Textile Print & Dye I
FBRS 360/3 Textile Print & Dye II
FBRS 385/2 Spatial Interventions
FFAR 298/2 The History of 20th Century Fashion
FFAR 398S/2 Fundamentals of Painting & Drawing
FFAR 398/2 Introduction to Studio Arts
ARTE 354/4 Time Based Media
ARTT 398/4 Reproductive Media in Contemporary Art
---
Publications
Resistance & Stillness (2016)

Liminalities: Journal of Performance Studies
Volume 12, Issue 3
http://liminalities.net/12-3/
Published essay and web-based installation: Locating Motherhood by Laura Endacott
Editors: Michael LeVan(U. South Florida), Daniel Makagon (DePaul U.), Keith Nainby (California State,Stanislaus), Craig Gingrich Philbrook (Southern Illinois U. Carbondale) JakeSimmons (San Angelo State U.), Marcyrose Chivasta (California State,Stanislaus).
Performing Motherhood: Artistic, Activist, and Everyday Enactments - Anthology (2014)
Published essay: Performing The Maternal in Public Space by Laura Endacott, Demeter Press
Edited by Dr. Amber E.Kinser (University of East Tennessee), Kryn Freehling-Burton (Oregon StateUniversity) and Terri Hawkes (PhD Candidate, York University, TO)
Telling Truths: Storying Motherhood - Anthology (2014)
Book cover using a digital image of Laura Endacott's performative artwork
entitled Phantom Vessel (2013), Demeter Press
Dr. Sheena Wilson (U. of Alberta ) & Dr. Diana Davidson (U. of Alberta)
---
Community outreach projects
Special Project in partnership with Melanie Duveault of EducArt at the MMFA (2015)
(The relationship between art and wellness is the mission of innovative programming initiated by the Montreal Museum of Fine Arts & developed in partnership with Faculty of Fine Arts researchers).
In collaboration with Dr. Loren Lerner, Professor of Art History, Concordia University, I designed a project for students in my FBRS 260/3 textiles course (Print & Dye I), whereby they were asked to respond to an artwork in the museum's permanent collection that related to the thematic of the family, and to produce an artwork that responded to it. A reading on human space and the idea of the home in its largest definition, was given in conjunction with the said assignment.
Each student was paired with one in Dr. Lerner's ARTH 450/2 class (Picturing Children,Envisioning Childhood). These art history students were then asked to write about the said works. A selection of artworks and text have been chosen to be included in the MMFA's unique new EducArt website that is part of their art education department. Family Works focuses primarily on a selection of images from the MMFA to highlight unexpected meanings about the family, children and childhood identity. In providing a close study of the evolution of images of the family, as evidence of social attitudes, cultural symbols, religious beliefs and creative invention, the website will be of interest to students of social studies, history, visual culture, religion and studio arts. A pop-up exhibition at the MMFA this fall (2016), will highlight the work produced last fall and celebrate this collaboration.
* This project culminated in a student exhibition at the MMFA from October 20 to December 5, 2016 in thePromenade Michel de la Chenelière International Atelier for Education and Art Therapy display cases, Jean-Noël Desmarais Pavilion, Level S1, 2200 Crescent Street.
Old Brewery Mission Quilt Project (2008-2009)
Following the success of the first community outreach project I developed for the Old Brewery Mission and because I had left over materials, I again worked with students in my FBRS 260 (Print& Dye I) class to design and produce a contemporary quilt for the men's seating area and a non-traditional quilt for the eating area of the women's pavilion.
As such, students were given the opportunity to participate in designing and producing
for a target audience that was completely different to themselves, as well as to partake in a social practice that benefited members of the greater Montreal community.
Old Brewery Mission Art Project: Dream Screens (2007)
In partnership with American architect Amy Neff,I organized a project for my undergraduate students to design and make fabric panels that attached to the metal structure of the bunk beds in the men's dormitory as a means of creating private space within a larger public space (Dream Screens).The Old Brewery Mission is one of the oldest organizations for housing the homeless with a 150-year history in the city of Montreal. This was the only pilot project of its kind at the time in North America that looked to change the traditional shelter experience.This project was very well received by the men in question, the administration of the Old Brewery Mission and the media. The students were challenged and happy to participate. Several even sold their work at the inaugural exhibition.