Josée Pedneault
Part-time Teacher, Photography, Studio Arts

---
---
Areas of expertise: Photography, installation
Josée Pedneault is a visual artist living between Montreal and Chicago. Her work has been shown in national and international venues, such as Künstlerhaus Bethanien (Berlin, 2018), CONTACT Gallery (Toronto, 2015), TYPOLOGY (Toronto, 2015), Museo del Chopo (Mexico City, 2014) and Darling Foundry (Montréal 2012). She has completed several residencies in Berlin, Glasgow, Tokyo, Paris, Mexico and Reykjavik, amongst others. In 2020, she published the book Glazial-Kosmogonie, a co-publication between Künstlerhaus Bethanien and Revoler Publishing, Berlin. Since 2011, she had been realizing large-scale public art commissioned artworks in the province of Quebec; the most recent are Kinésie, a series of permanent interactive artworks for the new Centre Aquatique de Granby (2020), and Le Messager, a large scale photograph installed at the primary school Les aventuriers at Laval. She is currently working on the photography book Contre-jour to be publish in May by FPP, Amsterdam. Josée Pedneault holds an MFA in studio art from Concordia University.
---
Research activities
Informed by different fields of knowledge such as philosophy, astronomy, cosmology, ecology, geography, and natural science, my artistic practice examines our relationships to the natural world. While most of my work is photo-based, my projects are presented as installations that combine images with objects, drawings, paintings, archival material, and small sculptures. Often shaped around scientific rationality, the fragmented layering and synthesis of the installations offer an open-ended poetic reading, a shift in perspective that prompts the viewer to produce new meanings and contemplates the manners in which his world is experienced and understood.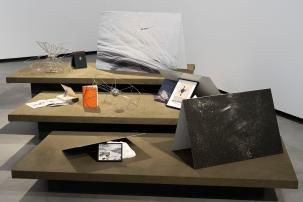 Glazial-Kosmogonie, solo exhibition at Künstlerhaus Bethanien, Berlin, 2018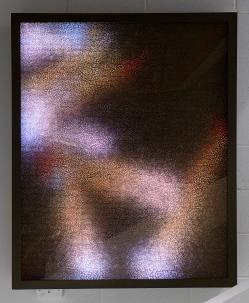 Kinésie I, Interactive art project, 1% public art à Centre Aquatique de Granby.
---
Teaching activities
COURSES TAUGHT
PHOTO200 – FOUNDATIONS IN PHOTOGRAPHIC VISION: THEORY AND PRACTICE I (analogue B&W)
PHOTO201 – INTRO TO COLOUR PHOTOGRAPHY (analogue colour)
PHOTO210 – FOUNDATIONS IN PHOTOGRAPHIC VISION: THEORY AND PRACTICE I (analogue colour)
PHOTO211 – BLACK & WHITE PHOTOGRAPHY 1
PHOTO300 – PHOTOGRAPHIC VISION:THEORY & PRACTICE II
PHOTO331 – DIGITAL PHOTOGRAPHY I
PHOTO398 – SPECIAL TOPICS IN PHOTO / SURVIVAL TACTICS (Professional practices)
PHOTO398 – SPECIALTOPICS IN PHOTO / PILES (Archives)
---
Publications
Glazial-Kosmogonie
Künstlerhaus Bethanien et Revolver Publishing, 100 pages, Berlin.