Ms Geneviève Moisan, MFA Fibres and Material Practices, BFA
---
---
Biography
Geneviève spent many years training as a Jacquardweaver and has a strong technical background in both fibres structures andprinting and dyeing techniques. She holds a BFA in Visual Arts from UQAM Universityand an MFA in Studio Arts from Concordia, in the Fibres and Material Practicesconcentration, as well as a graduatediploma in higher education pedagogy from UQAM. Furthermore, she is involved in many different collaborative research projectscovering her vast interests, ranging from creating textile antennas for videocommunication, Jacquard weaving, soft speaker and circuits laying, to culturing bacteria to develop a sustainable cloth dyeingprotocol. She is also the Equipment Support Specialist at Milieux, Institute for Arts, Culture and Technology where she gets the opportunity to teach a wide variety of digital weaving and embroidery workshops.
Education
MFA Fibres & Material Practices, Concordia University
BFA Arts visuels et médiatiques, UQAM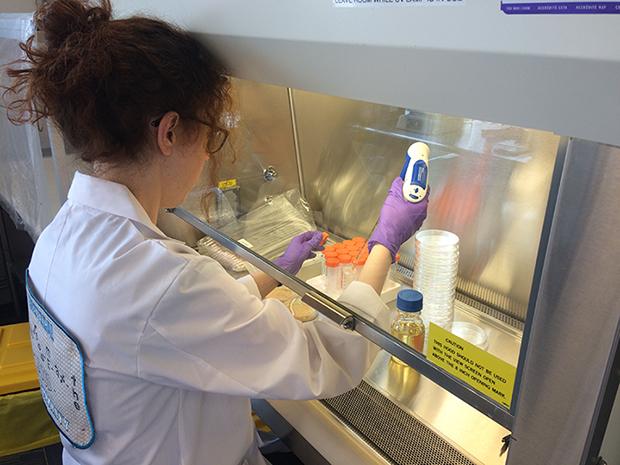 Ongoing, The Bactinctorium Project
Photo credit: WhiteFeather Hunter
---
Teaching Activities
2021-2022 Courses
FBRS 397 / Topics in Fibres: Structures in Space (Fall)
FBRS 341 / Fibres Structures Intermediate (Winter)
FBRS 240 / Fibres Structures (Winter)
2020-2021 Courses
FBRS 260 / Textile Printing and Dyeing 1 (Fall/Winter)
2019-2020 Courses
FBRS 341 / Fibres Structures Intermediate (Fall)
FBRS 260 / Textile Printing and Dyeing 1 (Winter)
---
Research Activities
Research statement
Looking at today's social context and being inspired by the meticulous study of historical textile works, my research lies halfway between craft traditions and digital technology. While working in the studio, I explore the notion of conceptual thinking through a material practice. My woven and embroidered pieces aim at revealing the many relationships between the private world of the home and the public one that is offered by the city and the Internet. I weave and embroider the fine line between discomfort and anticipation, between presence and the concept of non-places, making portraits of characters sitting on benches, of passersby, to materialize the new and peculiar relationships that form in public spaces.
Gum, Brocaded Jacquard Weaving, 2014
Photo credit: Michel Dubreuil