Eric Simon
Associate Professor, Painting and Drawing

---
---
Multidisciplinary artist Eric Simon's work revolves mainly around painting and drawing. Simon has shown his work in Canada and abroad in such venues as Musée de Joliette, Galerie Graff, Galerie Donald Browne in Montreal, Artmandat in France as well as a series of hit-and-run exhibitions in offbeat Montreal storefronts, offering visitors installations that managed to balance his affection for both Art Brut and realism. Simon is a founding member of Drawing Lab Dessin as well as a member of the inter-university research/creation group Stratégies artistiques de spatialisation du savoir initiated and directed by Suzanne Leblanc (Université Laval). He has published five books of fiction and poetry. He has received numerous grants and awards.
Areas of expertise
painting, drawing, poetry
Research interests
intervals (between moments, between particles, between neurons, between ideas, between letters, between words, between people)
Sur les traces de l'avenir, published by L'Oie de Cravan, 2015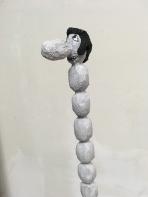 Oh oh mes amis oui (detail), acrylic on wood, 2018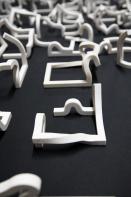 Collapse (tribute to Lewitt), 3D prints, 2018
---
Teaching activities
Recent Undergraduate Courses
Advanced Topics in Painting & Drawing (Collage & Collision; Portrait & Likeness; Painting & the Digital)
Recent Graduate Courses
Directed Studio Practice
---
Solo Exhibitions (a selection)
LA VIE SÉCRÈTE LA VIE SECRÈTE
Donald Browne Gallery, Montréal, 2015
L'ARAIGNÉE TISSE SA TOILE. ENVISAGE-T-ELLE SON AVENIR ?
Donald Browne Gallery, Montréal, 2014
INVASION
FOFA Gallery, Concordia University, Montréal, 2011
LE DERNIER INSTANT
Action art actuel, St-Jean-sur-Richelieu, Québec, 2010
DESS(E)INS
Galerie Aux perles, Barjols, France, 2008
AU-DELÀ DU RÉEL?
Galerie Division, Montréal, 2008
PORTRAITS SEQUENTIELS - WEST ISLAND KIDS
Musée d'art de Joliette, Joliette, Québec, 2007
PORTRAIT SEQUENTIEL : ARWA
Galerie Graff, Montréal, 2007
AUTOPORTRAITS
Centre d'art Clark, Montréal, 2004
Y'EN QU'À 'OUÈRE ON 'OUÉ B'EN
Galerie Pas de Tataouinage, Mtl, 2003
SPIRALYSIE CÉRÉBRALE
Camac centre d'art, Marnay-sur-Seine, France, 2003
ERIC SIMON S'EXPOSE AUX PLUS GRAVES ENNUIS
Galerie Aux plus graves ennuis, Montréal, 1999
SCI-FI PAINTINGS
One Room Gallery, Zürich, Switzerland, 1998
LES JOUES EN FEU
Galerie Silk-Master, Montréal, 1997
POUR QUI TRAFAILLEZ-FOUS ?
Christoph Merian Stiftung, Bâle, Suisse, 1993
QUE SEURAT SEURAT
Galerie Clark, Montréal, 1991
---
Publications
Les mille et une phrases
Les mille et une phrases is an e-book published by Contre-mur, in Marseille in 2016. It is composed of 1001 sentences picked from 1001 books that I read between January 2011 and November 2012. All sources and references can be accessed by scrolling the cursor over the sentences as the reader progresses through the book.
"Vous savez très bien qu'une phrase tirée de son contexte n'a pas d'intérêt.[i]"
Sur les traces de l'avenir
Sur les traces de l'avenir is a book of poems published by L'Oie de Cravan in Montreal in 2015. It speaks of the passage of time, memories, unfoldings and potentialities.
"Rien ne me permet de deviner ce que m'apportera la seconde qui suivra."
http://www.oiedecravan.com/cat/catalogue.php?v=a&id=29&lang=fr
Hamidou Diop
Hamidou Diop is a graphic novel written by Eric Simon and illustrated by Simon Bossé. It was published by Mécanique Générale in Montreal in 2009. It is the story of an existential spy who is left on his own by his organization and must find a way to elucidate and survive the situation in which he finds himself.
"Ces rideaux m'interpellaient. Cette référence explicite aux arts de la scène me plongeait dans un trouble insupportable quant à la réalité même de ma propre existence et par conséquent de celle de ma mission. J'avais passé de longs moments à me questionner sur la vraie nature de leur couleur. Faisait-elle même réellement partie du spectre lumineux?"
http://editionsmecaniquegenerale.com/Livre/hamidou-diop


La visite du cerveau
La visite du cerveau is a book published by L'Oie de Cravan in Montreal in 1999. It tells of the meanderings of the author through his own brain.
"Ce mot "Aloha" me séduisait depuis quelques mois déjà. Je n'en finissais pas de le laisser tourner dans ma tête. Il était inextricablement lié aux colliers de fleurs dont on affuble les touristes à leur descente d'avion à Hawaï."
http://www.oiedecravan.com/cat/catalogue.php?v=a&id=29&lang=fr
L'amoureux cosmique
L'amoureux cosmique is a novel published by Boréal in Montreal in 1989. It tells the story of a man who suffers from a rare love disease. L'amoureux cosmique was adapted to the theater by Caroline Caza in 1991 and performed at le Studio d'Essai Claude-Gauvreau in Montreal.
"Il vente si fort que les paroles, au sortir de la bouche, sont aussitôt happées par l'air qui les emporte, les abîme et les déforme en un éclair. Il vaut mieux s'abstenir de parler lors de journées semblables. Il ne s'agit plus de faits mais de probabilités. La trajectoire et la forme qu'adopteront les mots projetés de la bouche sont totalement imprévisibles."
http://www.editionsboreal.qc.ca/catalogue/livres/amoureux-cosmique-316.html
---
Participation activities
Cultural Spaces and Design Colloquium
Academy of Art and Design, Musée des cultures, Basel, Switzerland, 2017
Colloque/Symposium Congress on Conference of Colloquium
Concordia University, Montréal, 2017
Présentation des éditions numériques
FRAC Provence-Alpes-Côte-d'Azur, Marseille, France, 2017
International Colloquium on Portraiture
Faculté des Lettres et des Sciences Humaines, Agadir, Morocco, 2014
Journées d'étude, Stratégie artistiques de spatialisation du savoir : Archives, écritures, mobilités
Écoles des Arts visuels de l'Université Laval, Québec, 2014
What Happens When Nothing Happens
Rotor Gallery, Göteborg, Sweden, 2009
---
Group Exhibitions (a selection)
LE LIEU DE L'INSCRIPTION / L'INSCRIPTION DU LIEU, Salon du Salon, Marseille, France, 2017
CIBLES/TARGETS, Galerie Le Garage, Lorgues, France, 2017
PAPIER 15, AGAC, Montréal, 2015
THE PREPARATION OF THE NOVEL, The Book Lovers project, Fabra i Coats, Contemporary Art Centre, Barcelona, Spain, 2014
TORONTO ART FAIR, Donald Browne Gallery, Toronto, 2014
AN EXCHANGE WITH SOL LEWITT, MASS MoCA, 2011
LABYRINT 09 - WRITING AND OBSERVATIONS, Botkyrka Konsthall, Botkyrka, International Artist's Book Exhibition, 2010
WHAT HAPPENS WHEN NOTHING HAPPENS, Galerie Rotor, Göteborg, Sweden, 2009
THE END (with Orange & Brown), H Block Gallery, Brisbane, Australie, 2006
TRAFIC, L'Écart, Rouyn-Noranda, Québec, 2005
DU QUÉBEC À MARSEILLE, Association Artena, Marseille, France, 2002
PORTRAITS-ROBOTS, Galerie Graff, Montréal, 2002
SYMPOSIUM INTERNATIONAL DE NOUVELLE PEINTURE, Baie St-Paul, Québec, 2001
DAVID LISS, MICHAEL MERRILL, ERIC SIMON, Galerie Luz, Montréal, 1999
8TH INTERNATIONAL PRINT & DRAWING BIENNAL, Taipei Fine Arts Museum, Taipei, Taiwan, 1998
BIENNALE DU DESSIN, DE L'ESTAMPE ET DU PAPIER DU QUÉBEC, Alma, Québec, 1998
LARSON BIENNAL DRAWING COMPETITION, Clarksville, Tennessee, USA, 1997
SALON INTERNATIONAL AJV, Dum Kultury Metropol, Ceske Budejovice, République Tchèque, 1997
LUSH, Galerie Articule, Montréal, 1995
TRIENNALE INTERNATIONALE DE LA GRAVURE ORIGINALE, Grenchen, Switzerland, 1994
VIOLENCE, PIÈGES DU REGARD, Galerie Christiane Chassay, Galerie UQÀM, Montréal, 1992
LUST FOR LIBERTY, Pink Gallery, Montréal, 1987
BONANZA IV, 5354, Sherbrooke w., Montréal, 1986
ONE-NITE ONLY : ART AEROBICS, 699 St-Maurice, Montréal, 1986
ZEITGEIST II, (From the people who brought you angst, more angst!), 1455 Notre-Dame w., Montréal, 1984
BIG BOBBY'S SECOND ANNUAL ART BONANZA, 5354 Sherbrooke w., Montréal, 1984
ART BONANZA, 5354 Sherbrooke w., Montréal, 1983
ZEITGEIST SHOW, 1087 Anderson, Montréal, 1983