Bernard Gamoy, MFA, BFA
Part-time Instructor, Painting and Drawing

---

---
The son of working-class parents, Bernard Gamoy grew up in a pigeonnier, a sixth-floor garret in Paris. After a few adventures in the world, he settled in Montreal and became a painter. Oh yes: he graduated from Concordia with a B.F.A. in 1979 and an M.F.A. in 1982. Since then, he has shown his work in various places like Paris, Mexico, Boston, Toronto and Montreal. His recent work explores self-portraiture and creates images of the artist as anti-hero, examining at the role of the artist in society.

Technically for me painting is about exploring and experimenting, about accidents and discovery. It is also the trace of a human touch: I am making layer upon layer, forming the skin of a surface. I am exploring space and creating an intimate distance in low key colours.



"Does the messiness of painting evoke the messiness of our embodied experience?"
 Conceptually, I am viewing the world over my shoulder, speculating rather than looking at it directly. Instead of reflecting what I see, I am absorbing it and transforming it into something that is perhaps incomprehensible, clumsy and crude.
Education
BFA Concordia University, 1979

MFA Concordia University, 1982
Areas of expertise
Painting and drawing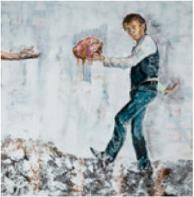 "le Serviteur", 2010, Oil on linen, 150cm x 150cm
Face to Face, 2009, Oil on Linen, 50 x 50 cm
Real Gamblers Don't Cheat, 2012, Oil on Linen, 244cm X 173cm