Aaron McIntosh
Associate Professor, Studio Arts

---
John Dean Photography

---
Biography
Aaron McIntosh is a cross-disciplinary artist whose work mines the intersections of material culture, family tradition, sexual desire and identity politics in a range of works including quilts, sculpture, collage, drawing and writing. As a fourth-generation quilt maker whose grandparents were noted quilters in their Appalachian communities, this tradition of working with scraps is a primary platform from which he explores the patch worked nature of identity. Since 2015, McIntosh has managed Invasive Queer Kudzu, a community storytelling and archive project across the LGBTQ South.

His work has been exhibited at the Hangaram Art Museum in Seoul, the Houston Museum of Fine Arts, Yale University's Green Art Gallery, the International Quilt Study Center, the Los Angeles Craft & Folk Art Museum and the Leslie-Lohman Museum of Gay & Lesbian Art in New York City. His current research creation project, Hot House/Maison Chaude, is supported by a 2020-2022 SSHRC Insight Development grant. Additionally, McIntosh is a recipient of the 2020 United States Artist Fellowship in Craft, a 2018 Virginia Museum of Fine Arts Fellowship, a 2017 Virginia Culture Works Grant, and two Center for Craft Windgate Fellowships in 2006 and 2015. He has held residencies at the Banff Centre, Haystack Mountain School of Crafts, and the Virginia Center for Creative Arts. His critical writing has been published in the Brooklyn Rail, Hyperallergic, the Surface Design Journal, and the Journal of Modern Craft.

As an educator, McIntosh is committed to transforming and diversifying the next generation of fibre/textile artists. Since 2010, he has taught in the Fibre programs of James Madison University, the Maryland Institute College of Art, Virginia Commonwealth University, and currently is an Associate Professor in the Fibres & Material Practices program at Concordia University.
Twin Beds (Little Big Man & Bedroom Buddies)
Photo credit: Terry Brown
Road to Tennessee
Photo credit: Nick Clifford Simko
The Bear
Photo credit: Terry Brown
---
Teaching Activities
I am an intermedia artist, filmmaker and writer, with a scholarly background in design, media studies, and cultural studies. My research-creation activities are often located at the juncture of residual and emergent media forms. My primary teaching area is Intermedia. I have also taught courses on cultural production and media ethnography; counter-archives and residual media production; and, cities, signs and pandemics. My graduate degrees in Communication are from Simon Fraser University (MA) and the University of Massachusetts Amherst (PhD).

---
Research activities
1. SIGNS AND PUBLIC LETTERING: I am the director and co-founder of the Montréal Signs Project. My recent FQRSC Appui à la recherche-création grant, titled Les enseignes de Montréal: Culture, technologie, patrimoine, was in three parts: Les Enseignistes de Montréal, an interactive web documentary about the histories of signmaking in Montreal (co-director Dayna McLeod), a gallery installation on human migration and land rights in collaboration with Montreal artist Cheryl Sim called YMX, and an expansion of the current permanent exhibition of the Montréal Signs Project. Recent acquisitions include bijouterie J Omer Roy, Steinberg supermarkets, MARS Comics/Bandes Dessinées, and Boite Noire video store. In Fall 2021, I taught a special topics class titled Cities, Signs, Pandemics.

2. LOST LEADERS: An ongoing
research-creation project
driven by a singular fascination with film leaders and countdowns, treated as the forgotten 'metadata' of analog film. Outcomes have included cameraless 'handwritten' animation, interactive films, stained glass, photomontage, and videomicroscopy. The most recent creative outcome is a handmade short film titled

Billionaires Gnaw their Tongues from the Pain

(2021), which is screening at the Brooklyn Film Festival in June 2022.
ASANASA
(2019) screened at

New Experimental Works / Avant to Live

(ATA/OtherCinema, San Francisco), Fantasia, Antimatter, Engauge, MUFF, Dreamers of Dreams, and SF IndieFest. Soar's definitive introduction to the historical development of US/Canadian film leader standards appeared in the journal

The Moving Image

in 2016.
3. DATABASE STORYTELLING: From 2012 to 2015 I was Principal Investigator on a SSHRC Research/Creation in the Fine Arts grant titled
Adventures in Research-Creation
. My teammate was Dr. Monika Kin Gagnon, and our collaborators were
Florian Thalhofer
,
Phil Hoffman
, and
Midi Onodera
. Our event
Database | Narrative | Archive
, an international symposium on digital nonlinear storytelling, was held at Concordia in May 2011; Dr Gagnon and I subsequently co-edited the
DNA Anthology
, a post-symposium collection of seven nonlinear, interactive essays built using
Scalar
. From 2008 to 2016 I was codirector of development for
the Korsakow System
. In May 2015, Phil Hoffman launched his Korsakow film
Racing Home
, an extended, lyrical exercise in 'posthumous cinema'.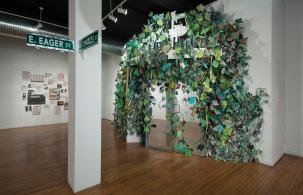 Exhibition View, 'Invasive Queer Kudzu: Baltimore', 2018
Photo credit: John Dean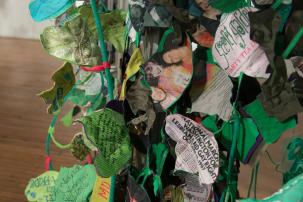 Detail, 'Invasive Queer Kudzu: Baltimore', 2018
Photo credit: John Dean