Liselyn Adams, Chair
Associate Professor, Music

---
---
Liselyn Adams moved to Canada after completing her studies at the New England Conservatory, Boston University, and the Royal Conservatory of the Netherlands. Equally at home on the modern and baroque flutes, she has performed as principal flutist with the Studio de musique ancienne de Montréal, the Carl Philipp Ensemble, Les Nations de Montréal, and as a guest soloist in many cities in North America. She is a founding member of the Blue Rider Ensemble, where her passion for collaborative composition, improvisation and instrumental theatre has grown since 1990. Liselyn has been a faculty member at Concordia University since 1980, teaching courses from music history and theory to chamber music and contemporary performance.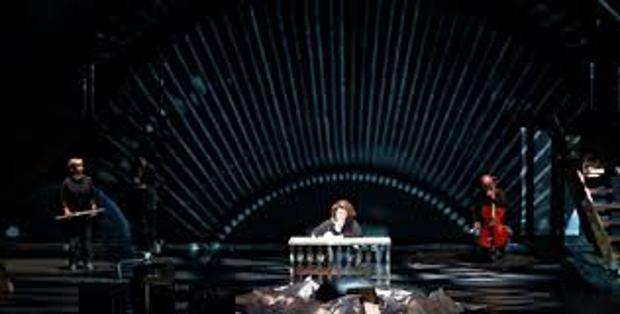 Opening scene of Frankenstein's Ghosts
Photo credit: Jérôme Delapierre
---
Teaching activities
Contemporary Music Ensembles
Students work in small ensembles on music written since 1950, explore alternative notations, improvisation, collaborative composition, and integration with live electronics.
Private Study - flute
Transforming breath into fabulous sounds.
---
Publications
history is what it is
Sound recording. Centrediscs 2013
Music of Peter Hatch

Five Memos
Music is a Beautiful Disease
One says. History is.
Cantabile
Blue Rider Ensemble
Sound recording. A&R records 1997
Arnold Schönberg Pierrot lunaire
Donald Crockett The Cinnamon Peeler (text by Michael Ondaatje)
John Rea Les Blues d'Orphée
Mildred's Thoughts
Sound recording on Artifact Music 1995
Music of Peter Hatch

and as he from Mounting Picasso
---
Artistic performances
December 9, 2014
Blue Rider Ensemble

Oscar Peterson Hall (Concordia University)
works of Bolcom, Torke, Noseworthy, Hatch, Dimitrov, and a new collaborative composition by the ensemble
May 2013
La Vague by Éric Abécassis
Director of the flute section for performance of this massive piece for 160 musicians performed outdoors at the Place des Arts esplanade
October 27, 2012
Blue Rider Ensemble - trios for flute, 'cello, and piano
Works by Crumb, Martinu, Liebermann, and Kapustin
2011-13
Frankenstein's Ghosts
Staged multimedia performance with music created by Blue Rider Ensemble, choreography by Michael Montanaro, video by Jérôme Delapierre, sound by Navid Navab, texts by Ann Scowcroft. Performances and film capture 2011-2013. Based on Mary Shelley's novel, the work of researchers and graduate students in ethics and psychology, and the full cast.

Trailer at https://www.youtube.com/watch?v=KlxMc5_Ucfw