Guy Pelletier
---
Office:
S-GM 500-42
Guy-De Maisonneuve Building,
1550 De Maisonneuve W.
Phone:
(514) 848-2424 ext. 4727
Email:
Availability:
Fall and winter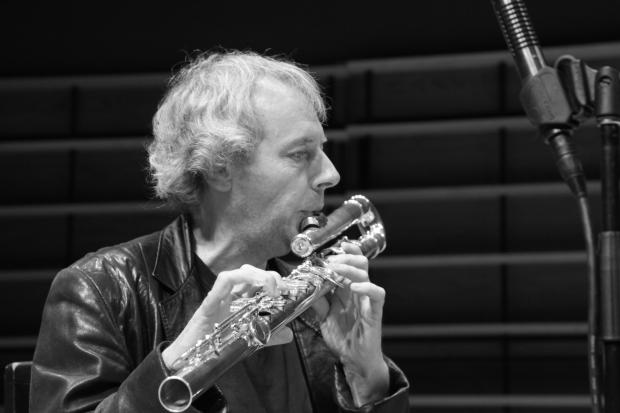 ---
Flute teacher, Concordia University
Teaching
Flute teacher, Concordia University from 2000

Flute teacher (classical and jazz) Collège de Trois-Rivières, 1997 - 2017

Many workshops on extended flute techniques in Canada and Europe from 1995
---
Research activities
Reasearch activities
Extended flute techniques

I've been working for more than forty years on many facets of extended flute techniques. I presented many workshops on these techniques in conservatoires and universities here and in Europe and Asia.

Presently, I work mainly on circular breathing, using it in arpegios (slow and fast) an on an adaptation of nay technique on the concert flute. I use frequently these techniques in concert.

Improvisation

In addition to mastering jazz improvisation, I developed a personnal style in modern improvisation and world music. I use regulary extended techniques to bring more diversity to my improvisations.
Reasearch activities
Contemporary repertoire

I worked many solo, chamber music and ensemble masterpieces with the composers themselves and performed these pieces in concerts in Canada, USA an Europe.

I worked then pesonnaly solo pieces with composers as : Pierre Boulez (Sonatine,) Mauricio Kagel (Phantasiestück)
Jonhatan Harvey (Nataraja) and chamber and ensemble pieces with composers as : Franco Donatoni, György Ligeti, Brian Feyrneyhough, Elliot Carter, Salvatore Sciarrino...

Mixed modern comprovisation

I worked during fifteen years (1991 - 2006) on original compositions mixing contemporary extended techniques, improvisation and forms in different concert, dance, visual arts and litterature projects involving collaborations with many artists from all disciplines.
---
Publications
Publcations
I recorded close to sixty albums of all kinds of music : classical, contemporary, electroacoustical, world music, jazz and popular, plus dozens of live concerts for different broadcast radios (Canada, USA, France, Germany, Belgium).
---
Participation activities
Participation activities
I work presently with :

Didem Bashar group (world music, Turkish/Western influence)
Original compositions by Didem with improvisations.

Trio Nomad's Land ( world music modern gnawa music)
Original compositions by Saïd Mesnaoui and Guy Pelletier, arrangements by Guy Pelletier

Extasies Of Influence (contemporary comprovisation)
Original reasearch project by Sandeep Bhagwati involving many musicians and artists from other disciplines.

Co-composition (contemporary composition and improvisation)
Project by Marie-Hélène Breault involving also Katia Makdissi-Warren. Composition involving recomposition and arrangements by the three of us on musical ideas by Katia Makdissi-Warren.

---
Artistic performances
Performances
More than one thousand performances from 1975 to now, in all music styles - contemporary, classical, electro acoustical, world, jazz, rock, popular - in many countries in four continents.