Gregory Chaverdian
Private Study Piano Professor, Music

---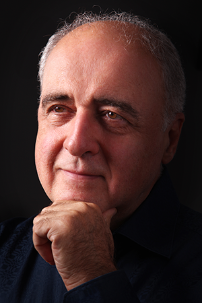 ---
Gregory Chaverdian completed his Master of Music and PhD in Piano Performance in the Komitas State Conservatory in Yerevan, Armenia. In 1989, he was awarded First Prize at the International Music Competition in Rio de Janeiro.
Since then, Gregory has appeared on the concert stage as a soloist and a collaborative pianist and has performed in Russia, England, Ireland, France, Italy, Brazil, Hungary, Poland and Canada.
From 2000, he started to teach Piano Performance in the Concordia University.
Artistic Performances
Gregory has performed solo recitals and piano concertos with Armenian State Philharmonic Orchestra, Armenian State Radio and Television Orchestra, New Brunswick Symphony Orchestra, FACE Orchestra and I Musici de Montreal.
In collaboration with I Musici de Montreal, he performed the canadian premiere of a Piano Concerto by Michelle Ekizian (New York, USA).
With English pianist David Owen Norris, he recorded a piano duo CD for Chandos, under the direction of Yuli Turovski.
With the soprano-coloratura professor of McGill University Aline Kutan, he recorded a CD of Armenian Melodies.
He recorded a recital with world renowned bass Barseg Tumanyan in Wigmore Hall in London. Gregory has been invited to play with him at the Wroclaw Music Festival in Poland and the Wexford Opera Festival in Ireland.
He also performed duo recitals with many chamber partners, such as Vladimir Landsman, Yuli, Eleonora and Natasha Turovski, Robert Bardston, Liselyn Adams, Hélene Gagné and James Campbell.

In 2018, he performed Yellow River Concerto with the Imperial Symphony Orchestra in Oscar Peterson Concert Hall.
Teaching Activities
Except being a Concordia Piano Performance professor, he has also given master classes in Lisbon Conservatory of Music and Schlern International Music Festival (along with Misha Maisky and Vladimir Kraynev).
Gregory is also a faculty member of the International Music Academy in Burgos, Spain and Castelnuovo di Garfagnana Toscana, Italy.
Students' Awards
Every year, Gregory's students participated concerts with the Symphony and Chamber Orchestras affiliated with Concordia University, Canadian Music Competition (CMC), New York International Music competition and Quebec Provincial Music Competition.
Prize winners:
Eugenia Kirjner (Concordia DAMPS Program student)
1st prize winner in International Chamber Music Competition in Poland;
Zuzana Simurdova (Concordia DAMPS Program student)
Chopin Award Winner in IBLA Grand Prize International Music Competition 2010 in Italy. In 2011, she performed in Carnegie Hall in New York;
Lili Zeng
2nd prize winner in Burgos International Music Festival, Spain;

Zixiang Zhao
1st prize winner in Canada Music Competition 2018;
Grand Prize winner in Metropolitan Orchestra (OMNI) Music Competition 2021;

Angela Yixuan Miao
Prize winner in 5 international piano competitions in 2020-2021: Steinway Piano Competition, Canada International Music Competition, Diploma in the prestigious Nutcracker International Competition 2020 in Moscow, etc.
In these years, Gregory's students achieved many gold medals in CMC, New York International Music Competition and Quebec Provincial Music Competitions
Many of his students continue their studies at prestigious schools like the Royal College of Music in London, the Manhattan School of Music in New York, North Western University in Chicago, IL, the University of Toronto and Moscow Conservatory.
Some become teachers such as at the McGill Conservatory of Music, the Music College in Taipei, Taiwan, and the Music College in Seoul, Korea.
http://www.youtube.com/watch?v=_rACr3YJpGU
http://www.youtube.com/watch?v=HU10bt-UAz0
http://www.youtube.com/watch?v=_uiOfIovNg4
https://www.youtube.com/watch?v=Ad1inFM6l-s
https://www.youtube.com/watch?v=p6ThqbFOeOQ
Back to top
© Concordia University