Dr. Miranda Smitheram, PhD, MPhil, MDes, Dip Fash/Tex
Assistant Professor, Design and Computation Arts

---

---
Biography
Currently Co-Director of the Textile and Materiality ResearchCluster at Milieux Institute of Arts, Culture and Technology, Dr MirandaSmitheram is a design researcher, artist, and educator. Miranda's creativepractice is tactile, haptic and embodied, and incorporates ancestral andcontemporary methods to work with socio-cultural matter and nonhumancollaborators. Throughresearch-creation she develops new hybrid materials, to contribute tosustainable, relational and Indigenous futures. This was explored in depth during a 2year fully funded Māori Postdoctoral Research Fellowship at Auckland Universityof Technology (Phenomenal Dress, 2017-19).
Her current research exploresdecolonizing matter, and centres an ethics of care and relationality. Through unraveling ontologies and kinshipof invasive plant species, Miranda frames possibilities of rematerializing theseunwanted invaders through soft surface, biofabricated and textile applicationsto offer localized solutions through materiality.

Miranda's research moves betweendigital, virtual and physical, with a particular interest in the criticalmateriality that is revealed through the flux of these processes. Both herfield research with flora and her digital research with materiality follow anontological design approach. These mediated materials take shape as textileforms, structures and digital artworks that question the interaction and agencyof human and nonhuman, place and space in a post-anthropocentric context.

Dr Smitheram comes from anaward-winning industry background in fashion and textile design, with ten years experience as a design team leader and fashion designer. She holds a Masters in Design andMasters in Philosophy with First Class Honours, and a Doctorate from Auckland University ofTechnology. Miranda's PhD thesis contributed new artistic and technical insights intothe ontology and aesthetics of digital and virtual materiality and involved novelinterdisciplinary research charting the dynamics of cloth in motion capture.This doctoral research won the Dean's Award for Excellence. Miranda has exhibited artworks andpresented research internationally in the United Kingdom, New Zealand, Italy,Estonia, Finland, Australia and Canada.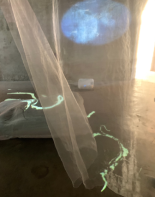 ---
Teaching activities
DART 391 Socio-Cultural Research Practice

DART 392 Environmental Research Practice

DART 339 Second Skin and Soft Wear

DART 611 Interdisciplinary Practices in Design

---
Publications
Selected Publications
Smitheram, M., & Joseph, F. (2020). Material-aesthetic collaborations: making-with the ecosystem. CoDesign, 16(4),293-310.
Joseph, F., Smitheram, M., Cleveland, D., Stephens, C., &Fisher, H. (2017). Digital materiality, embodied practices and fashionable interactions in the design of soft wearable technologies. International Journal of Design, 11(3. Special issue on Designing for Wearable and Fashionable Interactions), 7-15
Smitheram, M. (2016). The hand of the cloth: An ontological and aesthetic unfolding through digital and virtual materiality.
Smitheram, M. (2015). Imagining and imaging future fashion. CraftResearch, 6(2), 241-255.
Smitheram, M. (2015). The superfluous and the ephemeral:Consumerism, globalization and future fashion systems (Doctoral dissertation, Master Thesis. Accessed online, 12.07).
---
Selected Exhibitions
Macro/Micro _Whakapapa. (2021-2023) Experimenta Life Forms. International Triennial of New Media Art. Touring show, Australia.

'Ko Pikiwhara te mauka/ And here I visit the bones' (2019). Te Whāinga, A Culture Lab on Civility. Smithsonian APA and Auckland Museum, Silo Park Auckland, New Zealand. October 2019.
Joseph, F., & Smitheram, M. (2019). Critical Materialities of Textiles and Ecology. Loughborough University in London: Textile Intersections.
Joseph, F., & Smitheram, M. (2019). Phenomenal Dress: Material Aesthetic Collaborations. Estonia Academy of Arts, Estonia: EKSIG Conference.