Haidee Wasson, PhD
Professor (Film Studies), Cinema

---

---
***In 20016-2017 Haidee Wasson will be a Distinguished Visiting Scholar, Film and Media Studies, at the University of California, Santa Barbara.***
Haidee Wasson's published work concentrates on cinema, but explores the broader relations among technology, art, and culture. Her recent work focuses on film technologies, with a particular interest in the ways that the museum, industry, and the military have provided platforms for new ideas about, and uses of, cinema. Her current project specifically examines the history portable projectors and their importance for expanding what films look like, how they are seen and used, and why we watch them. She lectures internationally on these and other subjects.

She has won numerous awards and research grants including Doctoral,Post-Doctoral and Faculty grants from the Social Sciences and Humanities Research Council of Canada, the Fulbright Foundation, and the McKnight Landgrant Foundation. In 2015, she was named a University Research Fellow.

She previously taught in the Cultural Studies and Comparative Literature Department, University of Minnesota and in the Visual and Environmental Studies Program, Harvard University.

Her award-winning book Museum Movies (UC Press, 2005) examines the importance of the modern art museum for ideas and practices of cinema. She also co-edited (with Dr. Lee Grieveson) a collection of essays that explores how film came to be thought of as a university-based activity and source of knowledge, Inventing Film Studies (Duke UP, 2008); and (with Dr. Charles Acland) the award-winning Useful Cinema (Duke UP, 2011), a book about the enduring and dynamic use of cinema beyond the movie theater. Dr. Wasson also co-edits a book series (with Dr. Lee Grieveson) for the BFI devoted to exploring international cultural histories of cinema: www.palgrave.com/bfi/culturalhistories.asp. She is also assembling a book on the history of the American military and its use of cinema (to be published by University of California).

She is also project-lead for Fieldnotes, an oral history project run under the aegis of the Society for Cinema and Media Studies (SCMS) to explore the history of film, television and moving image study by way of interviewing key figures who have contributed to shaping that field. Click hereto listen to and/or watch interviews with Thomas Elsaesser, Tom Gunning, Linda Williams, Laura Mulvey, Mary Ann Doane and over twenty other formative scholars. (https://cmstudies.site-ym.com/?page=fieldnotes)
Dr. Wasson is also active in academic service, working over the last ten years as Graduate Program Director, Area Head (Film Studies – School of Cinema), and Associate Dean of Research (Faculty of Fine Arts). She has also served on Faculty Council (Fine Arts), Senate (Concordia University) The Board of Governors (Concordia University) and as an elected member of the Executive Board of the Society of Cinema and Media Studies.
Education
PhD (McGill)

Research interests
Emergent media, film technology, cultural institutions, film and media theory, feminism, film and media historiography.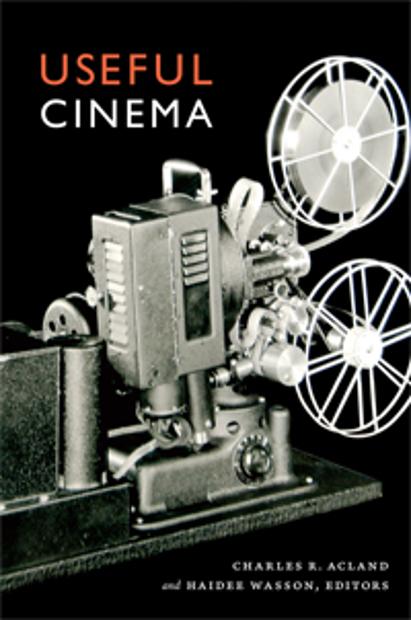 Useful Cinema
Photo credit: Duke UP, 2011
---
Selected publications
"ResearchingFilm Formats: The Quick Search and Slow Scholarship" for The ARCLIGHT Guidebook to Media History and the Digital Humanities (Reframe Books: 2016) (www.projectarclight.org)
"SellingMachines: Portable Projectors and Advertising at the World's Fair" in Films that Sell: Moving Pictures and Advertising eds. Nico De Klerk, Bo Florin, and Patrick Vonderau, eds (BFI, 2016) 54-70.
"The Elastic Museum" TheInternational Handbook of Museum Studies: Museum Media First Edition. Edited by Michelle Henning, (Wiley& Sons, 2015) 603-627.
"Formatting Film Studies" Film Studies 12 (Spring2015) 57 – 61.
"Verkaufsmaschinen. Film und filmischeTechniken auf der New Yorker Weltausstellung 1939/1940" Montage A/V (02/2015)161-178.
"TheProtocols of Portability" Film Historyvol. 25, No. 1-2 (2013): 236-247.
"Moving Images: Portable Histories of Film Exhibition" The International Encyclopedia of MediaStudies: Media History and the Foundations of Media Studies. John Nerone,ed. (Wiley-Blackwell, 2013) 367-384.
"Suitcase Cinema" Cinema Journal (51.2) Winter 2012: 150-154.
"Introduction" [In Focus: Screen Technologies] Cinema Journal 51.2 (Winter 2012): 143-146. http://spectrum.library.concordia.ca/977433/
"Big, Fast Museums / Small, Slow Movies: Film, Scale and the Art Museum" in
Useful Cinema
, co-edited with Dr. Charles Acland (Duke University Press, 2011) 178-204. http://spectrum.library.concordia.ca/977436/
"Roundtable on the History of Film Studies in Canada" (co-organized with Mike Zryd) Participants: Peter Morris, Kay Armatage, John Locke, Andre Gaudrault, Maurice Yacowar. Canadian Journal of Film Studies (20.1) Spring 2011: 117-137. http://www.filmstudies.ca/journal/pdf/cj-film studies201_history_canadian_film_studies_roundtable.pdf

"Small Discipline, Big Ideas"

Synoptique

(May 2010) http://www.synoptique.ca/core/articles/wasson_haidee_dudley_andrew/

"Electric Homes! Automatic Movies! Efficient Entertainment!: Domesticity and the 16mm Projector in the 1920s" Cinema Journal 48.4 (Fall 2009): 1-21. http://spectrum.library.concordia.ca/977442/

"Studying Movies at the Museum: The Museum of Modern Art and Cinema's Changing Object." in Inventing Film Studies, co-edited with Lee Grieveson (Duke University Press, 2008) 121-148. http://spectrum.library.concordia.ca/977437/

"Suitcase Cinema" trans as "Kofferkino: Zur Gestichte Kinematografischer Portabiität" [German] for

Cargo: Film/Medien/Kultur

18, 2013: 38-41. http://spectrum.library.concordia.ca/977432/

"Suitcase Cinema" Cinema Journal 51.2 (Winter 2012): 150-154. http://spectrum.library.concordia.ca/977441/