Lorraine Oades, MFA, BFA
Part-time Faculty, Intermedia (Video, Performance and Electronic Arts), ARTX & Sculpture, Studio Arts

---

---
TV Tracker
is a ambulatory sculpture that literally follows viewers and simultaneously displays their images on the screen. When a viewer changes direction, the TV changes directions as well.
An animated robotic artwork "TV Tracker" is meant to disarm gallery goers by creating a playful engagement with them as it follows our movements and literally puts us on TV.

There is something inherently old fashion about "TV tracker." Despite its use of contemporary imaging and tracking technologies, it is ultimately a mechanical object with almost endearing human-like qualities. Hopefully, these qualities will draw us in and act as a friendly reminder that we are constantly under surveillance. While someone may not actually be out there watching, our actions are being recorded and these images will come back to haunt us in unexpected ways.
Programming: Martin Peach
Fabrication: Robert Prenovault
Production Assistant: Matthieu Sabourin
The artist gratefully acknowledges Concordia University Part-time Faculty Association Professional Development for their support of this project.
The Violin Lesson: Lorraine Oades and Brigitte Dajzcer with Patrice Coulombe
Photo credit: Lorraine Oades
---
Research interests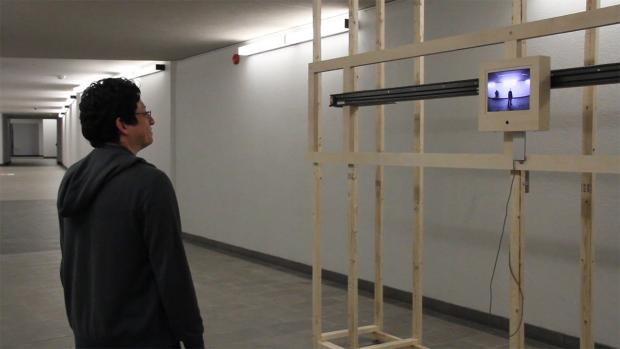 Photo credit: Lorraine Oades
---
Participation activities
Knockdown Centre
Sous Observation/Spaces Under Scrutiny
In participation with Quebec Digital Arts, NYC, this exhibition brings together six recent installations by eight Quebec artists. Movement, space and sound are central to their works, which explore the perception of time, observation/surveillance, the connections between seeing and hearing, and the coexistence of analogue and digital.
Underpinning these installations is a machine or the idea of a machine. At times, it lies at the heart of the artwork and reveals its inner workings; at other times, it is more discreet, opting for a subtle form of camouflage.
Featuring: Catherine Béchard & Sabin Hudon, Martine Crispo, Manon Labrecque, Lorraine Oades, François Quévillon, and Thomas McIntosh & Emmanuel Madan
Curated by Nicole Gingras
Brooklyn, New York October 2015