Aaron McIntosh
Associate Professor, Studio Arts

---
John Dean Photography

---
Biography
Aaron McIntosh is a cross-disciplinary artistwhose work mines the intersections of material culture, family tradition,sexual desire and identity politics in a range of works including quilts,sculpture, collage, drawing and writing. As a fourth-generation quiltmakerwhose grandparents were noted quilters in their Appalachian communities, thistradition of working with scraps is a primary platform from which he exploresthe patchworked nature of identity. Since 2015, McIntosh has managed InvasiveQueer Kudzu, a community storytelling and archive project across the LGBTQ South.

His work has been exhibited at the Hangaram ArtMuseum in Seoul, the Houston Museum of Fine Arts, Yale University's Green ArtGallery, the International Quilt Study Center, the Los Angeles Craft & FolkArt Museum and the Leslie-Lohman Museum of Gay & Lesbian Art in New York City. In 2020, McIntosh was the recipient of a prestigious, He is arecipient of the 2020 United States Artist Fellowship in Craft, a 2018 Virginia Museum of Fine Arts Fellowship, a 2017 Virginia CultureWorks Grant, and two Center for Craft Windgate Fellowships in 2006 and 2015.He has held residencies at the Banff Centre, Haystack Mountain School ofCrafts, and the Virginia Center for Creative Arts. His critical writing hasbeen published in the Brooklyn Rail, Hyperallergic, the Surface Design Journal,and the Journal of Modern Craft.

As an educator, McIntosh is committed totransforming and diversifying the next generation of fibre/textile artists.Since 2010, he has taught in the Fibre programs of James Madison University,the Maryland Institute College of Art, Virginia Commonwealth University, andcurrently is an Associate Professor in the Fibres & Material Practices program at Concordia University.
Twin Beds (Little Big Man & Bedroom Buddies)
Photo credit: Terry Brown
Road to Tennessee
Photo credit: Nick Clifford Simko
The Bear
Photo credit: Terry Brown
---
Teaching Activities
2019-2020 Courses
FBRS 260 / Textile Printing and Dyeing (Winter)
FBRS 480 / Advanced Fibres (Winter)
---
Research activities
Research Statement
My research is engaged with the complex histories of my personal and artisticlineage, negotiating traditional and contemporary culture through object-makingand storytelling. Quilts, weeds, yellowing wallpaper, firewood, a taxidermybear and Colonial-Revival couch—my works reach across generational dividesthrough a language of form and material dialect. In saturated objects, stories ofcruising gay men and family past-times collide to draw attention to the murkyintersection of personal desires and family institutions, as well as openlyquestion our larger social constructions of deviancy, shame andheteronormativity. My intention is to celebrate Southern queer vivacity in theface of perceived invisibility.

As a fourth-generation quilter, my work isrooted in the material, process and cultural attributes of quilt-making. Quilt-likeaccumulation and piecework are primary across my practice, whether I'm sewingfabric, gluing pages or arranging cut-outs. Other transitional objectshave shaped me: hoarded romance novels, gay lifestyle magazines and erotica. Mynotions of desire, romance and sexuality have been mediated through suchprinted matter, which have provided fictional narratives that I fragment andretrofit for my own narratives.

My work celebrates these domestic contexts andhaptic qualities of learning desire. In furniture objects like The Couch or Twin Beds, I have created objects in which erotic words and images are notonly read but also felt, sat on, and touched by viewers. Simultaneouslydeconstructing the quilt and my identity, I infuse works with the realities ofwhat happens beneath quilts: desire, anxiety, sex, birth and death. In ForestFrolic, Road to Tennessee and the new Transitional Object series, I boldlybring these images of desirable men out from under the bed and offer them up ascomfort objects.

Recently, my practice has seen a shift towardsnature-based forms. Coming from subsistence farmers, connections between landand identity run deep. I have probed my early connection to the forest and myfamily's conquest of it. In works like Bear, and Weeds, natural forms are recreated with patchwork skins of gay erotica andimages of my flesh. Embedding queerness into representations of nature, Iconfront the ways in which queer bodies are stigmatized because of our supposedunnatural state of being.

My ongoing project, Invasive Queer Kudzu,subverts the xenophobic relationship many Southerners have with the non-nativekudzu vine, and reclaims kudzu as a demonstrative form of queer visibility. Iam collecting Southern LGBTQ stories through workshops at community centers andnarratives from LGBTQ archives, which are quilted as leaves, eventually forminga phenomenal mass of queer vines.

Coursing through my work, quiltmaking'spossibility as a language, form and tool make it an expansive medium for mymultifaceted stories. My research broadens our understanding of this traditionalcraft and seeks to expand the concept of piecework or patchwork as a global expressive form aligned with identity formation.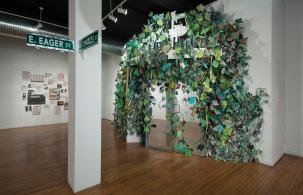 Exhibition View, 'Invasive Queer Kudzu: Baltimore', 2018
Photo credit: John Dean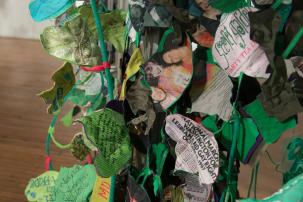 Detail, 'Invasive Queer Kudzu: Baltimore', 2018
Photo credit: John Dean