Lorenzo DiTommaso
Professor, Religions and Cultures

---
---
Academic Biography
Lorenzo DiTommaso received his Ph.D. in Religious Studies from McMaster University in 2002. He was a Postdoctoral Fellow at Yale University Divinity School in 2001-03 and NEH Postdoctoral Fellow at the Center for Medieval and Renaissance Studies at Saint Louis University in 2003-04. Dr. DiTommaso joined Concordia University Montreal as Assistant Professor in 2004. He was promoted to Associate Professor in 2009 and Professor in 2013, and has served as Chair of the Department. Dr. DiTommaso is a member of the department's programs in Jewish Studies and Christianity, and teaches courses in both areas.


Research interests
Apocalypticism, Ancient to Contemporary

Apocalypticism and Popular Culture

Apocalyptic and Millenarian Movements and Groups
Mediaeval Manuscripts and Early Books
Biblical Apocrypha and Pseudepigrapha

Japanese Art and Culture

Speculative Fiction
Religious Traditions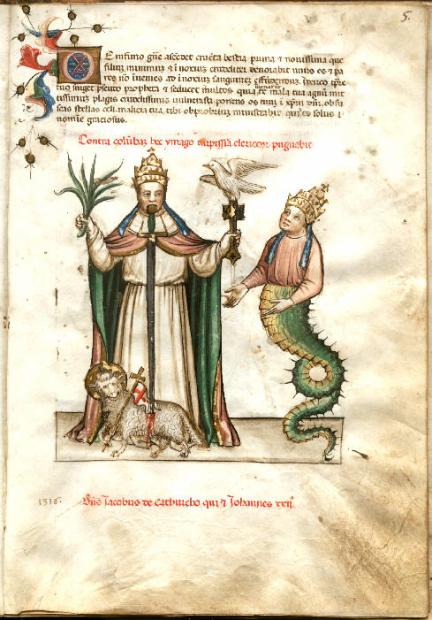 Pope Prophecy (Vaticinia de summis pontificibus)
Photo credit: Kremsmünster, Stiftsbibliothek, cod. CC Cim 6, fol. 5r
---
Research
Research Interests
Dr. DiTommaso's research focuses on apocalyptic speculation in all its forms and in every culture, from the ancient world to the present day. He has authored or edited a dozen volumes and nearly 200 articles, book chapters, and other short studies.
Dr. DiTommaso's research has been supported by four major grants from the Social Sciences and Humanities Research Council of Canada (2004-07, 2007-11, 2011-16, 2018-24). He has also received grants and fellowships from the Vatican Film Library, the University of Chicago Library, the Herzog August Bibliothek, the Lilly Library (Indiana University), the Medieval Studies Library (University of Notre Dame), and the Hill Museum and Manuscript Library, where he was Nicky Carpenter Fellow in Manuscript Studies. In 2019 Dr. DiTommaso was awarded the Bibliographical Society of America - Pine Tree Foundation Fellowship in Hispanic Bibliography.
Dr. DiTommaso's current SSHRC grant focuses on the Medieval Antichrist tradition. Other major research projects include the post-classical Sibylline texts and traditions; the Latin texts and traditions of the
Apocalypse
of Pseudo-Methodius (with James Palmer); and contemporary apocalyptic fiction.
Dr. DiTommaso has co-organised three conferences in Canada funded by SSHRC conference and workshop grants, as well as conferences in Israel, Italy, and the United States. In June 2020 he co-organised one of the first full-blown online conferences since the global pandemic lock-down, the Enoch Seminar on "Conceptions of Evil in Early Judaism and Early Christianity." Dr. DiTommaso is also co-director of the "Through a Glass Darkly" Symposium on Apocalyptic, with Colin McAllister, now in its seventh year.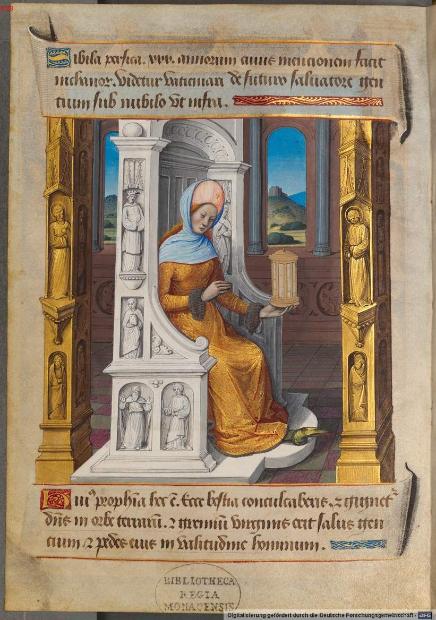 The Persian Sibyl
Photo credit: Munich, Bayerische Staatsbibliothek, cod. icon. 414, fol. 1v
---
Publications
---
Conferences
Selected Recent Conference Papers
(2020) "'Evil' in the Hellenistic-Egyptian Predictive Texts." Conceptions of Evil in Early Judaism and Early Christianity. Enoch Seminar (online). 29 June-2 July
(2019)

"The Apocalyptic Roots of Contemporary Religious Violence." Society of Biblical Literature Annual Meeting. San Diego, USA. 23-26 November.

(2019) "The Common Mediaeval Apocalyptic Tradition." La r

é

union annuelle de l'Association pour l'

é

tude de la litt

é

rature apocryphe chr

é

tienne." Lyon, France, 1-3 July.
(2019) "The Genesis of Apocalyptic Eschatology." Waiting for the End: Zoroastrian, Jewish, and Christian Views on the End of Time. University of Toronto, Canada, 7-8 June.
(2018) "The Four Kingdoms of Daniel in the Early Mediaeval Apocalyptic Tradition." The Eras of Empires: Four-Kingdoms Motifs in Ancient Historiographies. Ludwig-Maximilians-Universitaet Munich, Germany, 25-26 July.

(2018) "Epistemology and Eschatology, Apocalyptic and Gnostic." The Dead Sea Scrolls and the Nag Hammadi Codices: Texts, Traditions, Intersections. Humboldt-Universitaet zu Berlin, Germany, 20-22 July.
(2018) "Music in the Apocalyptic Mode."

Fourth Annual UCCS Conference on Apocalyptic, Colorado Springs, USA, 19-20 March.

[with Colin McAllister]
(2017) "Apocalyptic Historiography." The Sense(s) of History: Apocalyptic Literature and Temporalities. Harvard Divinity School, USA, 16-17 November.
---
Current and Recent Graduate Students
Doctoral
Elliot Mason (2022): "Monsters on the Margins: Minority Identification with Monsters and the Monstrous."

Cimminnee Holt (2021): "A Cabal of Outsiders: Negotiating the (Virtual) Boundaries of Satanism in the Church of Satan."
Master's
Jennifer Gagne (2023): TBA

Tristan Henry (2023): TBA

Raphaëlle Bigras Burrogano (2022): TBA

Sarah Boyer (2022): TBA

Devan Morrell (2021): "The Ethics behind Montreal's Post-Graffiti Scene: A New Materialist Approach to Classical Allusions in Contemporary Street Art."
Alexandra Black (2021): "Yokai and Japanese Folklore through the Miyazaki Lens: An Intertextual Analysis of

Princess Mononoke

and

Spirited Away

."
Zachary Doiron (2020): "Screening the Enemy: Antichrist Films and the Politics of Horror"

Gisoo Kim (2019):"End Game: Apocalypse and Post-Apocalypse in Video Games."
---
Teaching
Upcoming Courses
RELI 300 Cults and New Religions (Fall 2021) [remote]

RELI 6002/498 Apocalypticism in Contemporary Society and Popular Culture (Grad Seminar) (Fall 2021) [remote]

Winter 2022: Sabbatical Leave



Past Graduate Seminars
Ancient Apocalypticism
Mediaeval Apocalypticism
Contemporary Apocalypticism
The Book of Daniel and the Revelation of John

Dead Sea Scrolls
NT Letter to the Hebrews (with André Gagné)

OT Pseudepigrapha and NT Apocrypha
Science Fiction and the Religious Imagination

Past Undergraduate Courses
Ancient Apocalyptic Literature

Apocalypticism and Popular Culture
Cults and New Religions in North America

Dead Sea Scrolls

Environmentalism and the Bible
History of Satan
Leaders, Rebels, and Saints: Jesus of Nazareth

Origins of Christianity
Science Fiction and the Religious Imagination