Dr. Jane G. V. McGaughey, PhD
Johnson Chair of Québec and Canadian Irish Studies
Diaspora Studies, School of Irish Studies

---
---
Jane G. V. McGaughey is the Johnson Chair of Québec and Canadian Irish Studies (2021-26). She joined the School of Irish Studies at Concordia in 2012 as the Assistant Professor of Irish Diaspora Studies. She completed her Ph.D. at Birkbeck College, University of London in 2008. Her thesis examined the relationship between public masculinities and warfare in Ulster before, during, and after the First World War. Her first book,
Ulster's Men: Protestant Unionist Masculinities and Militarization in the North of Ireland, 1912-1923
was published by McGill-Queen's University Press in 2012. She was a co-editor of
Ireland and Masculinities in History
(Palgrave, 2019).
Prior to her arrival at Concordia, Jane taught at the Royal Military College of Canada and was the 2009-10 National Endowment for the Humanities Faculty Fellow at the Keough-Naughton Institute of Irish Studies at the University of Notre Dame.
Her second monograph,
Violent Loyalties: Manliness, Migration, and the Irish in Canadas, 1798-1841
, was published with Liverpool University Press in 2020. This was the first dedicated history of Irish male migration to Canada, questioning the validity of the "wild Irish" stereotype in Canada in the decades before the Great Irish Famine, and examining connections between the Irish Rising of 1798 and the Canadian Rebellions of 1837-38.
Jane is the Principal Investigator on two major research projects funded by the Social Sciences and Humanities Research Council of Canada (SSHRC): "Gender, Migration, and Madness: Treating the Bodies and Minds of Irish Men and Women in Canadian Colonial Lunatic Asylums, 1841-1868" and "Mothers in the Time of Cholera: Motherhood, Migration, and Pandemics in the Canadian Colonial Medical System, 1817-67."
Since 2022, Jane has written and hosted the popular podcast,
The Irish in Canada
, which provides short, exciting episodes about the lives of Irish immigrants and their Canadian descendants. Previous episodes have included examinations of Grace Marks, Colonel James FitzGibbon, and the "Ghost of Griffintown." The second season of the podcast debuts on March 2nd, 2023. All episodes are available for downloading through Apples Podcasts, Spotify, Stitcher, and at the podcast's website: www.theirishincanadapodcast.ca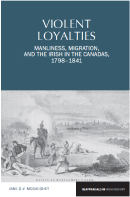 Liverpool University Press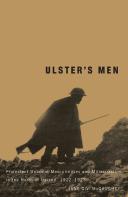 MQUP
Claire Macauley
---
Teaching activities
Courses
In Winter 2023, Jane is teaching the seminar class, Rebellions in Ireland and the Canadas (IRST498/HIST498) and a new offering on the history of Irish Women in Quebec and Canada (IRST398/HIST398)
Thesis supervision
She is interested in supervising graduate students engaged in research in the cultural and social history of the Irish in Canada, America, Britain, Australia, New Zealand, Newfoundland, and other areas of the Irish Diaspora. Students with an interest in the history of gender (masculinity as well as femininity), warfare, sexuality, violence, remembrance, the body, imperialism, citizenship, religion, or migration are welcomed.
---
Research activities
Current research
Dr. McGaughey's research interests include the Irish Diaspora in Canada, Newfoundland, America, and Britain, the Orange Order's construction of public masculinities, and various portrayals of Ireland and the Irish abroad in popular culture.

Her current research focuses on representations of Irish masculinities and violence in Lower and Upper Canada between 1798 and 1849. This project has been funded by a Fonds de Recherche Société et Culture grant from the Quebec government.

She also is interested in post-Celtic Tiger migration to Canada and its historical parallels, representations of Irish gender and sexuality in North American history and popular culture, and the contemporary cultural geography of "Irishness" in Canada.

---
Publications
Select Publications
Books
Violent Loyalties: Manliness, Migration, and the Irish in the Canadas, 1798 – 1841 (Liverpool University Press, 2020)
Ulster's Men: Protestant Unionist Masculinities and Militarization in the north of Ireland 1912 – 1923 (McGill-Queen's University Press, 2012)
Barr, Rebecca, Sean Brady & Jane G. V. McGaughey (eds.), Ireland and Masculinities in History:From the Sixteenth Century to the Present (Palgrave Macmillan, 2019)

Peer-Reviewed Articles
Editor, Canadian Journal of Irish Studies 43 (June 2021).
"Dismemberment at Windmill Point: Violence, Manliness, and the Irish in Upper Canada", Ontario History, Volume CX, No. 1 (Autumn 2018), 35-58.
Holy Heritage: Covenanters in the Atlantic World,special edition of the Journal of Transatlantic Studies, co-editor,Volume 11, Issue 2 (May 2013).
Articles:
"The Covenanter Sensibility Across the Long Atlantic World": 125-134.
"No Surrender? The Legacy of the Ulster Solemn League and Covenant": 213-230.
"The Language of Sacrifice: Masculinities in Northern Ireland and the Consequences of War, 1916-1922", Patterns of Prejudice: Special Edition –War and the Body, Volume 46, Nos. 3-4 (July/September 2012): 299-317.
"Blood-debts and Battlefields: Ulster Imperialism and Masculine Authority on the Western Front1916-1918", Journal of the Canadian Historical Association, 20, 2 (2009): 3-27.
Chapters in Edited Collections
"Using Masculinities as a Paradigm for the History of the Irish Revolution" in Irish Studies Review – Special Issue: Irish Revolutionary Masculinities, ed. Jennifer Redmond 29, 2 (2021): 257-262.
"Men of Suvla: Empire, Masculinities and Gallipoli's Legacy in Ireland and Newfoundland" in The Great War: From Memory to History,Kellen Kurschinski, Steve Marti, Alicia Robinet, Matt Symes, and Jonathan F.Vance, eds. (Wilfrid Laurier Press, 2015), 127-150.
"Standing on Guard? History, Identity, and the Quandaries of Citizenship Education in Canada" in Civic Pedagogies in Higher Education:Teaching for Democracy in Europe, Canada and the USA, Jason Laker, Kornelija Mrnjaus and Concepción Naval, eds. (Palgrave, 2014), 102-131.
"Fighting in the Shadow: British and American Cultural Influences on Canadian Military Manhood" in Canadian Perspectives on Men and Masculinities, Jason Laker, ed. (Oxford University Press, 2011), 163-183.
"Arming the Men: Ulster Unionist Masculinities and the Third Home Rule Crisis" in Irish Studies in Britain: New Perspectives on History and Literature, Brian Griffin and Ellen McWilliams,eds. (Cambridge Scholars Publishing, 2010), 60-71.