Dr. Steven High
Full Professor , History
Founding Member, Centre for Oral History and Digital Storytelling

---
Carol Gray

---
Research Profile
Steven High is an interdisciplinary oral and public historian with a strong interest in transnational approaches to working-class studies, forced migration, community-engaged research, as well as oral history methodology and ethics. He is currently President of the Canadian Historical Association (2021-23)
He has published extensively on deindustrialization and the postindustrial transformation of North American cities. His first book, Industrial Sunset: the Making of North America's Rust Belt (UTP, 2003), won awards from the American Historical Association, the Canadian Sociology and Anthropology Association, and the Federation of the Humanities and Social Sciences. This was followed by Corporate Wasteland: The Landscape and Memory of Deindustrialization (Cornell / BTL, 2007), co-authored with photographer David Lewis; The Deindustrialized World: Confronting Ruination in Post-Industrial Places (UBC, 2017), co-edited with Lachlan MacKinnon (Cape Breton University) and Andrew Perchard (University of Sterling); and, One Job Town: Work, Belonging and Betrayal in Northern Ontario (UTP, 2019), which won the Clio Prize for the best book in Ontario History from the CHA and the Fred Landon Prize from the Ontario Historical Society. He is currently leading a seven-year SSHRC Partnership project on "Deindustrialization & the Politics of Our Time" (DePOT - deindustrialization.org ), which brings together researchers, trade unions, labour archives, industrial museums and other partners across six countries. His monograph, Deindustrializing Montreal: Entangled Histories of Race, Residence and Class will be published by MQUP in April 2022. He is currently co-editing a special issue of Labour/le travail with Lachlan Mackinnon and a Routledge Handbook with Tim Strangleman, Sherry Lee Linkon, Jackie Clarke, Stefan Berger and David Nettlingham
His second area of expertise involves oral history, particularly as it relates to oral accounts of mass violence. Steven High led the prize-winning Montreal Life Stories from 2005 until 2012, where he worked in partnership with survivor groups in the recording of 500 life stories and their integration into online digital stories, radio programming, audio walks, art installations, a year-long museum exhibition, pedagogical materials, and a range of theatrical performances. He also co-edited (with Ted Little and Thi Ry Duong), Remembering Mass Violence (UTP, 2013), edited Beyond Testimony and Trauma (UBC, 2015), and authored Oral History at the Crossroads (UBC, 2014) which won the Clio prize for best book published on Quebec history. Histoires de vie de réfugiés montréalais: une rencontre, a French language edition of Crossroads was then published by Les Presses de l'Université Laval. He has also co-authored Going Public: The Art of Participatory Practice with Liz Miller and Ted Little, and is co-editor of the 2019 Routledge Handbook on Place and Memory with Sarah de Nardi, Hilary Orange, and Eerika Koskinen-Koivisto. He recently co-edited a special issue of Histoire sociale/Social History on "Activist Lives" with Lana Dee Povitz and one on "Loss and the City" in Urban History Review with Laura Madokoro and Laura Ishiguro. He was awarded a Governor General's History Award for Popular Media.

Finally, Steven High has published extensively on race and empire in Newfoundland, Bermuda, and the British Caribbean during the Second World War. This research has resulted in articles in a number of journals as well as a monograph, Base Colonies in the Western Hemisphere (Palgrave-MacMilan, 2009) and an edited collection, Occupied St. John's: A Social History of a City at War (McGill-Queen's, 2010), which received Honorable Mention for the C.P. Stacey Prize in Military History. In August 2018, Base Colonies was used to justify a special parliamentary committee to investigate establishing a minimum living wage for Bermuda. It has also been used extensively by families seeking recognition of Historic Losses of Land in Bermuda.
Steven High supervises graduate students and postdoctoral fellows in History, Interdisciplinary Studies, and the Humanities as well as being a secondary advisor, committee member, or external reader for students in history, social work, art education, education, museum studies, literature, environmental studies, geography, communications, sociology, translation studies, human sciences, and architecture. Students under his supervision have won various thesis awards, including the Governor General's Medal, Concordia's Arts, Science and Fine Arts Excellence Award for Best thesis, the Canadian Oral History Prize, Canada's labour history prize, and the US Oral History Association book prize.

Education
B.A. University of Ottawa, M.A. Lakehead University (Thunder Bay), Ph.D. University of Ottawa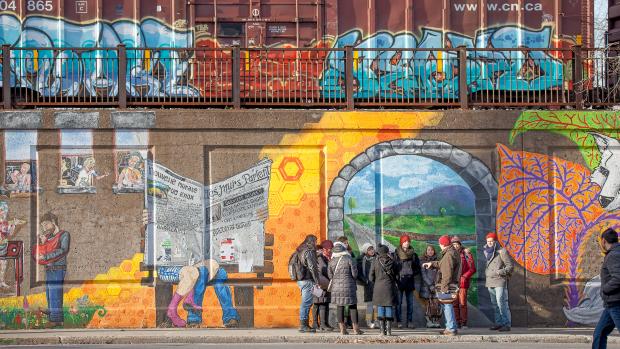 Students in the Working Class Public History course were embedded in the deindustrialized district of Point Saint-Charles for a term.
Photo credit: David Ward
---
Teaching activities
Graduate (Co-)Supervision
Post-Doctoral Fellows:

To date, I have supervised 14 postdoctoral fellows: all of whom focused on oral history. Jason Camlot (English) and I co-supervised Mathieu Aubin, Deeana Fong, and Samuel Mercier as part of the Spoken Web Project. All three explored aspects of oral literary history. Others have focused on oral history in the aftermath of mass violence: Stéphane Martelly received a research-creation postdoc to examine the life stories of Haitian-Montrealers displaced by mass violence; Lilia Topouzova expanded on her work on the Bulgarian Gulag; Hourig Attarian explored intergenerational life stories of Armenian women; Stacey Zembrzycki looked at the politics of memory among Holocaust survivors; and Anna Sheftel explored survivor testimony. With Sebastien Caquard (Geography), I co-supervised Marie Lavorel as part of the Living Archives of Rwandan Exiles and Survivors. I also supervised two others, Lana Dee Povitz and Amanda Ricci, who have focused on oral history and activist lives in or after the women's movement. Karoline Truchon used participatory media to explore the unfairness of "la mixité sociale" discourse. With Peter Gossage, I co-supervised Julie Perrone on the Franklin Project. I am currently supervising Indranil Chakraborty as part of the DePOT project, where he is exploring first person testimony about job loss at Sears Canada.
PhD Students: