Sina Queyras
Senior Lecturer, English

---

---
I'm interested in eco-poetics, avant-garde, conceptual, Canadian and innovative women's writing of all genres.
My first collection of poetry, Slip (ECW 2001) is a metrically charged view of urban female desire. Lemon Hound (Coach House 2006) conjures Virginia Woolf and Gertrude Stein into twenty-first century Brooklyn and Toronto. Expressway looks at the implications of both the infrastructures and means of modern mobility, troubling pastoral and elegiac modes and was nominated for a Governor General's Award. MxT explores elegy and elegiac modes. It was a Lambda finalist and won the Pat Lowther and the AM Klein Award for Poetry.

Autobiography Of Childhood, my first novel, was shortlisted for the Amazon.ca first novel award.

Unleashed is a collection of writing from my blog from 2005-2009.

Education
MA Concordia
BFA University of British Columbia

Research and teaching interests
Poetry writing
Fiction & narrative writing
Non-fiction and essay writing
Enter-genre
Play writing
Canadian poetry
Contemporary American poetry
Women's literature
Autobiography & memoir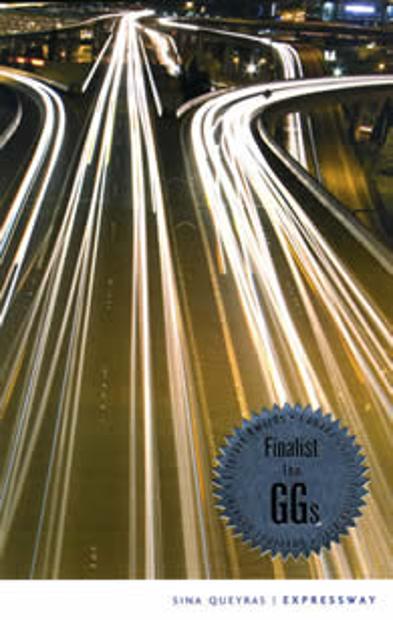 Expressay by Sina Queyras (book cover)
Photo credit: Coach House Books, 2009
---
Selected publications
MxT: Coach House Books, 2014.
Autobiography of Childhood, Toronto: Coach House Books, 2011.
Unleashed, Toronto: BookThug, 2009.
Expressway, Toronto: Coach House Books, 2009.
Lemon Hound, Toronto: Coach House Books, 2006.
Open Field: 30 Contemporary Canadian Poets, ed. New York: Persea Books, 2005.
Teeth Marks, Toronto: Nightwood Editions, 2004.
Slip, Toronto: ECW Press, 2001.

Recent journal publications
"The Cut," "Couriers," Poetry, Chicago, (forthcoming)
"Thalidomide," "The Rabbit Catcher,"The Malahat Review, Victoria, Fall2015
Four Poems, The Fiddlehead, New Bunswick, Summer 2014
"Manual for Remembering," Boston Review, April 2014
"Elegy for Photographs Not Taken," Geist, Vancouver, Spring 2014
"Fleets of Nouns," Ms. magazine blog, Spring 2014
"Unique Thoughts of Otherhood," Poetry, Chicago, January 2014
"Sylvia Plath's Elegy for Sylvia Plath," Poetry, Chicago, January 2014
Critical writing
Chapters inBooks: Peer-Reviewed
"Lyric Conceptualism: A Manifesto," Towards Some Air, eds Amy De'Ath and FredWah, Banff Centre Press, 2015
"PublicPoet, Private Life: 20 Riffs On the Dream of a Communal Self," Wilfrid Laurier, 2014
"AnArgument for Elegance: The Poetics of Lisa Robertson," Eleven More Contemporary Women Writers in the 21st Century,eds. Claudia Rankine & Lisa Sewell, Middletown, CT: Wesleyan, 2012
Conference Papers
"Public Poet, Private Life: On theDream of a Communal Self," Keynote Address, Poetry & Poetics Conference,Mount Allison University, Sackville NB, September 2012
"Re-imagining thePoet-Critic: Practice, Pedagogy, Poetics," UC Santa Cruz, March 2010
Introduced &Discussed, Kenneth Goldsmith, Concordia January, 2010
"Conceptualism asFeminist Architecture," Advancing Feminist Poetics, CUNY, New York, September2009
---
Participation activities
Conference papers / readings / talks
BerkeleyPoetry Series, April 23, 2015
YaleGraduate Poetry Series, April 17, 2015
BrooklynLibrary, April 14, 2015
InternationalFestival of Authors, Toronto October 2014
VancouverWriters Festival, October 2014
OpeningReading, 24th Annual VirginiaWoolf Conference, Poetry Foundation, Chicago, June 2014
"Public Poet, Private Life: On theDream of a Communal Self," Keynote Address, Poetry & Poetics Conference,Mount Allison University, Sackville NB, September 2012
"Re-imagining thePoet-Critic: Practice, Pedagogy, Poetics," UC Santa Cruz, March 2010
Selected Recent Readings
OttawaWriter's Festival, March 2014
SFU,March 2014
ECIAD,Vancouver, February 2013
CapilanoCollege, Vancouver, February 2013
PoetryFoundation, Shoot The Canon, Chicago,March 2012
InternationalFestival of Authors, Toronto, October 2011
WordFest, Calgary, October 2011
The President's Conference Series,Concordia, December 2010
University of Windsor, October2010
Winnipeg Writers Festival,September 2010
University of Windsor, October 2010
Winnipeg Writer's Festival, September 2010
Emily Carr University, Vancouver, BC April 2010
Ottawa Writer's Festival, October 2009
Markin Flanagan Public Reading, Epcor Centre, Calgary September 2008
The Scream in High Park
, Toronto, July 2008
The Poetry Bash
, Vertigo Theatre,
Word Fest 2007,
Calgary, AB, October 2007
University of British Columbia,
Play Chthonics Reading Series
, September 2007
Jordan Davis's
1,000, 000 Poems Show
, Bowery Poetry Club, NY, NY, May 2007
"Felix Reading Series," University of Wisconsin, Madison, November 2006
Coach House at Poets House
, Poets House, NY, NY, October 2006
Finally with Women: Gertrude Stein's Messages from History
, WBAI Radio, NY, NY, August 2006
"Hot Festival," Dixon Place, NY, NY, July 2006
This Ain't the Rosedale Library, with Nicole Brossard, June 2006
Poetry Project at St. Marks, NY, NY, December 2005
Academy of American Poets, Bryant Park Reading Series, NY, NY, October 2005
Other activities
Lemon Hound, Founding Editor, 2005-2015
Drunken Boat, Contributing Editor, 2005-present