Dr. Peter C. van Wyck, PhD
Professor, Communication Studies

On Sabbatical Winter 2020
---
Lindsay Kelley
Office:
L-CJ 4327
Communication Studies and Journalism Building,
7141 Sherbrooke W.
Phone:
(514) 848-2424 ext. 2561
Email:
peter.vanwyck@concordia.ca
Availability:
By Appointment


---
Education

Forest Technology Dip., Sir Sandford Fleming College, 1983

BSc, Environmental Science / Social Ecology, Trent University, 1987

MA, Methodologies for the Study of Western History Culture, Trent University, 1992

PhD, Graduate Program in Communication, McGill University, 1997

Postdoctoral Fellow, Methodologies for the Study of Western History and Culture / Environmental Studies – SSHRC, Trent University, 1997-1999

Postdoctoral Fellow, Interdisciplinary Postdoctoral Fellow in the Humanities (formerly Webster Fellowship) and Assistant Professor of Geography, Queen's University, 1999-2000


Academic Life

My academic background is broadly interdisciplinary and committed to what has come to be called the Environmental Humanities. I have training in forestry, environmental and ecological sciences (primarily wetlands), continental philosophy, environmental and cultural studies, and communication and media studies. I teach undergraduate and graduate courses (Diploma, MA and PhD) in semiotics, communication theory, visual culture, photographic theory, and special topic seminars such as: Reading Freud; Theory in a Cold Climate; The Arts of Memory; Landscapes of the Local: Rethinking Space and Place; and Landscapes of the Sign: The Place of the Photographic Image.

My current research and writing interests are broadly in the areas of the theory and philosophy of communication; semiotics of environment; atomic & nuclear history; landscape, memory, chorography, topistics and critical topographies; discourses of North and nordicity; radiation and the photographic image.

At the moment I am completing a SSHRC-funded project with Dr. Myra Hird of Queen's University concerning nuclear waste, the media of apology, justice and the future. I am also writing about nuclear waste repositories, the Cloud Chamber, Harold Jacobson and the Japanese relationship with the atom, the Anthropocene, tsunami stones, and, with my long-time collaborator Julie Salverson of Queen's University, survivor trees. From all of this a new book is emerging – tentatively entitled The Angel Turns – Memos for the end of the Holocene.


My last book (2010) published by McGill Queen's University Press, is entitled
The Highway of the Atom.
It was awarded the 2011 Gertrude J. Robinson book award for the best new book in communication studies by the Canadian Communication Association, and was shortlisted for the 2012 Canada Prize in the Social Sciences – The Harold Adams Innis Award of the Canadian Federation of Social Sciences and Humanities.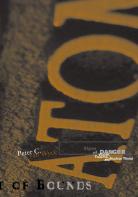 ---
Teaching activities (Fall 2019)
COMS 240
Communication Theory

COMS 463
Semiotics

---
Recent and Ongoing Work
"Daughter of Uranium" Commissioned Essay for Artist's Catalogue, Mary Kavanagh, "Uranium's Daughters," Southern Alberta Art Gallery. Publication date: January 2020.
"The Lens of Fukushima," Audio recording and essay.
Through Post-Atomic Eyes.
eds. John O'Brian and Claudette Lauzon. McGill-Queen's University Press. In Press. With Julie Salverson.
"Signing the Holocene," in
Critical Topographies.
eds., Jonathan Bordo and Blake Fitzpatrick. McGill-Queen's University Press. In review.
"Sounding out the Nuclear," with Julie Salverson (Queen's University) and Juliet Palmer (composer), chapter for edited volume

Toxic Immanence: Nuclear Legacies, Futures, and the Place of Twenty-First Century Nuclear Environmental Humanities

, for McGill-Queen's University Press. In review
.
Preface
, in Julie Salverson,
Lines of Flight: An Atomic Memoir
. Wolzak and Wynn, Hamilton, 2016, pp. 1-5.

"The Anthropocene's Signature."

The Nuclear Culture Source Book,

ed. Ele Carpenter. Black Dog Publishing in partnership with Bildmuseet, Sweden and Arts Catalyst, London, 2016, pp. 23-30.

"A Note on Common Ground,"

The Goose – Association for Literature, Environment, and Culture in Canada / Association pour la littérature, l'environnement et la culture au Canada.



Invited contribution for

Routledge Companion to Media and Risk

, edited by Bhaskar Sarkar and Bishnupriya Ghosh (2017).

"What was the Anthropocene?" with Myra Hird. Chapter invited for volume
Assembling the Planet: The Post-War Politics of Globality
. Rens van Munster and Casper Sylvest (eds.), Routledge London. Accepted. A version of this text was given as the Leverhulme Lecture with Myra Hird, Lancaster University, June 2014.

---
Recent and upcoming talks
After working clinically and serving as the athletic therapist at St. Francis Xavier University for six years, Dr. DeMont returned to graduate studies and followed on to Concordia University in January of 1999. He won writing awards from the Journal of Athletic Training and from the Canadian Athletic Therapists Association (CATA) for his work in muscle function of lower extremities in dynamic conditions. He served on the Program Accreditation Committee of the CATA, including two terms as Chairperson. Dr. DeMont also served as CATA President for 3 terms. Internal to Concordia, he served as Vice-Chair, of the Concordia University Human Research Ethics Committee, multiple Department Chairperson search committees, Chair of the Dept Curriculum committee, and currently serves as the Athletic Therapy Program Director.
Education
PhD (University of Pittsburgh); MSc (Indiana State University); Diploma (Sport Injury Management, Sheridan College); BSc (St. Francis Xavier University).
Certifications
Richard DeMont is certified by the Canadian Athletic Therapists Association (CATA) as an Athletic Therapist [(CAT(C)]. He also holds the certified credential from the National Athletic Trainer's Association (Board of Certification) [ATC].
Research interests
Dr. DeMont is Director of the AthleticTherapy Research Laboratory. His focus of research is on the neuromuscular system as it relates to injury, prevention, and rehabilitation. Specifically, the role of pre-activation as a form of dynamic joint stability is examined. He has explored additional aspects of this theme examining effects of cognitive distraction on neuromuscular control and musculoskeletal loading when exposed to whole body vibration. Specific to the injury prevention theme, current projects involve investigation of children's development of physical skill and movement, which can be applied to injury prevention strategies.
---
Publications (updated 06/19)