Caroline Laurin-Beaucage
Part-time Instructor, Contemporary Dance

---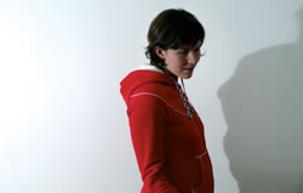 ---
Caroline Laurin-Beaucage graduated from the School of Toronto Dance Theatre in 1999. In 2003, she was certified as a Pilates instructor by Stott Pilates and Structural Anatomy. Her continuing education includes the Summer Tanzwochem in Vienna (2001), an apprenticeship with David Dorfman Dance in New York (2002) and a theatre workshop with Estelle Clareton (2007).
She taught at Louise Lapierre Danse (2000-07), Compagnie de danse Sursaut and RQD classes in Montreal, Quebec City and Sherbrooke. She leads workshops for children and teenagers for companies such as La compagnie Bouge de là and Fortier Danse Création, and teaches Pilates at the Cirque du Soleil headquarters. She joined Concordia's Department of Contemporary Dance in 2007 as a part-time instructor.

Laurin-Beaucage's class is inspired by the Pilates principles that enrich the dancing body. By using these fundamentals in the moving body, she favours ease, strength and flow through movement. She approaches technique by guiding the artist to explore his or her body using imagery, anatomical references, hands-on work with partners and improvisation, all to improve and enrich the practice of the choreographed phrases.

Laurin-Beaucage has been working in Montreal as a freelance performer and creator for 12 years. As a choreographer, she presented her work in Montreal, Toronto and New York. Her latest work, Hit and Fall, was presented at Festival les Escales Improbables, Studio 303, Kenetic Studio and OFFTA.

She has performed with companies such as Grand Poney (Jacques Poulin-Denis), Anita Rochon, Bouge de là, dance cie, Fortier Danse-Création, La Fondation Jean-Pierre Perrault, Louise Bédard, Sursaut and Sharon Moore. She has choreographed for the theatre for directors such as Claude Poissant, Benoit Vermulen and Patrice Dubois. In 2008, Laurin-Beaucage joined the artistic committee and board of the Festival OFFTA in Montreal.