May Chew
Assistant Professor, Art History
Assistant Professor, Cinema

---
---
May Chew teaches at the Mel Hoppenheim School of Cinema and the Department of Art History. Her research focuses on interactive and immersive technologies in diverse museum and exhibit spaces across Canada, and how these technologies facilitate the material practice of nation and cultural citizenship. Chew has collaborated on Houses on Pengarth, a research and curation project centred on developing a socially-engaged, experimental art lab in Toronto's Lawrence Heights community. Before coming to Concordia, she received her PhD in Cultural Studies at Queen's University, and held a postdoctoral fellowship at York University's Sensorium Centre for Digital Arts & Technology. Her recent work includes a chapter in the anthology Material Cultures in Canada (WLU Press, 2015); articles in Imaginations, the International Journal of Heritage Studies, the Journal of Canadian Art History; and Public 57: Archives/Counter-Archives, which she co-edited with Susan Lord and Janine Marchessault.
She collaborates on the research projects Archive/Counter-Archive and Worlding Public Cultures.
She currently serves on the executive committee of the Media Architecture Biennale (MAB23), and is a member of EAHR Media (Ethnocultural Art Histories Rearch in Media), the Jarislowsky Institute for Studies in Canadian Art, and the Centre for Sensory Studies.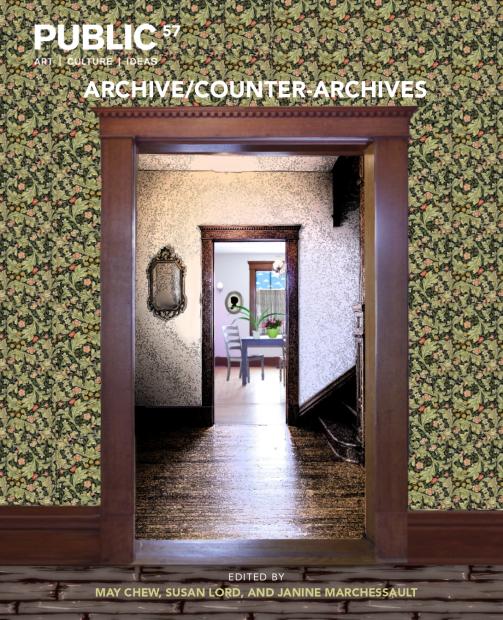 ---
Publications
Selected Publications
"Diasporic Archives and Hauntological Accretions," Frames Cinema Journal 19 (2022).




"Phantasmagoric City: Technologies of Immersion and Settler Histories in Montreal's Cité Mémoire," Public 58 (2019).


"Landscape Language Labour Love," Moire 5 (2019).




"Sounding Nation: Acoustiguides and Myths of Participation at the National Gallery of

Canada's Centennial Exhibit,"

Journal of Canadian Art History 39:2 (2018).

Public 57: Archive/Counter-Archives (2018) [co-edited with Susan Lord and Janine Marchessault]




"Songlines, not Stupor: Cheryl L'Hirondelle's nikamon ohci aski: songs because of the land as Technological Citizenship on the Lands Currently Called 'Canada,'" Imaginations 8:3 (2017) [co-written with Jessica Jacobson-Konefall and Daina Warren]




"Mooring subjects of heritage: proprioceptive emplacement at Head-Smashed-In Buffalo Jump," International Journal of Heritage Studies 22:9 (2016).




"Archeological Detritus and the Bulging Archive: Staging He Named Her Amber at the

Art Gallery of Ontario,"

Material Cultures in Canada. Ed. Thomas Allen and Jennifer Blair (Waterloo: Wilfred Laurier University Press, 2015).




"Towards the Other: Instances of the Grasp and Caress within the Museum," University of Toronto Art Journal 3 (2010).






---
Teaching activities
Current Teaching

Undergraduate

ARTH/FMST 348 - Visual Culture: Themes, Methods, Debates
ARTH/FMST 448 - Haunting & the Atmospheric
ARTH 450 - Art & the Senses
Graduate
FMST 605 - "New" Canadian Documentary

FMST 605 - Indigenous & Diasporic Canadian Cinema
ARTH 668 - Art, Embodiment & the Senses
FMST 802 - Critical Genealogies of Immersion
Graduate Supervision



MA

Claire Grey | FilmStudies (Completed 2020)

Thesis: "In My Dreams I Was Almost There": Personal Music Players, Curated Soundscapes and the Contemporary Québécois Coming-of-Age Film

Madeline Bogoch | Art History (Completed 2021)

Thesis: Migratory Patterns: Media, Materiality, and Circulation in Moving Image Works

Richard Son-Nam Luong | Art History (Completed 2022)

Thesis: "Fleshing Out Her Ghosts": A Hauntological Analysis of Nước (Water/Homeland)




Vania Ryan | Art History (Completed 2023)

Thesis: Reckoning with a Haunting: Creating Indigenous Future Imaginaries through Relationality and Engagement within Human-Technology Relationships




Jess Stewart-Lee | Film Studies (In Progress)

Thesis: Beyond the Archive: A Study of Auto/biographical Documentaries and the 'Moment of Discovery'

Max Holzberg | FilmStudies (In Progress)

Thesis: Replaying the Past: Queer Canadian Documentary Film as a form of Counter-Archive

Emma Kredl | Film Studies (In Progress)

Thesis: Look at Me, Now Look Away: Autoethnography and the Ethics of Spectral Intimacy

Megan Quigley | Art History (In Progress)

Thesis: (yet untitled project on social-engagement, land, stewardship, and 221A's Semi-Public 半公開)

Melinda Pierre-Paul Cardinal | Art History, Co-supervision (In Progress)

Thesis: A Labour of Love: Black Feminist Healing in Tau Lewis' T.A.U.B.I.S. (2020)

C. DeFrias | Art History (In Progress)

Thesis: Locating the Queer Gesture: Point and Line to Cube

PhD

Matthias Mushinski | Film Studies | (In Progress)

Thesis: Bound Up in Beauty: Radical Resonance Across Free Jazz and Cinema

Marco Meneghin | FilmStudies (In Progress)

Thesis: Making Visual Sovereignty: Participatory Practices and Indigeneity in the Films of Marta Rodríguez, Jorge Silva and the CRIC (1959-1981)

Rodrigo D'Alcântara | Art History, Co-supervision (In Progress)

Thesis: Dissident Present: Disrupting Colonial Legacies through Brazilian Contemporary Art