Dr Cynthia Imogen Hammond, PhD
---
Élise Roberge, 2018

---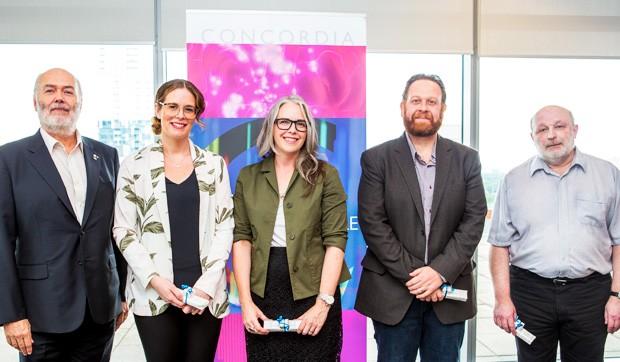 The 2018 University Research Award Ceremony
Photo credit: © Concordia University
---
Teaching activities
Recent undergraduate courses
ARTH 270 Icons of Architectural History

ARTH 355 Studies in Architecture: House/Home
ARTH 381 Feminism and Art History
ARTH 450 Advanced Seminar in the History of Architecture: space, experience, architecture
Recent graduate courses
ARTH 610 Selected Issues in North American Art and Architectural History: "Montreal: City as Palimpsest"
ARTH 611 Industrialization and the Built Environment: The Right to the City

ARTH 627/2 Oral History, Art History, and Feminist Futures
ARTH 627 Feminism, Art, Art History
ARTH 636 Seminar in Architectural History: Special topic: Public Urban Landscapes: The History and Future of Parks, Gardens and Sustainable Urbanism
ARTH 803 Thematic Questions: 'And Say the Animal Responded?' The Posthumanist Challenge for Architecture, Art, and Landscape Studies
Thesis Supervision
Current PhD supervision

Marcela Torres Molano, PhD, Art History, "Socially-Engaged Art in Public Space: A history of a reparation and reconciliation tool in post-conflict Colombia"

Greg Labrosse, PhD, Humanities, "Children's Cultural Agency: Dance, Photography, and Space in a Colombian City"

Angela Arsenault, PhD, Humanities, "Brownfield Notes: Urban foraging in the postindustrial landscape"


Current Master's supervision

Lisa Massa, MA, Art History (in progress)
Wanessa de Cardoso Sousa, MA, Art History (in progress)
Noémie Fortin, MA, Art History (in progress), "Quand l'art et la culture (re)dessinent le paysage : Communauté, environnement et tourisme au centre-ville de Lac-Mégantic"
Please see CV for full list of supervisions, co-supervisions etc

---
Theorizing research-creation and place-based, site-responsive art
Hammond's first book, Architects, Angels, Activists and the City of Bath, 1765-1965: Engaging with Women's Spatial Interventions in Buildings and Landscape (Ashgate 2012) explores cultural memory and public history in the world-renowned city of Bath, England, one of the few cities in the world to have been given World Heritage Status by UNESCO. Hammond approaches the past with the methods of the architectural historian and the site-specific interventions of the contemporary artist. Looking beyond and behind Bath's strategic marshaling of its past, and its reiteration of male architectural heroes, Hammond presents the ways that women of all classes shaped the built environment and designed landscapes of one of England's most architecturally significant cities. This book is also an intervention into the city's public memory. The author uses site-specific works of public art as strategic counterparts to her historical readings. Through them, she aims to transform as well as critique the urban image of Bath. At once a performative literature, an extensively researched history, and an alternative guide to the city, Architects, Angels, Activists engages with struggles over urban signification in Bath and beyond.
---
Publications
Many of Prof. Hammond's publications can be downloaded from: https://concordia.academia.edu/CynthiaHammond. For the full list of her publications, please see her CV.



2020 Under review. "A Feminist Arcadian Landscape: The Later Work of Joyce Wieland." For a special issue of the
Journal of Canadian Art History
, co-edited by Johanne Sloan and Mark Clintberg. 10,147 words.
2020 Under review. "Architecture, Photography, and Power: Picturing Montreal, 1973-74." For
Photogenic Montreal: Ruins and Revisions in a Postindustrial City
. Ed. Johanne Sloan and Martha Langford. Montreal, Kingston: McGill-Queen's University Press. 10,018 words.
2020 With Carmela Cucuzzella (lead author) and Jean-Pierre Chupin. "Eco-didacticism in Art and Architecture: Design as Means for Raising Awareness."
Cities
(July 2020). Online: https://doi.org/10.1016/j.cities.2020.102728. 8794 words.
2019 "Promenades parlantes: didacticism on the move."
Cahiers de recherche LEAP: On the Potential of Didacticism in Architecture / Du potentiel du didactisme en architecture.
Ed. Carmela Cucuzzella, Cynthia Hammond, Chanelle Lalonde, Sherif Goubran. Montréal: Potential Architecture Books, 2019. 36-43.
2018 "Drawings for a Thicker Skin: A Conversation with Marc Lafrance." Body and Society, Special Issue: Skin. Marc Lafrance, ed. XX.X (2018): 1-15
2018 "Anne Griswold Tyng." 50 Pioneering Women Architects. Beverly Willis Architecture Foundation. http://www.bwaf.org/portfolio/pioneering-women-of-american-architecture/pw31/
2018 "The edge of her garden: Sveva Caetani and the frontier of potential." Cahiers de recherche LEAP: Entre hétéronomie et autonomie : Penser l'architecture entre
discipline et profession/LEAP Research Notebooks: Between heteronomy and autonomy: Thinking architecture in between discipline and profession. Ed. Louis Martin & Jonathan
Lachance. Montréal: LEAP, 2018. 46-51.
2018 "The Keystone of the Neighbourhood: Gender, Collective Action, and Working-Class Heritage Strategy in Pointe-Saint-Charles, Montréal."
Journal of Canadian Studies/Revue d'études Canadiennes, special issue on Critical Heritage Studies in Canada
, guest editors Andrea Terry and Susan Ashley. 52.1 (2018): 108-148.
2017 "'The Garden will be Illuminated': Gendered and Georgian Pleasures in Sydney Gardens, Bath."
Bath History
XIV. September 2017. 9-33.
2017 "From rust to green: postindustrial urban landscapes." In
Cahiers de recherche LEAP: Du Potentiel des grandes structures urbaines abandonnées/LEAP Research Notebooks: On the Potential of Abandoned, Large, Urban Structures
. Ed. Jean-Pierre Chupin & Tiphaine Abenia. Montréal: LEAP, 2017. 46-51.
2016 With Kathleen Vaughan (lead author) and Emanuelle Dufour. "The 'Art' of the Right to the City: Interdisciplinary teaching and learning in Pointe-St-Charles, Montreal." "Education and the Community" - special issue of
Learning Landscapes
. Ed. Mary Stewart and Lynn Butler Kisber. 10.1 (Autumn 2016): 387-418.
2016 With Shauna Janssen. "Points de vue: Contingency, Community, and the Postindustrial Turn."
FIELD: A Journal of Socially-Engaged Art Criticism
1.3 (2016), 7256 words. Online.
---
Conferences and presentations
Peer-reviewed conference papers since 2016

2019 With Shauna Janssen. "Desiring the Dark: Feminist Scenographies, the City, and the Night." Thrill of the Dark: Heritages of Fear, Fascination and Fantasy. University of Birmingham, Birmingham UK. 25-27 April

2018 With Shauna Janssen. "Un Promenade parlante: Oral History, Research-Creation, and Senior Montrealers' Knowledge of Urban Change." Oral History Association, Concordia University, 10-14 October

2016 "Montreal Mansions: Photography, Architecture, and Heritage." Panel: "What does Photography Preserve? Reification and Ruin in the Photographic Heritage of a Place Called Montreal." Association of Critical Heritage Studies Conference, Montreal, 3-8 June

2016 With Shauna Janssen. "Witnessing and Walking as Critical Heritage Practices: The Wellington Tower Project." Panel: "Walking post-industrial areas." Association of Critical Heritage Studies, Montreal, 3-8 June 2016

2016 "From rust to green: postindustrial urban landscapes." Du Potentiel des grandes structures urbaines abandonnées. LEAP: Séminaire annuel. Faculté d'amenagement, Université de Montréal, 7 May 2016

Invited lectures since 2016

2020 "Promenade Parlante: Oral History, Research-Creation, and Older Montrealers' Knowledge of the City." For the Librarians' Research Forum Committee Brown Bag Lecture series, Concordia University, 20 January
2019 "Co-Creating with Sensitivity: Promenade Parlante." Round table: "Curating and creating with sensitive memory," as part of Listen, Explore and Learn: The Living Archives of Rwandan Exiles and Genocide Survivors, conference, Concordia University's 4th Space, 10 December
2019 "Layered Landscapes: The Notman Garden in Milton-Parc, Montréal." As part of History and Memory: A Journée d'étude to mark the retirement of Ronald Rudin. Centre for Oral History & Digital Storytelling, Concordia. 15 November

2019 Artist's talk for Les Jardins des femmes, for the Crossing Boundaries and Constructing Linkages: The History of Montreal's Golden Square Mile in National and International Context conference, McGill University, 20 June

2019 With Alex Tigchelaar. "An Architecture of Catastrophe: Montréal's Red Light District."Lieux et rituels de l'utopie et de la dystopie (Architecture de la catastrophe) : Séminaire annuel du LEAP et colloque international :, Université de Montréal, 16 May
2019 "Working-class women's activism, the right to the city, and intergenerational storytelling." International Women's Week Festival, Vanier College, 5 March

2018 "The Right to the City: Place-based and reciprocal pedagogy in Pointe-St-Charles." Des voix qui s'élèvent, UQAM, 8 November

2018 "'Children Ran Freely in the Streets': Oral History, Research-Creation, and Elder Women's Knowledge of Urban Change." Oral History Summer Institute, University of Strathclyde, Glasgow, Scotland, 24-27 June

2018 "Suffrage on the Street and in the Garden: The Feminist Transformation of Edwardian Bath." Plenary lecture for Mapping the Modern Movement: Heritage Designed by Women. MOMOWO, Torino, Italy, 13 June

2018 "Urban Art Histories: Place-Based Pedagogy, Research, and Creation." Knowledge & Networks II: Connecting the Circles of Canadian Art History. UBC, 10-13 May

2018 "Promenades parlantes: didacticism on the move." LEAP: Séminaire annuel. Grey Nuns Motherhouse, Concordia University, April 6

2017 "Sensorial arts in the Garden of Eden, Venice." With Kelly Thompson and Kathleen Vaughan. Centre for Interdisciplinary Studies in Society and Culture (CISSC). 17 November

2017 "The Edge of Her Garden." LEAP: Séminaire annuel. École de design, Université de Québec à Montréal, 16 June

2016 "Teaching in Community: How can we encourage reciprocity in learning?" With Ted Little and Kathleen Vaughan. Living Knowledge Series, Office of Community Engagement, Concordia (event held at Share the Warmth, Pointe-St-Charles, Montréal), 16 November

2016 "Green secrets: Locked gardens, hidden landscapes, and the public life of cities." LEAP (Laboratoire d'étude de l'architecture potentielle) lecture series 2016-17, Concordia. 2 Nov

2016 "Collaboration, Enchantment, and Site-Responsive Practice," Lecture for the 2016-17 Lecture Series, Centre for Oral History & Digital Storytelling, Concordia University, 29 September

2016 "Mapping Feminist Spatial Occupations in Edwardian Bath, England," Lecture for the Department of Geography, Planning and Environment's Speaker Series, Concordia, 12 Feb.

2016 "Urban Enchantments: The City as Collaborator," Lecture for the 2015-2016 Urban Studies Seminar Series, School of Urban Planning, McGill University, 29 January

---
Art practice and interdisciplinary collaborations

For an up-to-date list of Professor Hammond's art and creative collaborations, please visit her online portfolio at http://cynthiahammond.org