Norman Ravvin ACTIVE EMAIL ravv@videotron.ca, PhD
Professor / Interim Director Institute for Canadian Jewish Studies , Religions and Cultures

---
Email:
norman.ravvin@concordia.ca
Availability:
ACTIVE BUSINESS EMAIL AND FOR ALL CORRESPONDENCE:
ravv@videotron.ca

DO NOT USE THE LISTED CONCORDIA.CA email.

ravvinbooks.com

---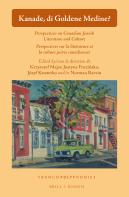 Kanade, di Goldene Medine? Perspectives on Canadian Jewish Literature and Culture, co-edited with K. Majer, J. Fruzinska and J Kwaterko (Brill 2018)
Cordova Street, setting of my new novel.
Dom Literatury, Lodz Poland
Photo credit: Aritha van Herk
---
Selected publications

A novel, The Girl Who Stole Everything, set in Poland and Vancouver, 2019, Linda Leith Publishing, Montreal.

"Glendale, North of Alhambra, East of Burbank," in The New Spice Box: Contemporary Jewish Writing, 2020, ed. Ruth Panofksy. U of TP.

Selected Critical and Fiction publications:

Kanada, di Goldene Medine? Perspectives on Canadian Jewish Literature and Culture. (Brill 2018) Co-edited with K. Majer, J. Fruzinska and J. Kwaterko. Essays in English and French.

"You Say You've OD'd on Leonard Cohen: Canadian Jewish Writing and the Mainstream," in The Oxford Handbook of Canadian Literature, ed. Cynthia Sugars. 2016.

"Words, Music, Image." Introduction to The Wordless Leonard Cohen Songbook by George Walker. 2014.

"Myths of Montreal: Irving Layton, Jewish Thematics and the Mainstream." Canadian Poetry. No. 73 Fall/Winter 2013. Proceedings of the Irving Layton Symposium, University of Ottawa, 2013.

The Joyful Child. Gaspereau Press, 2011.

"The War and Before: Responses in Mainstream Canadian Literary Life" in Nazi Germany, Canadian Responses, Confronting Antisemitism in the Shadow of War. McGill-Queen's, 2012.

Failure's Opposite: Listening to A.M. Klein. McGill-Queen's University Press, 2011.

Canadian Literature, a special issue on Mordecai Richler (co-edited with Nathalie Cooke). UBC (Winter, 2010).
Involvement with the more recent Hungry I Chapbooks:
Hungry I Chapbooks' Blessing (2009), includes an essay entitled "Kaddish in Literature."

Hungry I Chapbooks' translation of Franz Kafka's Josephine the Singer or The Nation of the Mice, trans. Karin Doeer, Barbara Galli and Gary Evans.

Hungry I Chapbooks' Shuln and Shulelach: Large and Small Synagogues in Montreal and Europe, by Sara Ferdman Tauben, 2008.

Hungry I Chapbooks' Opening The Star: Three Responses to the New Translation of Franz Rosenzweig's The Star of Redemption, 2005.
---
Teaching activities
Areas of teaching and research interest include Jewish literature, Holocaust Studies, Canadian and American literature, Creative Writing, Biblical literature, Religion and literature, Yiddish, Jewish eastern Europe, memoir, Religion and music, and Religion and film.
---
Recent graduate seminars and reading courses
Hebrew Bible and Contemporary Literature
Jewish Eastern Europe
Autobiography and Jewish Identity
Religion and Literature
Contemporary North American Jewish Culture
---
Artistic performances
As part of the launch of The Girl Who Stole Everything Ravvin took part in a writers' round table in Lodz, Poland, introducing the novel to Polish readers. The event took place in Sept. 2019, at Lodz's Dom Literatury on ulica Roosevelta, along with writers Bill Gaston, Dede Crane and John Gould.

Online reading and introduction of my novel, The Girl Who Stole Everything, with music by Alexander Ravvin, as part of the Jewish Public Library's virtual literary salons (May 2020) at:

https://www.facebook.com/jpl.montreal/videos/norm-ravvin-live/701622163937820/
---
Recent Work
Introduction, "Leonard Cohen: Image, Words, Music," in George A. Walker's Leonard Cohen: A Woodcut Biography (2020, Firefly)

"Glendale, North of Alhambra, East of Burbank," in The New Spice Box: Contemporary Jewish Writing. Ed. Ruth Panofsky (2020, U of TP)