Dr. Lian Duan, Ph.D
Senior Lecturer and Coordinator in Chinese, Classics, Modern Languages and Linguistics

---
---
Bio
A senior lecturer in Chinese at Concordia since 2004, Lian Duan holds two Ph.D. degrees in Chinese literature and art education respectively. He taught at Sichuan University in China in the late 1980s, and taught at Williams College and the State University of New York at Albany among other colleges in the United States from 1998 to 2004. He also taught at the University of Vienna in 2017 as a guest professor.
He has published extensively on art and literature. His most recent publications include a scholarly book in English, Semiotics for Art History: Reinterpreting the Development of Chinese Landscape Painting (Newcastle 2019), and 15 books in Chinese, including Visual Culture: A Semiotic Study of Art History and Contemporary Art (Nanjing 2018) and a translation from Mieke Bal, Semiotics of Narrative: Essays in Visual Analysis (Chengdu 2017). He is currently working on a writing project in English, "For Art History Trilogy" (semiotics, narratology, and iconology or image study).
His research interest covers Chinese literature, art, critical theory, visual culture, and teaching Chinese as a second language, as well as translation theory and practice.
Offering professional service of translation, he evaluated part of the Chinese version of the "Museum Guide" for the Metropolitan Museum of Art in New York, and also proof-read and edited the Chinese translations of "Tour Guide" for the Lincoln Center for Performing Arts in New York, the National Gallery, and the Smithsonian Institution in Washington DC.
In addition, he has also supervised the Concordia Summer Study Abroad Program in China (Nanjing University, Zhejiang University, Beijing Foreign Studies University, and currently Communication University of China, Beijing).
Education
Ph.D. in art education, Concordia University, Montreal, 2006-2012
Ph.D. in Chinese literary theory, Hunan Normal University, Changsha, 2004-2007
Ph.D. candidate (ABD) in Chinese literature, East Asian Studies, McGill U, 1995-1999
MA in art history (incomplete), Concordia University, 2004-2006
MA in art education, Concordia University, 1991-1995
MA in comparative literature, Chinese Department, Shaanxi Normal U, Xi'an, 1983-1986
BA in Chinese language and literature, Shanxi Normal U, Linfen, 1978-1982
Appointments
LTA (June 2004-June 2007)
ETA (June 2007-June 2012)
Senior lecturer (since June 2012)
My first book, a translation of Peter Fuller, Art And Psychoanalysis, published in 1988.
Photo credit: Chengdu 1988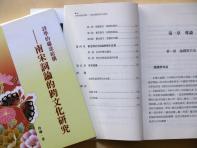 My book on classical Chinese literature, based on my Ph.D. dissertation, published in 2009.
Photo credit: Taipei 2009
The first book of my trilogy "For Art History" in English
Photo credit: Newcastle 2019
---
Teaching activities
MCHI 200 Introduction to Modern Chinese I
MCHI 206 Introduction to Modern Chinese II

MCHI 240 Intermediate Modern Chinese I
MCHI 306 Introduction to Translation
MCHI 310 Modern Chinese Literature
MCHI 311 Classical Chinese Literature
MCHI 365 Chinese Culture Foundation
MCHI 366 Chinese Visual Culture (art History)
---
Participation activities
Conference presentations
"The Peircean Order ofSignification and Its Encoding System in the Formation of Chinese LandscapePainting." The 40th Annual Meeting of the Semiotic Society ofAmerica, Pittsburgh, USA, October 3, 2015.
"The Saussurean Signand the Re-Definition of Chinese Landscape Painting." The First InternationalSymposium on Culture and Communication Semiotics, Chengdu, China, July 4, 2015.
"Contemporary Chinese Art: Responses to Western Influence," presented at the symposium of Chinese American Art Faculty Association, William Patterson University, New Jersey, November 8, 2014. The paper is to be published in 2014.

"Making Sense of the Texts: a personal experience teaching Chinese literature at North-American universities," presented at triennial national conference of comparative literature, Fudan University, Shanghai, August 10, 2011. The paper was included in the collection of the conference papers, published 2013.

"Western Influences on Chinese Education in Visual Culture," presented at the National Art Education annual conference, Seattle, March 18, 2011. The paper was published thereafter.

"A 13th-Century Chinese Landscape Motif in the 18th-Century Japanese Erotic Prints," presented at the conference "Popular Print Culture: Past, Present, Local, Global" at University of Alberta, Edmonton. August 27-30, 2008. The paper was published thereafter.

---
Selected publications
Books (in Chinese)
Selected articles (in English)
Forthcoming