Concordia builds on a transformative approach to electrification research
An institutional commitment led the university to secure its historic research funding and become a global leader in the field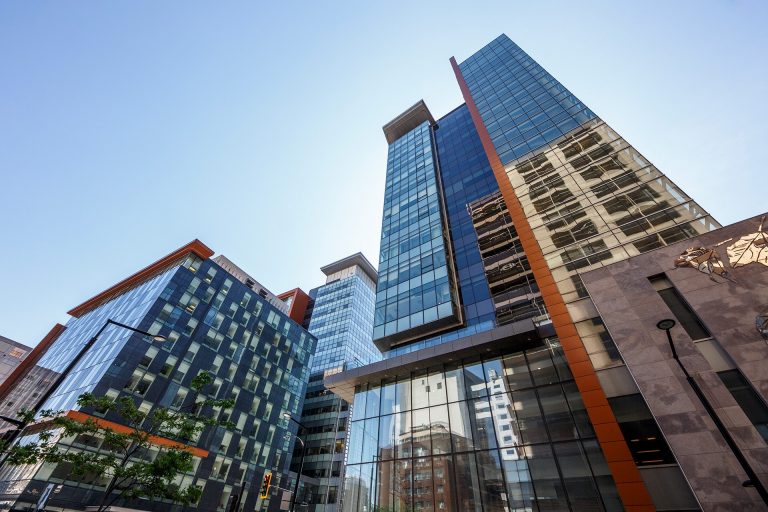 Concordia's formidable expertise in sustainability and electrification research has attracted the largest grant in the university's history: just over $123 million from the Canada First Research Excellence Fund for Electrifying Society: Towards Decarbonized Resilient Communities.
With this announcement, the university has further cemented its reputation as a world leading institution that tackles society's most pressing challenges head-on.
Securing this funding is the result of years of institutional investment in Concordia's transformative, integrated and multidisciplinary approach to electrification that focuses on technological and social innovation.
This is a testament to Concordia's ability to attract world-leading academics, graduate students and postdoctoral fellows, as well as an undergraduate student body dedicated to creating a better tomorrow.
It also speaks to how sustainability guides every aspect of how the university operates, such as its commitment to the UN's Sustainable Development Goals, the creation of the Sustainable Action Plan and the energy efficient efforts around infrastructure.
"The Canada First Research Fund is extremely competitive in nature, with only 11 being granted this year, so we should feel very proud of this accomplishment," says Dominique Bérubé, vice-president of research and graduate studies.
"It speaks to Concordia's ability to create meaningful partnerships with government, industry and community. None of this would have been possible without the tireless efforts of our faculty, researchers and staff."
Building on innovative research
Concordia's core strength in this field is evident from its Canada Excellence Research Chair in Smart, Sustainable and Resilient Communities and Cities, two award-winning Natural Sciences and Engineering Research Council of Canada (NSERC) Strategic Research Networks in Smart Net-Zero Energy Buildings and its leadership in the $160 million-plus Innovation, Science and Economic Development Canada–funded Cyber Security Innovation Network (CSIN).
Research entities, such as the Next-Generation Cities Institute and Applied Artificial Intelligence Institute, as well as the Centre for Zero Energy Building Studies and the Security Research Centre, have attracted or allocated several prestigious research chairs. These include Canada Research Chairs and Industrial Research Chairs in electrical machines, optimized operation and energy efficiency, smart-grid security and internet-of-things, among many other related topics.
Electrifying Society is supported by a robust network of over 140 researchers, and it's led by a core cross-disciplinary scientific team including:
Andreas Athienitis, professor, Department of Building, Civil and Environmental Engineering, Concordia
Carmela Cucuzzella, professor, Department of Design and Computation Arts, Concordia
Jeff Dahn, professor in the Department of Physics and Atmospheric Science, Dalhousie University
Mourad Debbabi, dean, Gina Cody School of Engineering and Computer Science, Concordia
Ursula Eicker, professor, Department of Building, Civil and Environmental Engineering, Concordia
Damon Matthews, professor, Department of Geography, Planning and Environment, Concordia
Pragasen Pillay, professor, Department of Electrical and Computer Engineering, Concordia
Rei Savafi-Naeini, professor, Department of Computer Science, University of Calgary
Thomas Walker, professor, Department of Management, Concordia
Karim Zaghib, professor, Department of Chemical and Materials Engineering, Concordia
Leveraging key partnerships
The initiative will capitalize on strong research partnerships with the University of Calgary, Toronto Metropolitan University and Dalhousie University, as well as collaborations with Université de Montréal, École Polytechnique de Montréal, École de Technologie Supérieure and Carleton University.
The success of the project also builds on important non-academic support from, and partnerships with, organizations such as Indigenous Clean Energy, Power Corporation, Lion Electric, Alstom, Lightning Energy, Siemens, CanmetEnergy, Nouveau Monde Graphite, s2e Technologies, Hydro-Québec, the municipalities of Montreal, Shawinigan, Varennes, Halifax and Calgary, the National Research Council of Canada, and the Government of Quebec through the Ministère de l'Économie, de l'Innovation et de l'Énergie and the Fonds de recherche du Québec.
Administrative support key to success
Securing the Canada First Research Grant was made possible due to the tireless work of staff in Concordia's Office of the Vice-President, Research and Graduate Studies, and the Office of Research, including:
Lyes Kadem, associate vice-president research, strategic institutional initiatives
Paula Wood-Adams, special advisor to the vice-president, research and graduate studies (VPRGS)
Mona Hamzeh, senior advisor, strategic and institutional research initiatives
Eli Friedland, advisor, institutional recognition initiatives
Holly Nazar, associate advisor, strategic and institutional research initiatives
Nada Hafez, analyst, research data
Heather Adams-Robinette, director, VPRGS sector
Monica Mulrennan, associate vice-president research, research development and outreach
Cinzia Miscio, manager, operations, VPRGS sector
Sabine Xia, assistant to associate vice-presidents
Learn more about Concordia's historic research grant.
Learn more about electrification research at Concordia.
---