Arts & culture, Conferences & lectures
Wild Talks Lecture Series with Shary Boyle (SOLD OUT)
---
DATE & TIME
Monday, January 16, 2023
5:30 p.m. – 8 p.m.
SPEAKER(S)
Shary Boyle, Annie Gérin and maya rae oppenheimer
ORGANIZATION
University Advancement
WHEEL CHAIR ACCESSIBLE
Yes
---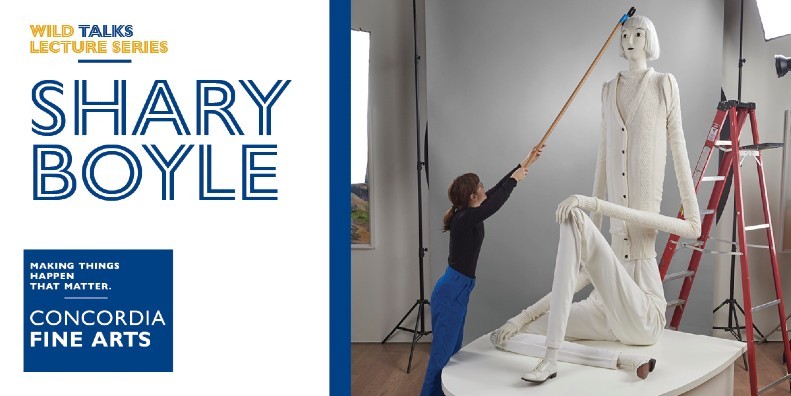 Photo by John Jones
Join Annie Gérin, dean of Concordia's Faculty of Fine Arts, for an evening with Shary Boyle, Canadian visual artist and performer. Boyle will discuss her career and work, including her most recent multi-sensory installation, Outside the Palace of Me, exhibiting at the Montreal Museum of Fine Arts until January 15, 2023. The installation will then travel to the Vancouver Art Gallery and the Museum of Art and Design in New York City in the fall of 2023.
Through the range of her own practice, and addressing themes of collaboration, community and alternative education, Boyle will explore the role of artists in Canadian society and how their practices of imagination can advance conversations around social justice and world-building.
Her presentation will be followed by an audience Q&A moderated by maya rae oppenheimer, assistant professor in the Department of Studio Arts.
This sixth, annual Wild Talks is presented in collaboration with Conversations in Contemporary Art and is open to students, faculty, staff, alumni and friends.
Monday, January 16, 2023
5:30 p.m. Doors open
6 – 8 p.m. Lecture and reception
SOLD OUT - REGISTRATION IS CLOSED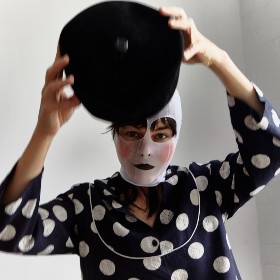 Photo by Ted Belton
Shary Boyle is the recipient of a 2021 honorary doctorate of Fine Arts from the Ontario College of Art and Design (OCAD) University. She graduated from OCAD University in 1994, developing a multidisciplinary practice centred on drawing, sculpture and performance.
Boyle's work considers the social history of ceramic figures, animist mythologies and folk-art forms to create a symbolic, feminist and politically charged language uniquely her own. Boyle activates her practice through collaboration and mentorship, engaging other creative communities and disciplines with a characteristically inclusive spirit.
She has received the Gershon Iskowitz and Hnatyshan awards and represented Canada at the Venice Biennial in 2013. Her solo touring exhibition, Outside the Palace of Me, was presented by the Montreal Museum of Fine Arts in 2022 and will travel to the Vancouver Art Gallery and Museum of Art and Design in New York City in 2023.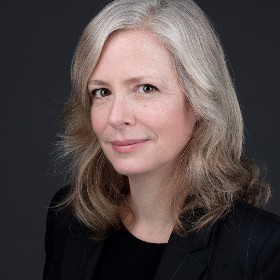 Photo by Émilie Tournevache
Annie Gérin holds a PhD in the History of Art and Cultural Studies from the University of Leeds, a master's in Art History from York University and a bachelor's in Art History from the Université de Montréal.
A professor of Art History, Gérin held many roles during her time at the Université du Québec à Montréal (UQAM). She served as interim dean of the Faculté des arts at UQAM from 2019 to 2020, associate dean, research and research-creation, from 2018 to 2019 and was chair of the Département d'histoire de l'art from 2013 to 2016.
Prior to her arrival at UQAM, she was a faculty member in the Department of Visual Arts at the University of Regina (2000-2004), moving to the Department of Visual Arts at the University of Ottawa in 2004.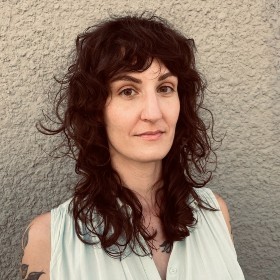 Photo by Danae Desjardins
maya rae oppenheimer is a writer, researcher, artist and educator with a PhD in Humanities and Cultural Studies from the London Consortium (Birkbeck, University of London). She became an assistant professor in Art History at Concordia in September 2017, which expanded her teaching, performance and publishing activities from histories of design, culture and science to focus more on histories of art and contemporary art writing.
With her recent appointment across Studio Arts and Interdisciplinary Studies, she is particularly interested in experimenting with active and creative teaching and learning methods across a range of art and design fields to explore curiosity, accountability and radical pedagogy in everyday life.
---