Record number of books redistributed thanks to Concordia EPIC Used Book Giveaway
Return of on-campus event draws crowds, raises $3,166 for students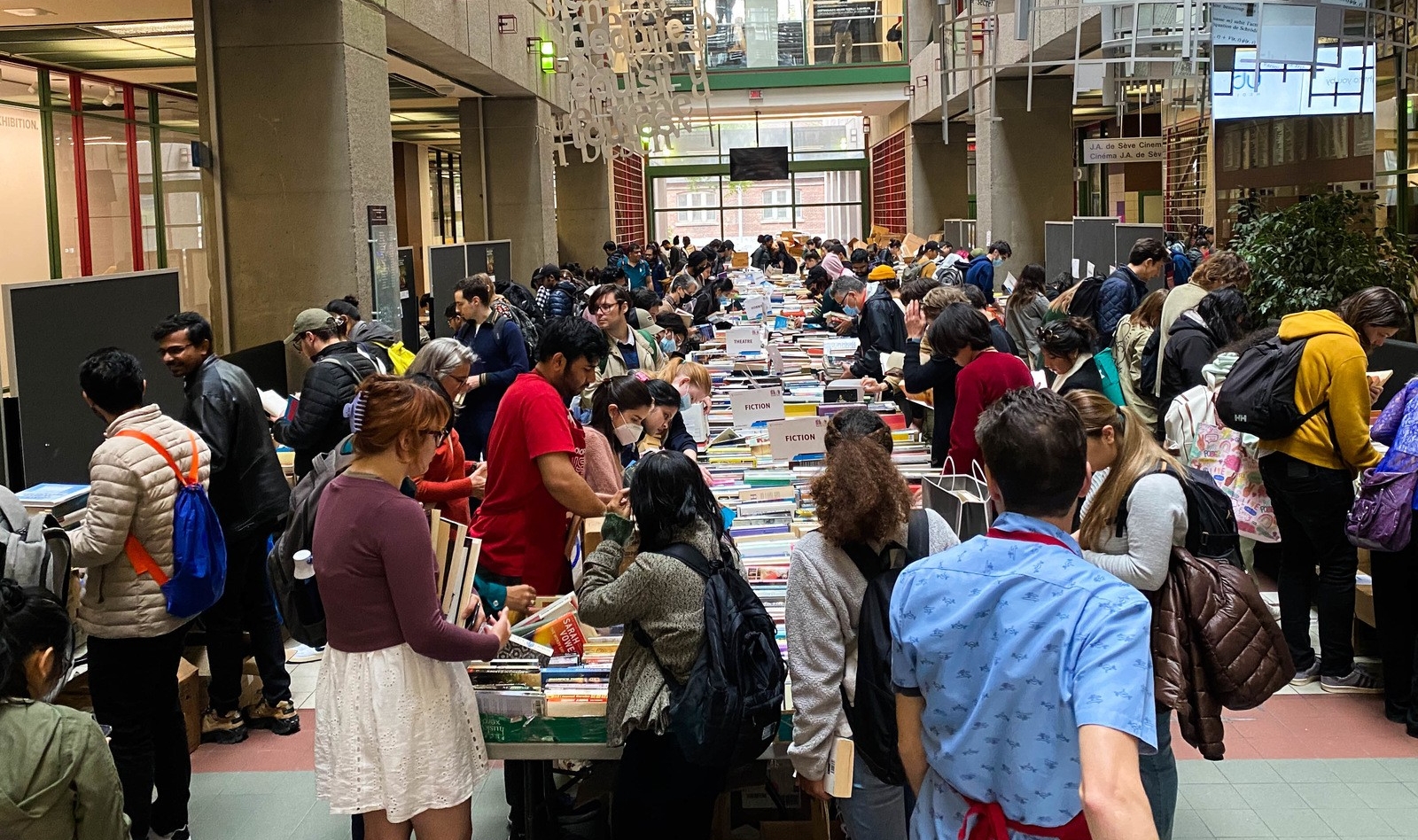 Over two days of giveaways, more than 15,000 books found new homes.
More than 1,200 faculty, staff and students filled tote bags and boxes with free used books at Concordia's J. W. McConnell Building on October 12 and 13.
For a donation of $2 or more, readers gained entry to the Concordia EPIC Used Book Giveaway, which offered thousands of titles ranging from history and geography to memoirs and cookbooks.
Organized by staff and student volunteers, the giveaway aimed to distribute books that were unsold during previous Concordia EPIC Used Book Fairs.
"We found new homes for upwards of 15,000 books, more than any other fair or giveaway we've hosted prior," says Luke Quin, BA 07, senior communications advisor, University Advancement, and one of the event's lead organizers.
"Donations collected from attendees totaled $3,166, which will go towards bursaries for student athletes," says Quin. This brings the total raised by the volunteer-run Concordia EPIC Used Book Fair to more than $240,000 over the years.
The massive giveaway would not have been possible without major assistance from:
"I wish to give special thanks to all our event volunteers, including lead volunteers Denise Karelis, director of administration, Office of the President, Jeanne Bisson, assistant to the president, and Susanne Dragffy. Their leadership throughout the event was critical to our success," says Quin.
Donations from the giveaway were also made to the Concordia Student Union and to the non-profit Books to Prisoners. Check out photos and watch a TikTok video that captured the spirit of the event.
The Concordia EPIC Used Book Fair will return in spring 2023. To learn how you can donate your books, visit concordia.ca/bookfair.
---