Concordia grad Barry Julien helps lead The Late Show with Stephen Colbert
'The most gratifying part of the job is working with a great team, writing jokes and seeing them performed that night by the funniest man on TV,' says the Emmy Award-winning producer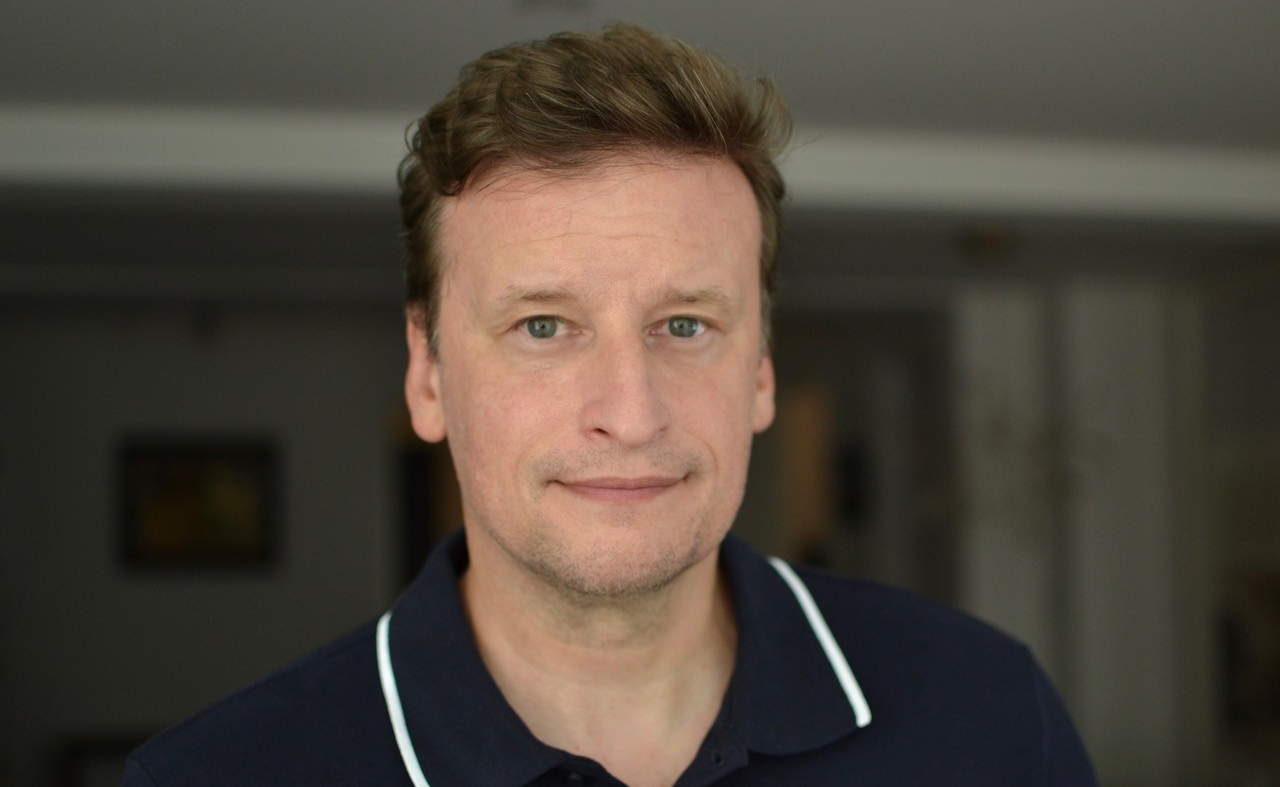 Barry Julien, BA 94, performed at comedy clubs around Montreal while completing his communication studies degree at Concordia.
Barry Julien, BA 94, is serious about comedy.
Behind his success as an Emmy Award-winning producer and writer is a routine of hard work and a continuing dedication to his craft. For more than 15 years, Julien has played key roles on Stephen Colbert's talk shows: The Colbert Report and The Late Show with Stephen Colbert.
Raised in the Montreal suburb Dollard-des-Ormeaux, he started performing at comedy clubs fresh out of high school in a magician trio called The Running Gags.
"My mom would drive me downtown and take me home," he says.
Julien credits this audience exposure for teaching him how to write jokes that land when spoken aloud. He recommends all aspiring comedy writers get the experience of bringing their material from the page to the stage, even if they don't intend on becoming performers.
"Audiences give the best feedback. They don't care about hurting your feelings; they just react honestly," he says.
Dropping the magic act to focus on stand-up, Julien regularly performed at The Comedy Nest and other Montreal clubs throughout his undergrad in Concordia's Department of Communication Studies. Julien says the program's combination of media theory and hands-on creative production resonated with his experiential approach to learning.
"Concordia is where I did my first screenwriting classes, and they required me to actually create scripts," he says.
Julien emphasizes that those aiming to break into the industry should dedicate themselves to writing consistently, as their material will compete with established professionals given daily practice on the job.
"The more you can approximate that kind of regularity in your writing before you're a professional, the sooner your writing will approach the level of a professional."
Finding critical acclaim
After graduation, Julien found gigs on a number of animated and live-action television shows before joining CBC's This Hour Has 22 Minutes, which garnered him two Gemini Award nominations. He also contributed to the satirical newspaper The Onion and racked up more than a dozen acting credits.
In 2006, Julien relocated to the United States, becoming a staff writer on Fox's Talkshow with Spike Feresten. He was then recruited to The Colbert Report as a writer in 2007 and progressed to co-executive producer, a role he would reprise on The Late Show with Stephen Colbert.
The job has allowed Julien extraordinary opportunities, such as visiting Iraq in 2009 to entertain soldiers and travelling to Russia for the 2014 Winter Olympics in Sochi. Julien and his team consistently appear at top industry award shows, with accolades that include Writers Guild Awards, Peabody Awards and Emmy nominations nearly every year.
"It's a terrific feeling to be acknowledged by our peers and share a fun night with friends I've been writing jokes with all year long," says Julien.
After the glitz and glamour of the award ceremonies, he says, it's back to the writing room.
"A day or two later we have another show to do. And another one after that."
Julien adds that having a routine is crucial for coping with the pressure of producing the nightly talk show with a sizable portion of jokes gleaned from the day's news.
"If we didn't have a good process with good people, every day would feel like a new, massive mountain to climb," he says.
"There's a healthy amount of stress, and that's a good thing because it gives you a certain degree of urgency and that makes the show fresh and an interesting challenge."
Working with 'the funniest man on TV'
Julien says this system works because of the team's dedication and trust under the guidance of Colbert.
"Stephen is charismatic and a great performer. He's also the best writer I've ever worked with and incredibly fast at diagnosing script problems," says Julien.
He adds that Colbert doesn't play favourites when writers pitch the evening's material, setting a collaborative and supportive tone among staff members of all seniorities.
"Stephen is a big proponent of the best joke winning. It doesn't matter who it came from or how it arose," says Julien.
"It's exciting to see young people coming up through the show and spreading their wings."
Beyond the success and recognition of helping lead one of the most watched late-night shows, Julien says his strongest career motivator is that he truly enjoys making comedy.
"The most gratifying part of the job is working with a great team, writing jokes and seeing them performed that night by the funniest man on TV," he says.
"Then, I get to come back the next day and do it again."
---