Two generations of Concordia filmmakers win big with documentary short Last Respects
'It was fascinating to discover that we could work together,' says Megan Durnford of collaborating with son Hugh Durnford-Dionne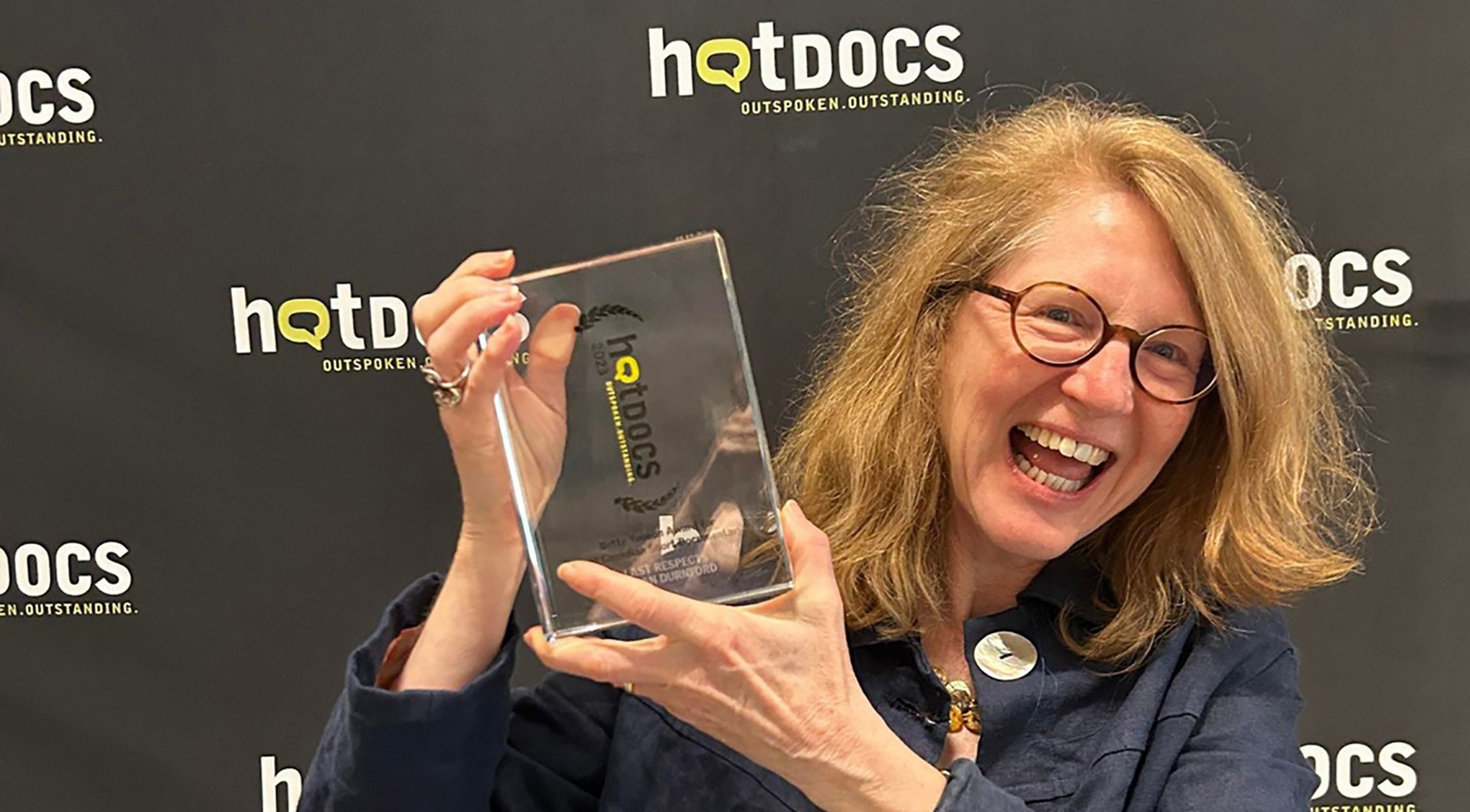 Megan Durnford holds up the Betty Youson Award for Best Canadian Short Documentary at Hot Docs Canadian International Documentary Film Festival.
Who remembers the forgotten? Megan Durnford, GrDip 93, finds bittersweet answers to that paradox in her new short documentary, Last Respects, an award-winning collaboration with her son, Hugh Durnford-Dionne, who is in his final year of the Intermedia program in Concordia's Faculty of Fine Arts.
The poignant black-and-white film follows Catholic priest Claude Paradis and the ceremony he created to honour Montrealers who die without family or friends to claim them.
"As soon as I heard how committed he was to those who have been forgotten by everyone else, I thought that a lot of people would find him very inspiring," Durnford says. And she was right. Last Respects was recognized with the prestigious Betty Youson Award for Best Canadian Short Documentary at the Hot Docs Canadian International Documentary Film Festival in May.
'They're my people'
"Around 200 bodies go unclaimed in Montreal each year," Paradis narrates in French with English subtitles as the film opens on rainy streets and buildings decked with graffiti and snow. The coroner sends these bodies to the only two local funeral homes — one in Montreal and one north of the city in Laval — that will cremate them since the government-sponsored work yields far lower payment than private funerals.
As the ceremony unfolds onscreen at the Sanctuaire Marie-Reine-des-Coeurs in Montreal's east end, Paradis clarifies why bodies remain unclaimed. In some cases, the deceased simply have no one left in the world; other times, family members reject a body so they won't have to deal with the debts of the deceased, or because they've already disowned the deceased in life. Many unclaimed are unhoused individuals.
"They're my people," says Paradis over shots of him in his intimate space. He reveals that he, too, lived on the streets with a drug addiction when he was younger, and still meets his people where they are: on the streets, even on subzero nights.
"He's living in a practically saintly way that most people never would," Durnford says.
In a moving tribute each year — which can include inviting the public to speak about young people they knew or to lay roses in a basket as a symbol of resolve to remember the dead — Paradis memorializes the unclaimed. It's an attempt to provide something for those with so little. "People living on the street gave me the idea to perform this ceremony because they said, 'We are nothing. We are nothing before our death, and we are nothing after our death.'"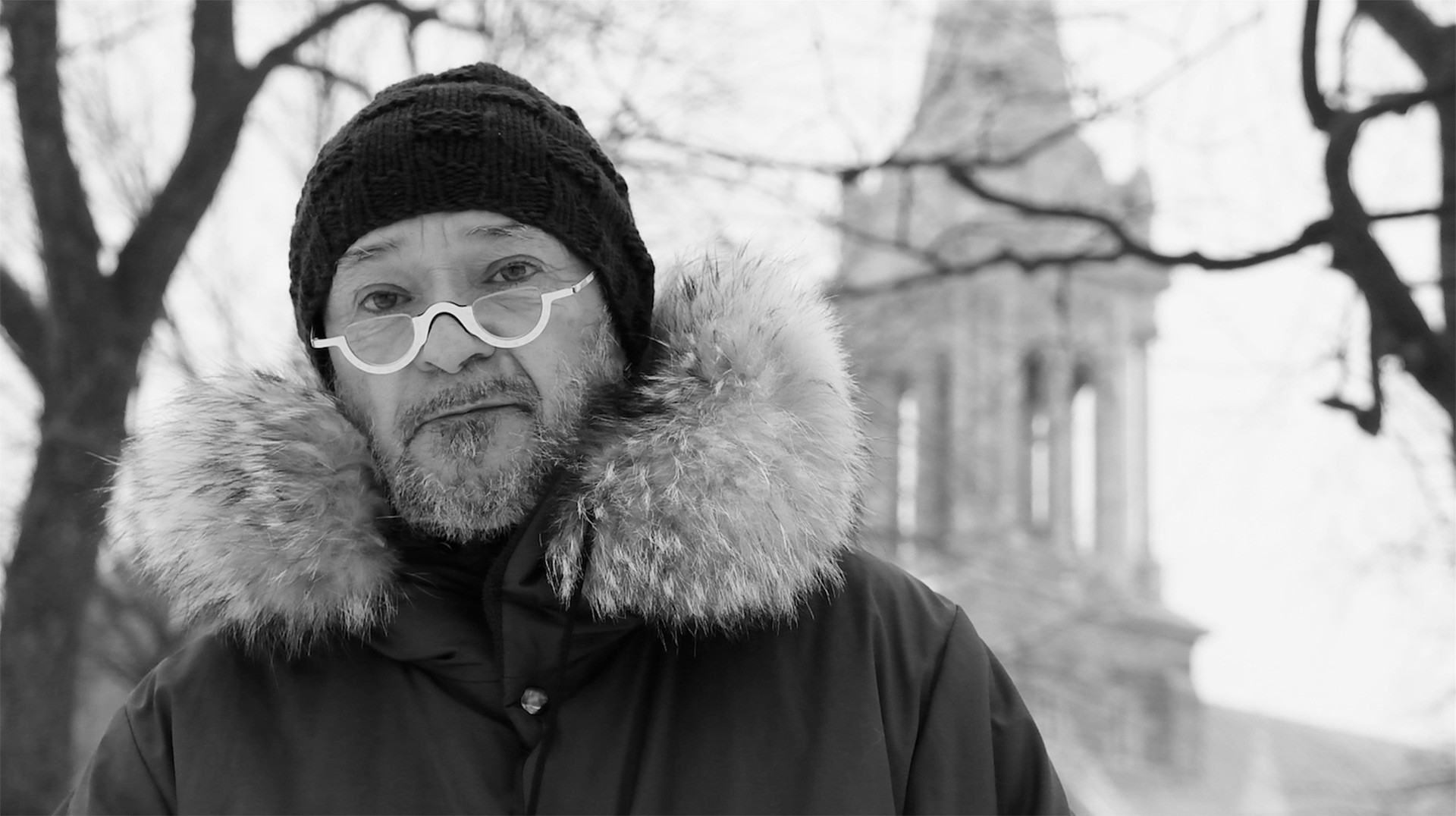 A still of Father Claude Paradis from
Last Respects
'Everything starts somewhere'
Durnford has loved documentaries her whole life. She distinctly remembers as a 10-year-old seeing a documentary about Canadian surgeon Norman Bethune and thinking how exciting it must have been to help create such a project.
As the mother of small children, Dunford says she always looked forward to attending Hot Docs, North America's largest documentary film festival, as a kind of retreat from daily life. But she never considered making her own films until after she had completed an intensive postgraduate journalism diploma from Concordia and was working as a journalist and researcher.
"Why don't you just make one?" her husband asked her. "Everything starts somewhere." That was the final push she needed to go from documentary-film lover to filmmaker.
"I didn't think I had the skills required to create a documentary film," she laughs. But as someone who had extensively researched, written and developed story structure for clients, Durnford realized she could break every filmmaking process into 10 steps, further dividing each of those into another 10 steps, until all pieces were achievable.
"Everything I'm doing now, whether it's writing or filmmaking, I'm drawing on my journalism degree."
Like mother, like son
Last Respects is Durnford's sixth documentary film, but her first with her son. At Concordia, Durnford-Dionne studies video, performance, new media and digital technology, and creates his own music videos and short films. But the partnership on Last Respects was a happy accident when his mother found out she would be away on an assignment during Paradis's annual ceremony — the centerpiece of the film. Enter Dionne-Durnford, her new director of photography.
"Even though he has the professional cinematography and editing skills, and obviously we have an intuitive understanding and a strong bond of trust between us, it was fascinating to discover that we could work together," Durnford says. "We were thrown together by circumstance, and it went so well."
When Last Respects won the Betty Youson Award earlier this year, Durnford was astounded to see people crying after the screening. "I thought, 'Wow! I cannot believe that a six-minute film could make someone cry.'"
The mother-son duo are already working on their next project, a docu-animation. And while they're not yet ready to reveal more details, Durnford looks forward to what's next. "I hope this is the beginning of a long collaboration."
---