Considering graduate studies at Concordia? 4 current students share insights and advice
Making the leap from undergrad can be daunting, but it's well worth it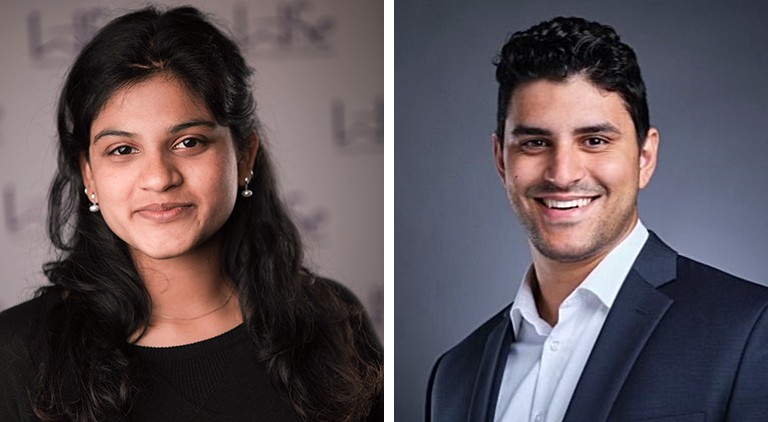 Riya Dutta and Gabriel Safi.
Riya Dutta didn't plan on pursuing a master's in software engineering degree.
But then she took the Impact of Technology on Society course taught by Tanja Tajmel, associate professor and Concordia University Research Chair in Equity, Diversity and Inclusion in Science, Technology, Engineering and Mathematics. Following the course, and a term as president of Women in Engineering, Dutta discovered an interest in equity, diversity and inclusion (EDI) and an unexpected path.
Merging software engineering and EDI, she now examines how diversity is embedded in software engineering research. "At the time, I didn't know combining these two vastly different fields was even possible," Dutta says.
"Dr. Tajmel encouraged me and offered me the opportunity to combine my software engineering background and passion for EDI into research."
Mechanical engineering alum Gabriel Safi (BEng 19) took a few years to decide to return to Concordia. This time, he's pursuing a long-time interest in finance.
Working toward an MBA in investment management, the John Molson School of Business student shares that he'd been considering the return for a while. But it took the encouragement of a close family friend to help him realize he didn't want to look back in 10 or 15 years and regret not following his passion for finance.
"Already having a stable career in engineering, I was reluctant to jump back in. But at the end of the day, I went for it," Safi says.
Karina Garcia Casanova (GrDip 06) is an MFA student in studio arts with a concentration in film production. For her, the return to Concordia following a degree in communication studies came after years of working in the film industry and time dedicated to raising a family.
Wanting to expand her artistic practice, Garcia Casanova found inspiration in the program's interdisciplinary nature.
"I'm really enjoying the fact that the MFA is with all the other disciplines," she says. "We have joint seminars with students in sculpting, painting, fibres and material practices, and film."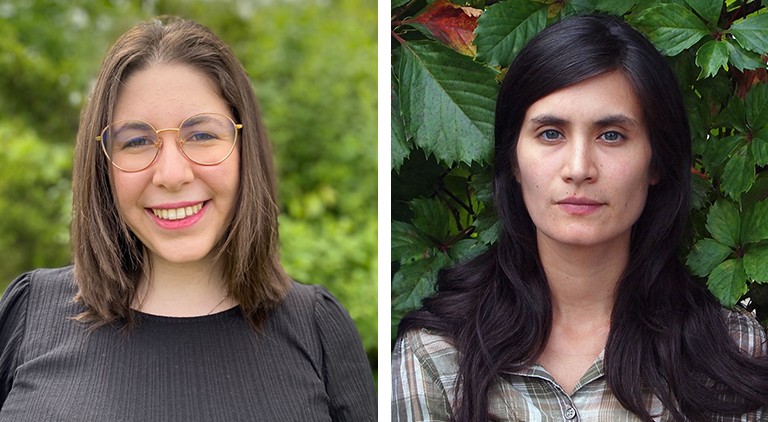 Arielle Dascal and Karina Garcia Casanova.
'Ask what research is going on in the department'
A love of physics led Arielle Dascal (BSc 21) to the medical physics field, where she's discovering her research has important real-world applications. Pursuing a master's in physics degree, Dascal hopes her investigation into connector hubs in the brain will shed light on important mechanisms and define new biomarkers associated with epilepsy.
For Dascal, networking within the Department of Physics led to her current research.
"In my last year of undergrad, I knew I wanted to keep exploring medical physics and reached out to my now supervisor, Christophe Grova," Dascal recalls, referring to the associate professor of physics. "He introduced me to his lab members and projects, and after a few meetings, I decided to join them."
Her advice to undergraduate students thinking about grad studies? "Don't be scared to reach out, go to the chair, speak with professors. If you're interested in research, ask what research is going on in the department."
Familiarity helps ease the transition to graduate studies
Pursuing her undergraduate and graduate studies at Concordia helped ease the transition for Garcia Casanova.
"Having studied at Concordia previously, the familiarity with labs and various resources is very useful. It provides continuity and lets you build long-term relationships," she says.
For Dascal, building on connections made during her undergrad was also key.
"Staying within the Department of Physics, I knew the professors," she says. "I knew the graduate program director. I knew the chair. Having that familiarity really helped me adjust to life as a graduate student."
Ask about funding and financial support
Connecting with your professors and department can also be helpful for undergrads considering graduate studies but facing financial hurdles.
Dutta's tip: "Talk to your professors and look into funding options, because for me, that was a big barrier. I pushed through because of my professors."
"Letting professors know you might be interested can be very helpful," Garcia Casanova adds. "They might point you toward certain awards or financing and work opportunities."
---