Concordia's PhD Career Connect exposes students to diverse career paths
First of its kind in Canada, the pilot training program highlights how doctoral skills can be used to tackle real-world problems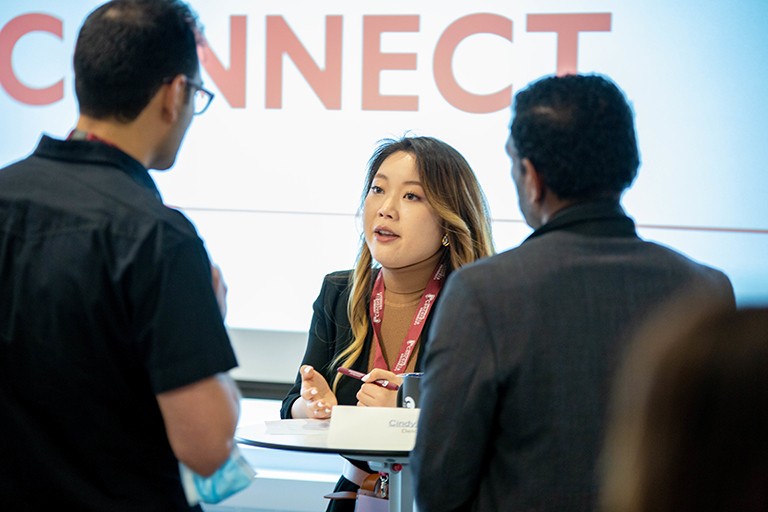 Many assume that when PhD candidates graduate they will go on to have a long, tenure-track career in academia. But with Canada conferring more PhDs than ever, such opportunities are dwindling. This leaves aspiring PhD students pondering, "What's next?"
To address this growing reality Concordia's School of Graduate Studies (SGS) created PhD Career Connect. It's a novel program that brings together PhD students with employers in the private, public and non-profit sectors to explore diverse career options.
For Faye Diamantoudi, interim dean of graduate studies, it is an important initiative whose time has come.
"On one hand we are seeing cohorts of PhD students graduating with all sorts of valuable technical expertise such as project management skills, analytical skills and the ability to work independently," she says. "On the other hand, today's knowledge-driven economy is facing labour shortages of highly skilled employees. What we are trying to do is bridge the two."
Developing in-demand skills and changing employer perceptions
PhD Career Connect is an adaptation of the award-winning graduate training program Accelerate to Industry. A2I originated at North Carolina State University and is currently being adopted by other American institutions.
At its core PhD Career Connect seeks to address two important barriers that have been keeping PhD students from fully integrating into the labour market.
The first is developing skills that PhD students may not acquire while pursuing their degree, such as the ability to work in teams, networking skills, and the ability to talk about their research to a non-academic audience. Addressing this need has been the central goal of the SGS GradProSkills program since 2012.
The second is employer perception of PhD students, many of whom are unaware of the value graduate students can bring to their workforce.
An immersive experience
The inaugural PhD Career Connect cohort comprised 45 PhD students from all four Concordia faculties.
Starting at the end of April 2022 participants took part in six training modules to enhance job readiness and professional skills.
This was followed by an immersive, five-day training event with 14 employers coming from government and industry to present their work environments and career opportunities.
Through a series of four case studies, employers observed how teams of PhD students analyzed and solved real-world problems. The week ended with a career fair, a speed networking event and an awards ceremony where the winning team received $2,500.
For Mark Kwakye Frimpong, a PhD candidate in political science, the intense training event was eye-opening.
"I really learned that there are a lot of possibilities waiting for me outside the four walls of academia," Frimpong shares.
"The skills I have acquired working with my classmates are all transferable to industry. Through the program I got to work with students from diverse academic backgrounds and understand their perspectives as we worked through case competitions successfully."
The diversity of skillsets and knowledge was also something that stood out to Amanda Merrithew who represented Shared Services Canada on the employer side.
"We presented a case study to the students based on a real-life scenario. For us to be able to take a step back and hear the perspective of such a highly educated and interdisciplinary group was very valuable."
The training event was followed by a final workshop where students debriefed their experience and created a personal action plan.
"The enthusiasm that we saw from both students and employers is very promising," Diamantoudi says. "We will incorporate their feedback to continually improve on this very important offering."
PhD Career Connect is funded by Québec's Ministère de l'Enseignement supérieur though contributions from the Canada- Québec Agreement on Minority-Language Education.

Find out more about PhD Career Connect and Concordia's School of Graduate Studies. The next event will be offered in Winter 2023, with employers and students who will be recruited in the fall.
---